Thursday, February 8, 2007
Thibodaux, Louisiana, to Cameron, Louisiana
Outside Thibodaux, Louisiana
Before leaving the Thibodaux area, we drove a couple of miles to the east and watched farm workers burning the sugarcane fields. Sugarcane is burned before harvest to remove the extraneous leafy material and leave only the stalks, from which sugar is extracted. The fire was spread by a guy in a tractor with a flame at the end of a boom.
Smoky sugarcane field
A short time later, we arrived in Avery Island, Louisiana, home of the McIlhenny Company's TABASCO Pepper Sauce factory and the luxurious Jungle Gardens. At the present level of the ocean, Avery Island is no island at all, and is actually three miles from the sea. It is in a marsh, however, and when the drainage ditch running along one side of it is full, it is in fact surrounded by water. Avery Island is the topsoil-covered peak of an underground salt dome larger than Mount Everest, but the top of the dome rises only 163 feet above sea level.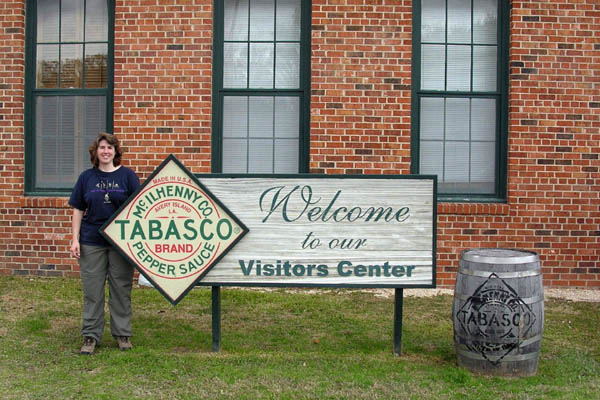 Jana in her natural habitat
As you drive onto Avery Island, you can smell the peppers fermenting. This island is private property, and there is a toll of $1 per car to come "ashore." The salt mined from the dome, along with a climate conducive to growing hot peppers, made Avery Island the perfect place to invent one of the most wide-spread condiments in the world, TABASCO Pepper Sauce! There are over 75 million 2-ounce bottles sold per year worldwide. Japan is the biggest overseas market for TABASCO Pepper Sauce, and the condiment is so popular in Guam that people even eat it on their cornflakes!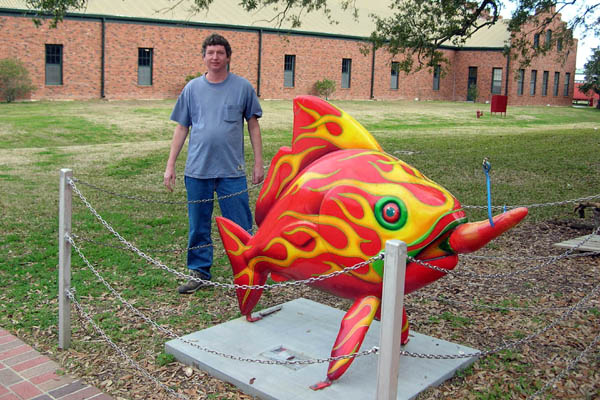 Check out the bait!
TABASCO tours are given every 30 minutes and consist of a short video and a look at the bottling process. It's not spectacular, but since it's free, we got more than our money's worth.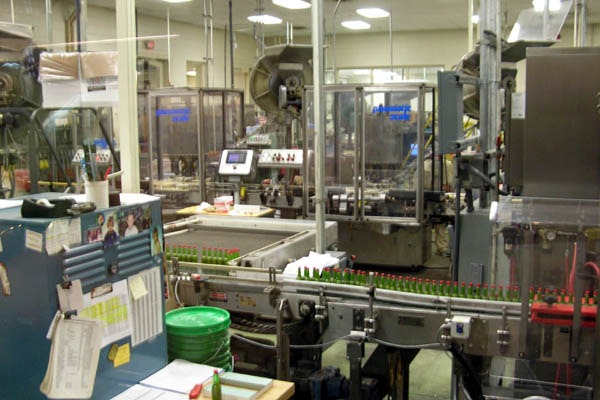 Bottling the TABASCO Green Pepper Sauce
The best part of visiting the TABASCO plant is the TABASCO Country Store next door, where you can buy every tchotchke imaginable emblazoned with the name "TABASCO," plus you can sample many fine TABASCO sauces, marinades, and condiments at the outstanding TABASCO tasting bar.
TABASCO Country Store
After the tour, we ate lunch in the TABASCO Country Store. Tom had smoked sausage with TABASCO Mustard, and I had a delicious dish of crawfish etouffee, of course with a sprinkling of TABASCO Pepper Sauce.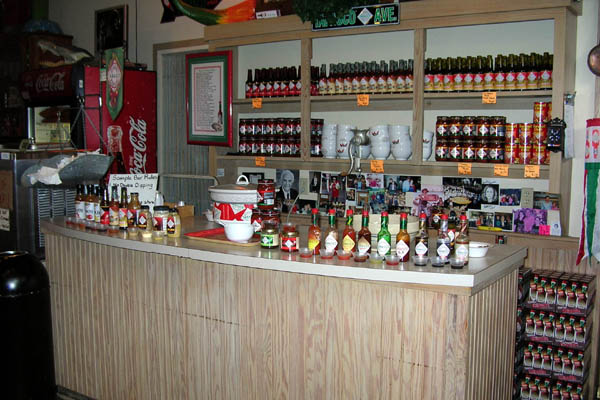 The TABASCO tasting bar - No double dipping!
Entrance to the 250-acre Jungle Gardens, also owned by the McIlhenney family, is $6.25 per person. There are four miles of roads through the botanical gardens and bird sanctuary, with many walking trails along the way. But be careful: The ponds are full of alligators!
Careful, Tom!
That's no gator
Among the great assortment of flora on the island, both native and exotic, are bearded oaks, Chinese and Japanese wisteria, 64 varieties of bamboo, grapefruit trees, banana trees, and papaya trees, evergreen trees and palm trees growing side by side, lotus and papyrus, and many others, far too numerous to mention.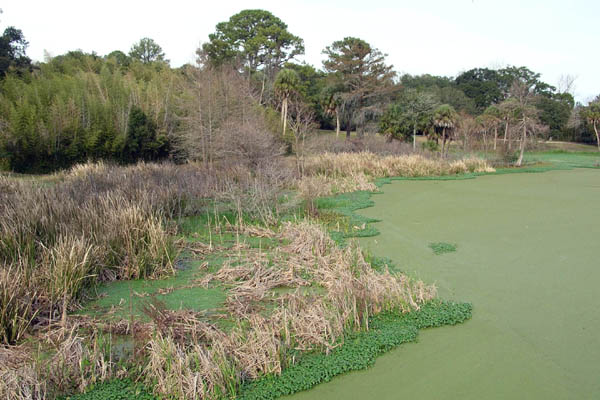 Do not adjust the color on your screen
The thousands of azaleas of over 100 varieties were out of bloom, but we liked visiting when we did nonetheless, because we practically had the place to ourselves. Something is always blooming here, and Jungle Gardens would be worth visiting in any season.
Edward Avery McIlhenney's Jungle Gardens
In the Chinese Garden section of Jungle Gardens is an 800-year-old Buddha overlooking an unusual red lake. We couldn't figure out if the red surface of the water was due to red algae or some sort of blooms that had fallen from the trees or what, but it sure looked cool.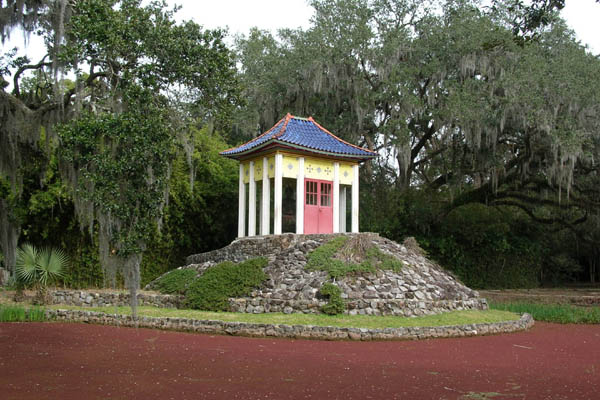 Chinese temple, Avery Island, Louisiana
Gautama Buddha, the finest Buddha in America
Bird City is an egret sanctuary located on a man-made lake within Jungle Gardens. There were about 40 egrets nesting the day we visited. At its peak in the spring, the sanctuary will host over 20,000 egret families. It was over by Bird City where Tom spotted the one alligator we saw today.
Bird City egret sanctuary
Almost invisible alligator
We were on Avery Island for over four hours, definitely time well spent. Though it was getting late in the afternoon, instead of heading for civilization and a guaranteed hotel, we took the southern route through Louisiana's extensive wetlands, continuing west via Highway 82, passing a lot more hurricane damage on our way. The damage here is from Rita's winds rather than Katrina's floodwaters. It seemed there was no end to the bare cement pads that no longer held houses. Occasionally, an RV would be parked on a foundation where a home once stood.
The highway through these wetlands is merely a thin strip of ground that's been dredged up from the surrounding marsh to form enough land to build a road. After dark, it was hard to tell the road from the bog in this practically deserted, unlit, unfamiliar territory. I was anxiously keeping up with the taillights of a lone pickup truck ahead of us, lest I lose sight of the path altogether. As if I wasn't having enough difficulty seeing, it then started to rain. Well, actually, we only thought it was rain. As it happens, the windshield was being pelted with thousands of tiny bugs. Disgusting.
To our relief, we acquired a room for the night at the only hotel in Cameron, Louisiana, the aptly named Cameron Hotel, newly opened and still under reconstruction from Hurricane Rita. I think we were the room's first occupants. All the other hotel guests looked to be construction workers or roughnecks. I commented to Tom that besides the lady running the hotel, I may be the only woman in town. Tom added, "except for hookers," and then we saw one. Ha!
For dinner we had the only food in town, take-out pizza from the gas station down the street. That has to get old after a while.