Monday, February 12, 2007
Framing House 1
At 8:00 a.m. we left the Super 8. There were some logistical difficulties in cramming all the people and stuff into just three vehicles, mine and Ed's and D.J.'s, but everyone finally got situated and we made it to Gloria's, where we picked up windows for the new houses and some ladders and tools that Ed was storing there.
By 9:30 we had arrived at the site for House 1 in Colonia Jardin in the southeastern part of Nuevo Progresso, on Calle Dalia. The houses we built are 20-by-12 frame structures with wood siding, three windows, two homemade doors, and a sheet-metal roof. Ed had paid Mario to pour the pads for the homes before we got there, and Ed and Joan had come down several days early to get the lumber and materials ready to go, so we were able to start work immediately upon arrival. Thankfully, Ed had Gloria select a site with electricity available, so we were able to use power tools.
House 1 building site
These houses are about like the shed in our backyard in Tennessee, but they're so much better than what these people were living in before it's unbelievable. The homes cost $1,500-$1,700 each to build. The First United Methodist Church of Weatherford, Oklahoma, the Sniders' church before they moved to New Mexico, donated $1,000 toward the construction cost, with Ed and Joan contributing the remainder of the money.
This first house was built behind an existing home on a tiny lot. A lady and her three kids will be moving into the new home and moving out of the other house on the lot which they are currently sharing with many members of their extended family. It has to be getting kinda crowded in there!
Getting started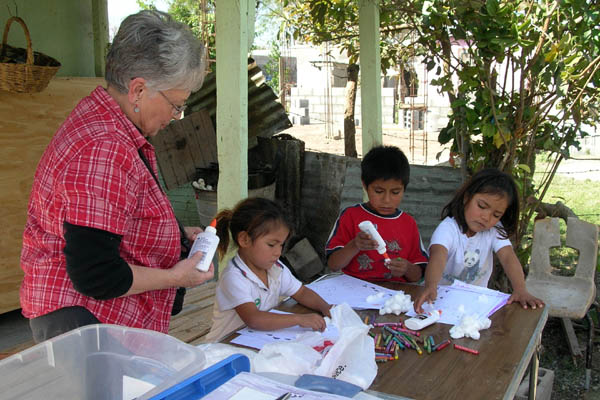 Nellyne entertains the niños
Today we picked up two additional crew members, Mel and Jane Hunter, from Columbus, Indiana. So now there's 15 of us in total: Ed and Joan Neighbors, D.J. and Vernell Snider, Lynn Buenning, Bob and Nellyne Hanlin, Mel and Jane Hunter, Jack and Linda Goetz, Tom Goetz and Jana Goetz Neighbors (that's me), Brian Neighbors, and Jennifer Mooney.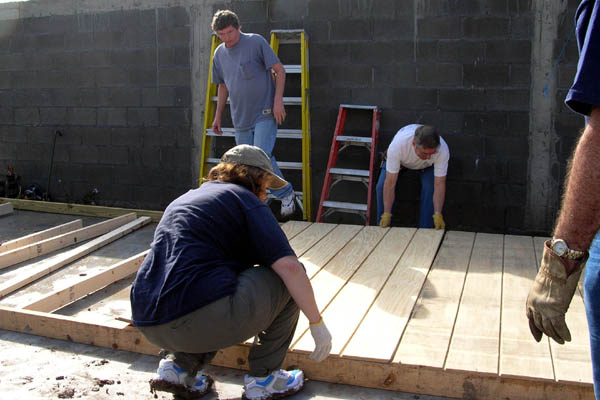 Jana, Tom & Bob lay siding
With all the rain lately, the lot where we were working was a muddy mess. It was a warm, sunny day, and I kept hoping the mud would dry out, but it never did. We slipped and slid around all day long. It was rather comical, actually.
We framed all the walls flat on the pad, to be raised later. Mooney totally hogged the nail gun this morning, and I didn't get to play with it at all.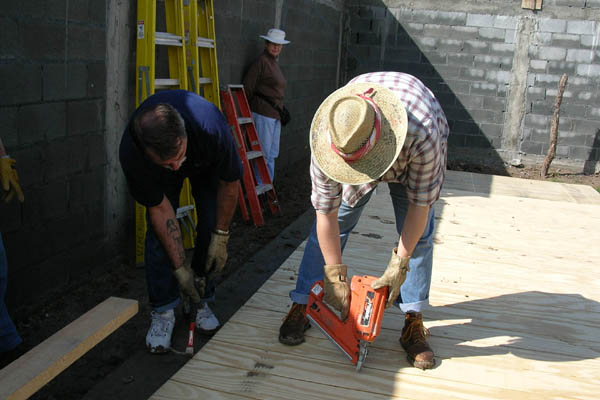 Mel & Mooney frame, Joan looks on
Brian holds down the fort
Just before noon, Joan was good enough to drive all the women into town to a flush toilet, since the facilities on site were pretty grim. It wasn't just the grunginess factor that made me squeamish about using the outhouse, but also the fact that all 15 of us were working just a few feet away, and the door didn't shut completely. In any event, it was worth 25 cents and a few minutes' time to drive elsewhere.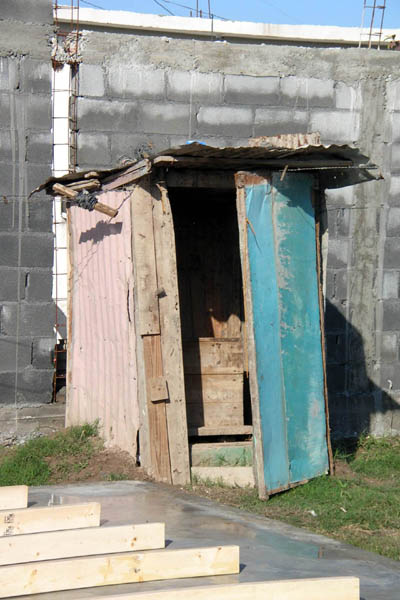 Elimination station
Al fresco shower
Since we ladyfolk all had clean hands after the restroom run, it was time for lunch. Everyone had brought sandwiches and such, and we had an enjoyable picnic break.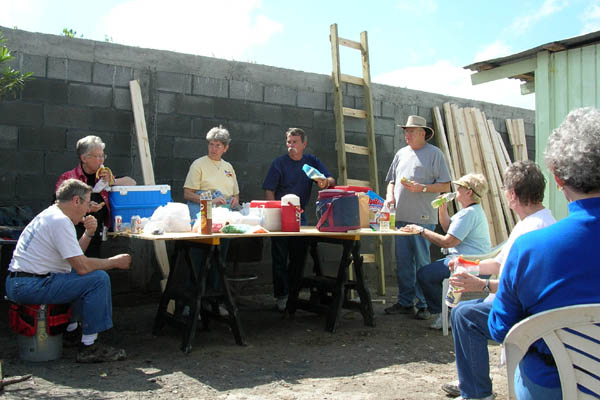 Lunchtime! Bob, Nellyne, Jane, Mel, Jack, Linda, Lynn & Vernell
After lunch, it was time to raise the walls. Since we had a 15-person crew, we didn't raise one wall, brace it, and then raise the next. Instead, we raised a wall, some of us stayed there and held it in place, and others moved to raise the next wall. Consequently, we were standing there holding walls for quite some time.
Raising the walls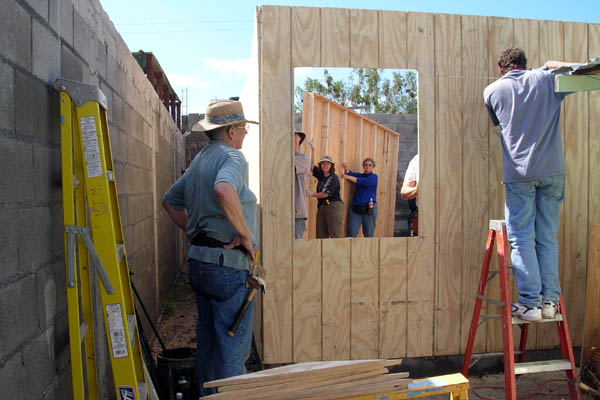 Still holding the walls
At the end of the day, the house was framed, complete with rafters, and we'd hung one of the windows and built one of the doors. I was pretty proud to see my dad, a 75-year-old man, up on a ladder swinging a hammer to secure the rafters.
Ed & D.J. hang rafters, Tom stands ready to assist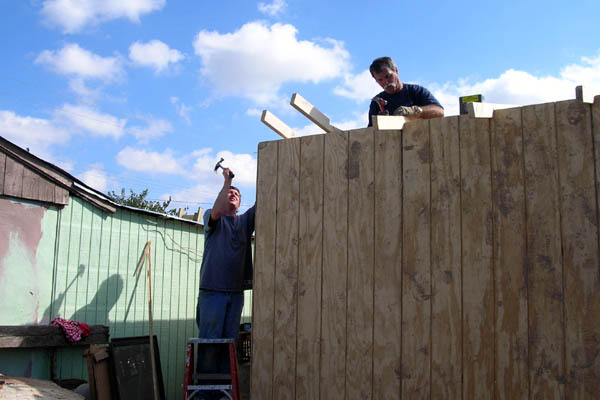 Tom & Mel hammer away
The crew called it quits at 4:00, and we were back at the Super 8 in Weslaco by 5:30. Everyone was pretty beat, so we all went our separate ways for dinner. Tom ate leftover spaghetti from last night, while Brian and Mooney and I got pizza delivered. The four of us weren't up to going out at all tonight, group or no group.
The moment I got out of the shower, cleaning up from the big day, the electricity went out at our hotel. I'd finished showering just in time! Tom, Brian, Mooney, and I made the best of things, sitting around in the dark drinking beer, and the lights came back on just as the pizza arrived.