Thursday, February 15, 2007
Weslaco, Texas, to Orange, Texas
Jack, Linda, Bob, and Nellyne hit the road about 8:30 this morning to begin their long treks home. The rest of our Super 8 gang checked out as well and headed for Mexico one last time. Ed and Joan's van was full of food again, so Brian and Mooney piled in with Tom and me, and the six of us crossed the border to return to the Guatemalan barrio.
Everyone felt so bad for the impoverished Guatemalans yesterday that Joan suggested to Ed that they buy some more food and come back today. So Ed went to the store last night and returned with several hundred pounds of beans and rice. Fifty or 60 people came running up when we pulled onto their road, and Joan gave them each two large Ziploc bags.
Once they had their Ziplocs, a line formed at the back of the van, where Mooney and I used a couple of large plastic cups to dispense each person two scoops of beans and two scoops of rice. These folks are really needy. This was the most rewarding thing I did while in Mexico.
Distributing food
It was a very cold morning, mid-30s and windy. Fortunately for us, the houses were finished, and we just had to be out in the cold for a short time today. I felt bad for the locals, who were not adequately dressed for the cold, and who, when they returned home, would not have any heat. I wish we'd had a truckload of blankets to give away.
Just as we were leaving, a young boy came up to my truck and asked in very clear Spanish, that even we could understand, when we'd be returning. It just about broke my heart when Tom told him "no se," meaning "I don't know."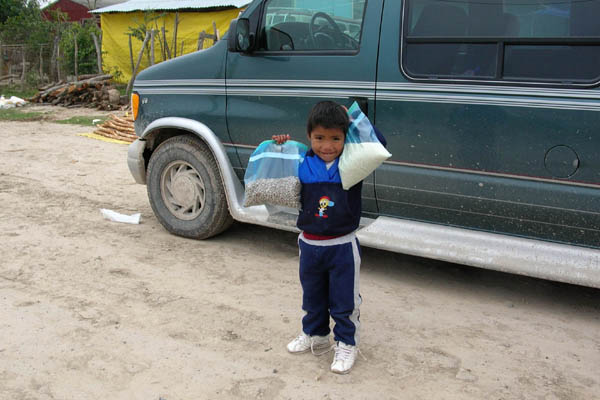 Can I take him home with me?
Back on the main drag of Nuevo Progresso around 10:00, Ed bought us an early lunch of lanchas from a street cart, Las Texitas. The lanchas were little deep-fried pastries filled with ground beef, cabbage, avocado, and salsa. They gave us some green stuff to add as a condiment that made them really picante and delicious. We ate three each. The lanchas were very similar to empanadas. A lot of empanadas have sweet filling, but some have a savory center like these.
Ed and Joan left for Oklahoma after lunch, but Brian, Mooney, Tom, and I were headed for New Orleans to join in on the Mardi Gras festivities, these good works we've done this week to be wiped out in one weekend of bacchanalia. Imagine!
I took Brian back to his car, still parked at the Super 8, but Mooney was now riding with me and Tom. It's a two-day drive to New Orleans, and Brian was to stop in Houston, about halfway, to pick up his girlfriend Carol, who was flying in from Edmond to join us. Carol has friends in Houston who invited her and Brian to spend the night. The friend was apparently scared of the rest of us, so we'd just have to fend for ourselves.
On our way out of town, Tom wanted to stop at one of the many fruit stands they have here in the valley. He bought four of the juiciest, most delicious grapefruit I've ever tasted and the world's largest pineapple for only $3.50. How he was planning to cut up a 10-pound pineapple with a three-inch pocketknife I don't know. Instead, we dubbed our pineapple "Pedro," and he became our mascot for the rest of the trip.
Our trusty navigator, Pedro
Brian followed us for several hours before we got separated near Victoria, Texas. We'll meet Carol and him tomorrow in New Orleans at the hotel. Tom, Mooney, and I stopped at Siesta Restaurant in Victoria for tacos at about 3:30.
Jana conquers a rest area in southeast Texas
It was 5:30, right in the thick of rush hour, when we got to Houston, and I thought we might be stuck in traffic for hours. But we took the Sam Houston Tollway around the city and breezed right through. It was totally worth the $5.75 in tolls.
We stopped for the night in Orange, Texas, right on the Louisiana line. There were a bunch of hotels right in a row, so we pulled into a few of them to ask the price. Or, actually, I went in alone to check the price. Tom and Mooney were too lazy or whatever to be involved. Therefore, I expected no complaints when, after being quoted a very reasonable $45 for a room for the three of us, I booked a room at the Executive Inn & Suites without consulting them.
It wasn't until after I'd checked in that we discovered the slashed-up, blood-soaked mattress leaning against a wall 50 yards from our room. How was I to know? I don't see what the big deal was; the mattress was at the hotel next door, not our hotel. Maybe some people would find it suspicious that our room was so freshly painted that the "wet paint" sign was still on the door, but I didn't; I thought it was nice.
I don't know what Mooney was bitching about regarding the room. After all, we gave her the bed farthest from the door so she'd be murdered last. There's just no pleasing some people!
Tom acted less than thrilled with the room as well, but I'm telling you, at 15 bucks a person, if Mooney hadn't been there, Tom would have been praising such a stellar deal. Tom went and inquired of the lady at the front desk about the mattress and any recent murders, but she feigned ignorance. Okay, now, even I will admit her unawareness is unlikely.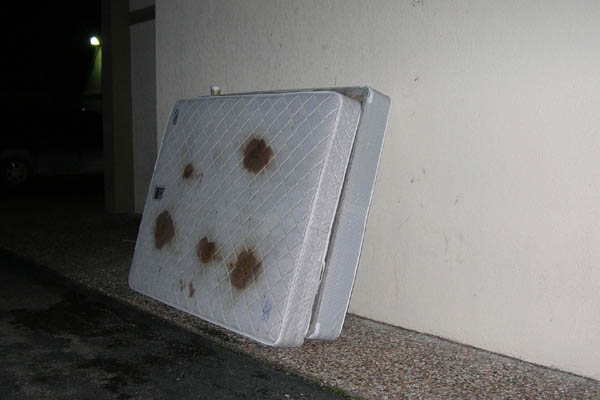 Shouldn't this be collected as evidence?