Friday, February 16, 2007
Orange, Texas, to New Orleans, Louisiana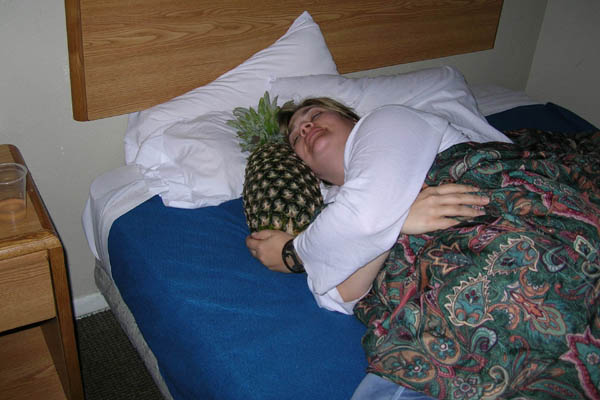 Pedro & Mooney in peaceful slumber
While eating breakfast at the Waffle House across the parking lot from our hotel, Tom asked our waitress about the murder that undoubtedly occurred just 100 yards away, but she didn't know anything about it. Then she added the comment, "But they try to keep things under wraps around here." As we were leaving, we pointed out that you could see the bloody mattress from inside the restaurant, and she seemed pretty curious, if not quite as alarmed as one might expect.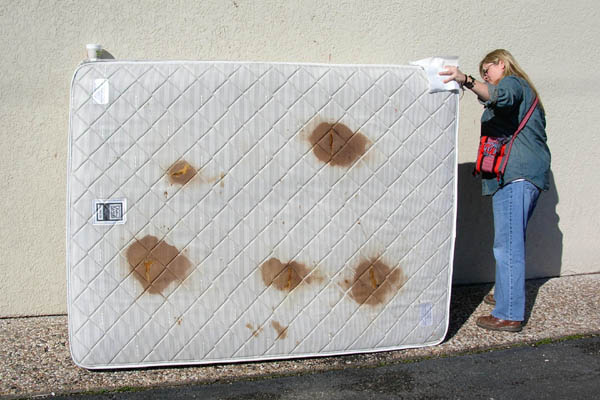 The gashes go all the way through
It took six hours to get from Orange, Texas, to our hotel in New Orleans, with only a couple of short rest stops along the way. We were ready to get there!
Jana runs into trouble, Atchafalaya Rest Area, Louisiana
The New Orleans traffic was heavy but not terribly bad. We had some trouble getting to our hotel, though, since a lot of streets were blocked off for Mardi Gras, but we were checked in by 4:30. We stayed at the fancy-schmancy, highfalutin Royal Sonesta Hotel, located right on Bourbon Street in the French Quarter. The room was expensive, everybody expected a tip, and the parking cost $30 a night, but the location was perfect. And it's Mardi Gras, so why not splurge?
Lobby of the Royal Sonesta
Once checked in, I called Brian. He and Carol were stuck in traffic and were hours behind us. Bummer for them, but we headed out. There's beads to be had!
Bourbon Street is a wild and crazy place during Mardi Gras. There were street musicians and face painters and beads and bums and more bare boobs than you could shake a stick at.
Honestly, I don't know why these girls were showing their breasts; you couldn't walk down the street without getting whacked in the head by beads being thrown from the balconies. Oh, wait. Yes, I do know. They are exhibitionists! Their families will be so proud when they see them on YouTube.
Street performance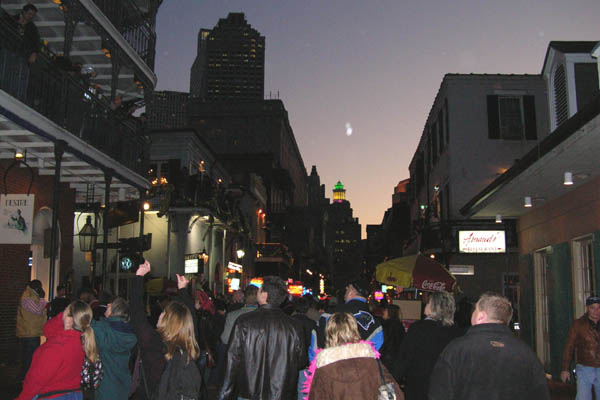 Crowded Bourbon Street
By 7:30 Mooney and I had amassed so many beads, through purely wholesome means, I assure you, that we could hardly hold our heads up, so we went back to our room to unload. As soon as we walked in the door, the phone rang. Brian and Carol finally made it. Hooray!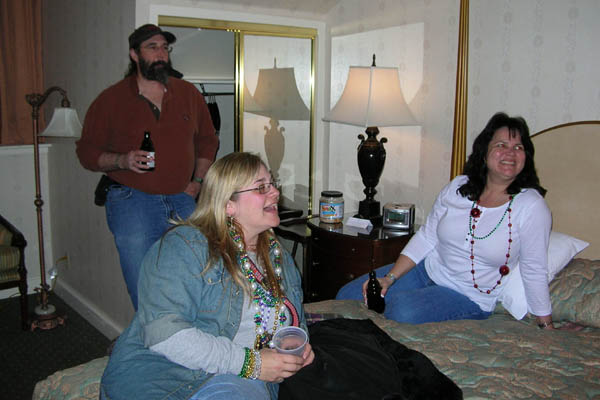 Brian, Mooney & Carol
The five of us now went out together and walked up to Canal Street to see the bright and colorful Krewe Hermes and Krewe d'Etat parades roll by. I don't have any photos of the Hermes parade because I was too far back in the crowd. But for d'Etat, I was right behind the barricade.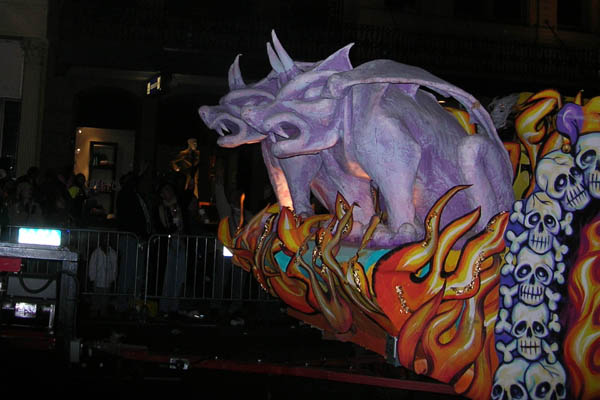 Le Krewe d'Etat rolls
The crowd was crazy for the throws. "Throws" refers to any of the stuff people in the parades throw to the crowd, ranging from beads to cups to "doubloons" to coconuts. Yes, coconuts. We didn't go to the Zulu parade, where one might be lucky enough to acquire a prized coconut, but we got a bunch of cool crap nonetheless.
For some reason I became obsessed with collecting as many krewe-emblemed doubloons as possible, and I amassed quite a fortune of them. What I'm ever going to do with the silly, useless things I don't know!
"Vivite ut Vehatis, Vehite ut Vitatis" (Live to Ride, Ride to Live)
Krewe d'Etat, famous for their satire
The Moonbeam was in rare form tonight. Just as I bent down to pick up a doubloon off the ground, Mooney lunged for some beads flying through the air, in the process, pouring her drink directly onto my head and right down the back of my shirt. She said that in all the frenzy, she forgot she had a drink in her hand! Whatever. I made her give me those damned beads.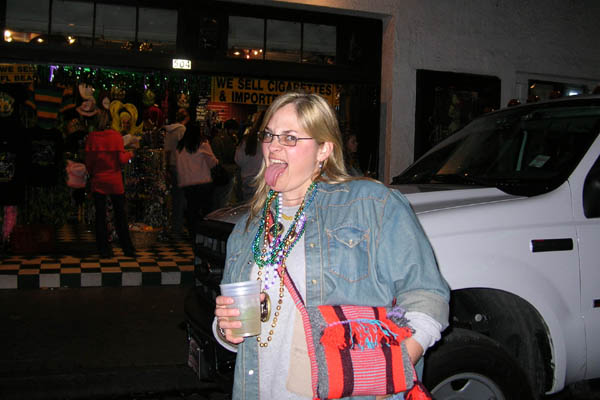 Mooney cops an attitude
Around 10:30 we went back to the room again to dump off our largesse. But I was tired, cold, wet (thanks to Mooney's drink), etcetera, so Pedro and I stayed in while everyone else went out again.
Laissez les bons temps rouler!