Saturday, February 17, 2007
New Orleans Mardi Gras Revisited
By 9:30 a.m. Mooney was ready for a Bloody Mary. I was, too, but I had to take a shower first because some a**hole poured a drink on my head last night. Hmmm... Who could that have been? Anyway, we made it downstairs eventually, Brian and Carol came down a little later, and Tom a bit later than that. I was unquestionably feeling better today than some of these guys that went back out last night.
A Bloody Mary morning
Astronaut-inspired attire
We wanted to get an excellent meal for lunch today, and after a fair amount of wandering, we wound up at Pere Antoine Restaurant on Royal Street. The service was really bad, but the food was excellent. They eventually realized how shitty the service had been and gave us our drinks for free, so it all worked out.
French Quarter, New Orleans
Mooney shops for Mardi Gras masks
Tom was feeling poorly and went back to the hotel to lay down after lunch, while the rest of us walked down to the river. It was a beautiful day, and there were lots of street performers out and about around the French Quarter.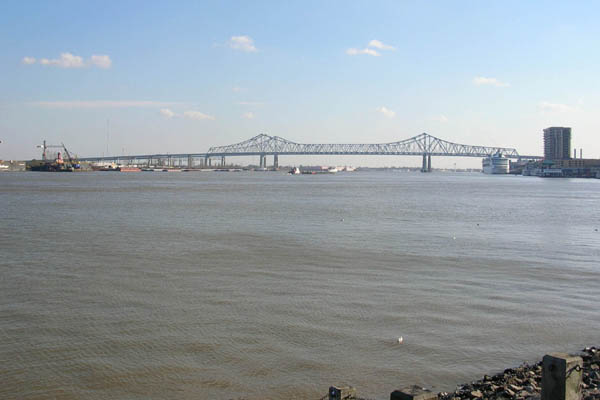 The mighty Mississip
St. Louis Cathedral, Jackson Square
In the early evening, at Mooney's fine suggestion, we went to the House of Blues on Decatur Street for a drink and a light supper. Mooney had bought a couple of masks for her and her daughter, which we all goofily passed around and modeled.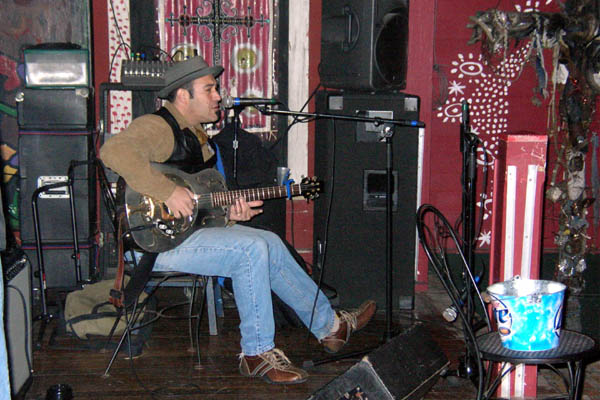 Inside the House of Blues
Sunshine & Mooney
Bourbon Street tonight was WAY more crowded and crazy and out of control than last night. Tom almost immediately got separated from the rest of us, and we didn't see him again for hours. Later, when I reviewed the video footage he shot, it consisted almost entirely of girls lifting their shirts. Shocking! New Orleans during Mardi Gras makes Las Vegas seem like church.
Jesus loves everyone!
Some girls actually played along with this
Speaking of church, there were Bible thumpers on every corner both last night and tonight handing out literature and holding signs telling us we were all going to hell. At one point, I happened to be standing next to one of these groups of holy rollers when I got a sharp blow to the head by some big, heavy beads. One of the Jesus freaks told me to be careful; the people on the balconies had been throwing stuff at them all night. Do you think they converted a lot of heathens over the weekend? I don't.
Who? Me?
Last night was more fun, when it was less crowded. I can understand how people get trampled in stampedes now. It was nuts. When a section of Bourbon Street got too packed, cops on horseback would come through to disperse the crowd. I don't know how that helped, because it was next to impossible to get out of their way. Carol almost got trampled by a horse! We didn't stay out much longer after that. We'd had enough fun for one weekend.
Look out below!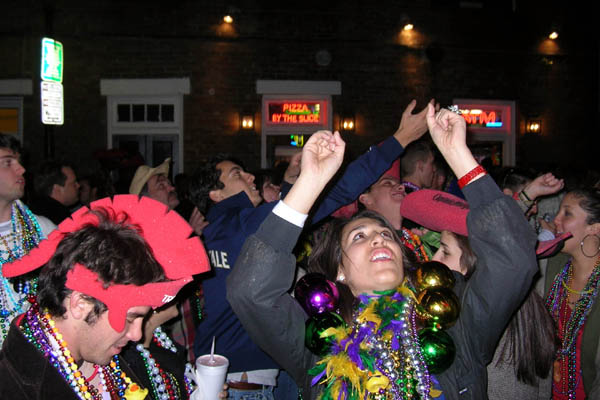 Begging for beads
An old, unpleasant hag working at our hotel, a woman who looked like she'd never had an ounce of fun in her life, told us, "This is nothing; wait till Tuesday," Tuesday being the actual Mardi Gras Day. Well, I beg to differ. This was, indeed, something. And if Tuesday is going to be even more so, I'm glad we're leaving tomorrow!
By midnight we were back in our rooms, but we could hear partying on the streets until 6:00 a.m. Mardi Gras was a lot of fun, but I'm done. The next time I come to New Orleans, it will NOT be during Mardi Gras. Or if we do travel to a Mardi Gras again, it won't be in New Orleans.
********************
Afterword - Sunday, February 18, 2007
The next day, we checked out and drove all the way home, 750 miles for the Okies, and 600 miles for Tom and me. Spike and Carlos were, as always, glad to have us back, and we had missed them, too.
Pedro rides again!
THE END