Saturday, July 17, 2004
The first day in our Midwestern road-trip odyssey will prove to be a long one. We head west and then north through Clarksville, Tennessee, adjacent to Fort Campbell and gateway to Land Between the Lakes. Clarksville also claims to be "The Gateway to the New South." I don't know what that means, but it's bound to be good!
Stop number one of our oddity odyssey
Clarksville, Tennessee
Land Between The Lakes (LBL) Recreation Area is a peninsula of land which extends north from Tennessee into Kentucky. The peninsula is created by two artificial lakes, Kentucky Lake to the west, formed by the Tennessee River, and Lake Barclay to the east, formed by the Cumberland River. We drove The Trace for 45 miles right through the middle of the LBL, but unfortunately you can't see either lake from the road. So we pulled off for a rest stop at Moss Creek day-use area on Kentucky Lake - nice, warm water and a clean, rocky beach. It would be a lot of fun if you had a boat.
Cave-in-Rock Ferry across the Ohio River
North of Marion, Kentucky, and south of Cave In Rock, Illinois, we crossed the Ohio River by a small, free ferry. Then it was just a few more miles to Garden of the Gods Recreation Area, located in the Shawnee National Forest. We climbed around on the weird rock formations and enjoyed the spectacular view until early evening. Southern Illinois rules! And Tom said Illinois was just one big cornfield!
Garden of the Gods, Illinois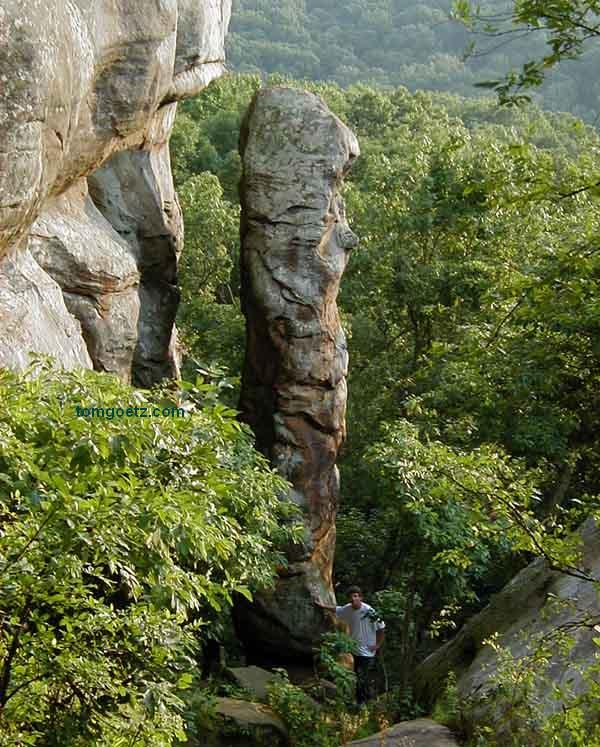 Devil's Smokestack
Cliffs of sandstone
Sediment of a giant inland sea
You can keep your moonshine in here
We finally stopped for the night in Carbondale, Illinois, 440 miles after we started, at a Motel 6. Then, after almost colliding head-on with a semi on a one-way street (never mind which vehicle was in the wrong or who was driving), we had dinner at El Bahia Mexican Restaurante. I had to have a Mexican-food fix before heading north!