February 24, 2016 and before
Knoxville to Dubai, UAE: Burj Khalifa



Myanmar: You just can't get there from here, at least not easily. Instead of flying from Knoxville, we drove to Washington-Dulles, flew from there to Dubai and then on to Bangkok. We spent a couple of nights in Bangkok for some R&R before continuing on to Mandalay and beginning our journey through the exotic country of Myanmar.

On Monday, February 22, we drove eight hours to Ashburn, Virginia, spending the night at Springhill Suites, where we left my car parked for the duration of our trip. Reservations were made through parksleepfly.com. The hotel's shuttle dropped us off at the airport on the morning of the 23rd.






Jana with all our luggage





Our Emirates Airline flight left Dulles at noon on the 23rd and arrived in Dubai 12 hours and 15 minutes later, at 9:30 a.m. on the 24th. The plane was a ridiculously large Airbus A380-800, a double-decker superjumbo, the biggest passenger plane in the world, with seating for hundreds. The plane wasn't full, so Tom and I had three seats, and we managed to get a fair amount of sleep overnight.






Dubai from the air





Originally, we were supposed to have only a 1 1/2-hour layover in Dubai, but three weeks before our departure, the airline changed our itinerary to one with a 6-hour layover, which was irritating until we realized that would be enough time to leave the airport and see something of the city. So instead of wasting our time at the largest airport in the world, we headed straight for Burj Khalifa, at 2,722 feet, the tallest building in the world!

To get to the Burj and back in time for our next flight, everything needed to go smoothly, or we'd have to abandon our quest and head straight back to the airport, forfeiting our tickets to ascend the Burj, purchased in advance for AED 130 ($35) each. If not purchased ahead of time, the tickets cost double, and the necessary time slot could be unavailable. I called this our "6-Hour Layover Challenge."

Happily, all went well. We deplaned promptly, had no delay at immigration or customs, and obtained some Arab Emirates dirham from a handy ATM. There is a Dubai Metro stop right at the airport's Terminal 3, where we quickly secured tickets and stepped on board.

The Metro ride takes about 25 minutes to the Dubai Mall Station. Then it's a good 20-minute walk along air-conditioned walkways and through one of the largest shopping malls in the world to get to "At the Top," the entrance area to the elevator where you ascend to the Burj Khalifa observation decks.






Inside the Dubai Mall





After the long walk through the mall, we picked up our pre-booked tickets from a self-service kiosk and then passed through security. We were allowed through with our small daypacks, but there is a left-luggage area just before security if your hand baggage is deemed too large. After security and a hamster maze of hallways, we reached the elevators, where again there was NO LINE. I couldn't believe it. The elevator ride to the 124th floor takes only about 60 seconds, and you can't even tell you're moving.


"Burj Lake," at the foot of Burj Khalifa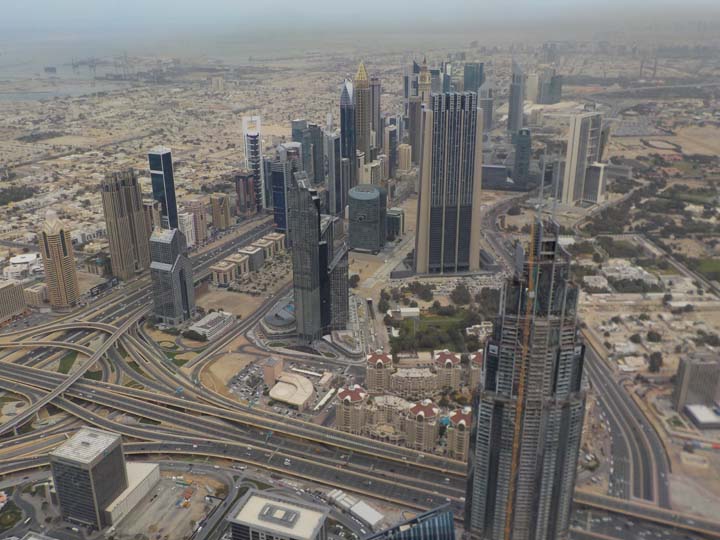 Dubai from Burj Khalifa





Burj Khalifa is 2,722 feet tall, but the observation decks we went to were on "only" the 124th and 125th floors, at a mere 1,476 feet. There was still a LOT of tower above us. For roughly double the cost, you can go to a higher observation deck on the 148th floor, at 1,821 feet, but we could see all of Dubai from 1,476, so I was satisfied.






Looking up from the 124th floor





We spent about 45 minutes on the observation decks before heading down and retracing our steps to the airport. By 1:45 we'd passed back into the airport system and had made it to the B gates in Terminal 3, from which our next flight, to Bangkok, would be leaving. Time elapsed since arrival in Dubai: 4 hours and 15 minutes. There was even enough time to spare to buy some duty free and get a burger before boarding our next flight, leaving at 3:20 p.m. Challenge completed!