February 26, 2016
Bangkok to Mandalay, Myanmar: Mandalay Hill



We gorged on the expansive breakfast buffet again this morning and then headed for the airport. It was rush hour when we left the hotel at 8:00 a.m., but taking the tollway, we got there in only 20 minutes.

The cheapest flights to Myanmar are on low-cost carrier AirAsia, which flies through Bangkok's Don Mueang International Airport (DMK). Most international carriers, including Emirates Airline, fly through Bangkok International Suvarnabhumi Airport (BKK). This is part of the reason we chose to spend some time Bangkok as we passed through, to avoid missing our connection if there was any delay.

At Bangkok's secondary airport, we finally found an airport civilized enough that we didn't have to take off our shoes to pass through security. They didn't seem to give a damn about liquids either. AirAsia allows one carry-on bag with a 7 kg maximum, plus one personal item, and they did indeed weigh the baggage (but not the personal item) at the gate before our flight. Several passengers had to kneel down on the tarmac to rearrange their baggage to make the weight requirement or gate-check a bag at an additional charge, but Tom and I had no issue. Choosing your seat is also an additional fee, so we ended up sitting two rows apart for the 1-hour, 25-minute flight.

Weird: The time difference between Myanmar and home is 11 1/2 hours. Yes, Myanmar has a half-hour time zone differential from most of the rest of the world.






Jana on the flight to Mandalay





Flying into Mandalay was a big shock. There were a total of THREE planes at the airport, including ours! Not what I expected. Here is what Wikipedia says about Mandalay International Airport: "Completed in 1999, the airport is the largest and most modern airport in the country, connecting 11 domestic and four international destinations, complete with a 14,000-foot (4267-m) runway which is the longest runway in use in Southeast Asia and capacity to handle up to 3 million passengers a year." Ha! This place is NOT ready for prime time.






Mandalay International Airport - Where are the planes???





Immigration was mess. On the plane we'd been given a customs card, so I thought with that card, our eVisa confirmations, and passports, we were good to go paperwork-wise, but when we reached the immigration officer, he gave us another form to fill out. So we stepped to the back of the line (along with many other people with the same issue), and our second time through, we were good to go. Customs was the usual no-hassle walk-through, but we did have to pass through security again on the way into the country.

Finally we were out of the non-impressive government side of the airport and into the smoothly running capitalist side, where we changed U.S. dollars into kyat and got a taxi to our hotel. The taxi stands had their rates posted, so we didn't have to deal with a negotiation right off the bat.

Traffic alert: In Myanmar they drive on the right, like in the U.S., but their steering wheels are also on the right, not like in the U.S. The driver's limited view to his left makes for some pretty sketchy passing! The traffic is wild here, more motorcycles than I've ever seen, mostly little 125cc bikes weaving in and out of traffic, hauling all kinds of loads, plus cars, buses, bicycles, all manner of trucks, and even ox carts. Walking is the most scary method of transportation of all – vehicles don't stop for pedestrians, the sidewalk, when there is one, is broken and irregular, and traffic lights are rare.

By 1:30 we'd reached Hotel G-Seven in Mandalay. We booked all our hotels in Myanmar through Agoda.com. Agoda charged our credit card, so all we had to pay for on site were incidentals (laundry, bike rentals, etcetera). Our first two hotels we'd booked before we left the U.S. The rest we reserved a couple of days in advance as we were on the road.

At the G-Seven we have a Superior Double room with breakfast. "Superior" is actually their smallest room, but it's plenty. The hotel and the room are very nice. There's air conditioning (not every room in every hotel has a/c), a reasonably priced minibar, laundry service, free toiletries, WiFi, and a breakfast buffet. The room is $35 per night with tax, and we're here two nights.

A note on our hotels in Myanmar: They were fine! All provided free toiletries, at least soap and shampoo, usually toothbrushes and toothpaste as well. All had free WiFi of moderate speed (our Mandalay hotel was the slowest). Many had a kettle and a (usually warm) minibar. The reason for the warm minibar is that the electricity to the room is generally shut off when you're not in there. All the hotels in Myanmar will book buses, taxis, etcetera, for you at the front desk. This can be done on your own a little more cheaply, but everything is cheap anyway, and I don't begrudge the hotels a dollar or two for the convenience.

Shortly after our arrival, we reserved a car and driver for the next day, then walked to a taxi stand and caught a taxi to Mandalay Hill. The driver took us up a winding road to the foot of an escalator leading to the pagoda that tops the hill. A Burmese family was ahead of us as we got on the escalator, and a couple of the older ladies had CLEARLY never been on an escalator before. Some of the younger men in their party greatly assisted the ladies, or they would not have made it without injury. The ladies were having a lot of fun with the novel experience, in spite of their trouble. It was one of the cutest things I've ever seen.






Escalator to the pagoda atop Mandalay Hill





The pagoda was over-the-top gaudy and magnificent, and the views over Mandalay, though hazy, were mesmerizing. We could see much of Mandalay sprawling out far to the south and the enormous Royal Palace and its impressive moat just below.


At the top of Mandalay Hill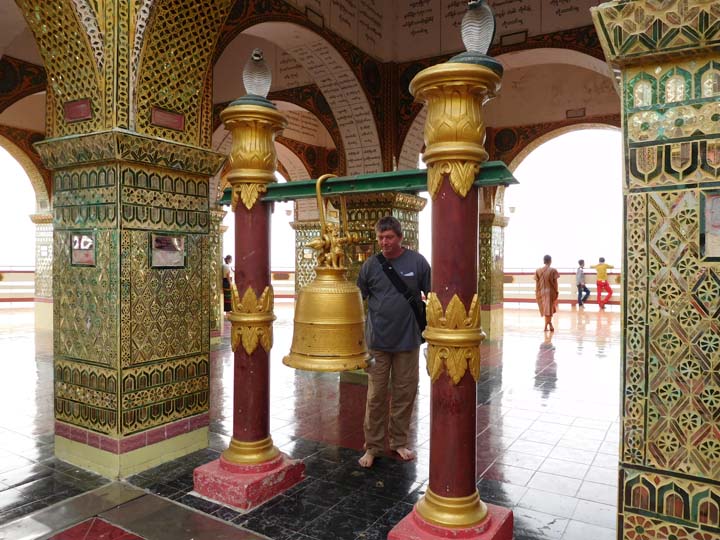 Tom rings a bell for good luck




Jana overlooking the Royal Palace





As we were walking around the pagoda's main terrace, Tom noticed some local girls paying him a lot of attention. It turned out they were actually intrigued with both of us. We westerners were as much a novelty to them as they were to us. We had no common language, but we ended up taking a whole series of photos with their phones and our camera. As we parted ways, one of the girls gave Tom a bottle of water as a token of friendship! (She'd already drank a little of it, but it's the thought that counts.)


Jana and Tom with some new friends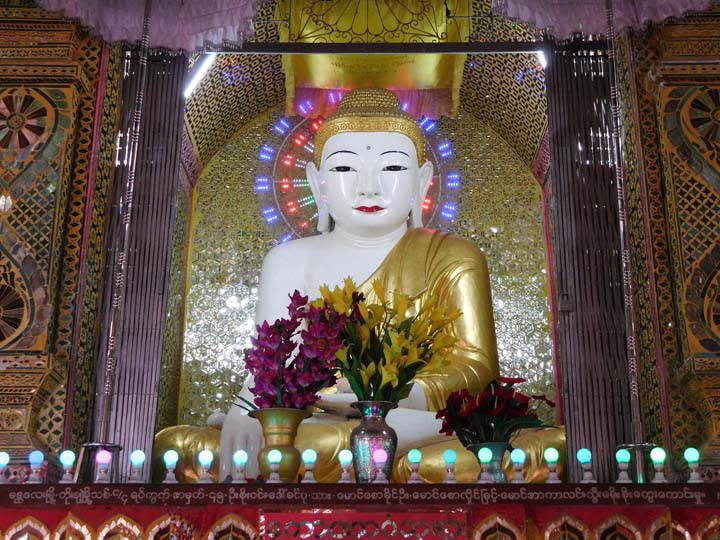 Disco Buddha





On the way down, we walked the 1,729-step staircase, which was pretty hard on our soft western feet, and emerged at the bottom of the hill at some pagodas just as impressive as the one up top, so we checked those out too. The pagodas were all very busy, but the Buddhist goings-on were a complete mystery to us. People seem to just stop by anytime they get a chance, on no set schedule, for a quick dose of prayer.


At the foot of Mandalay Hill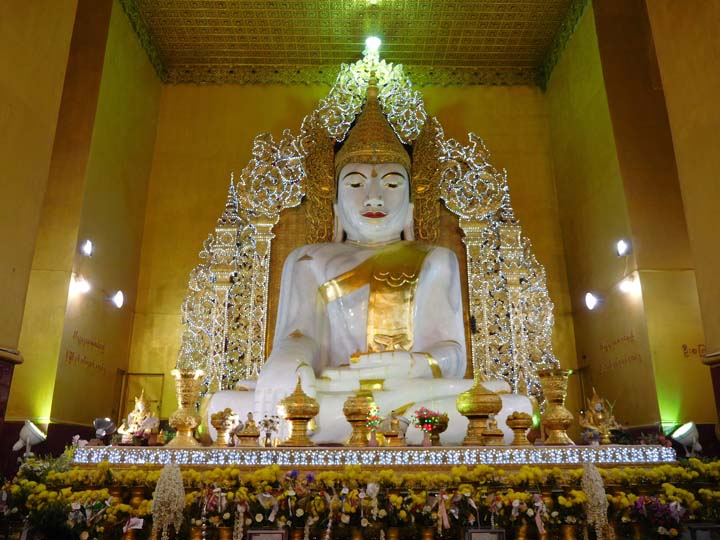 Pointy-hat Buddha




Myanmar or Disney World?





Then we walked over to Shwenandaw Kyaung, a monastery made completely of teak that was once part of the royal palace in Amarapura and later dismantled and moved to Mandalay. It was too late to go in and see the intricate carvings inside, but it was impressive from the outside as well.






Shwenandaw Kyaung teak monastery





At dusk we taxied back to the hotel. We didn't even recognize the place when we pulled up because it was all lit up with rope lights and looked completely different. They really deck out the pagodas and businesses around here after dark. It reminded us of Las Vegas!






Hotel G-Seven, spectacular at night





We had dinner at the Beer King, not far from our hotel. No one spoke English, but they had a menu with (very confusing) English translations. I ordered prawn dry curry, because at least I knew what part of the prawn I'd be getting (the whole thing), and Tom ordered "sliced dried pork," whatever that would turn out to be. The meals were great. Mine was fried prawns with spicy breading, and Tom's was strips of fried pork with what we'd call pico de gallo (VERY hot). Even with the addition of four 640ml beers and a three half-pints of good quality Myanmar whiskey, the whole thing cost just 15,500 kyats (that's less than $13)! We are thinking of retiring here.


Beer King