February 28, 2016
Mandalay to Pyin Oo Lwin: National Kandawgyi Botanical Gardens



We enjoyed the breakfast buffet once more and met our taxi downstairs at 10:00 a.m., to take us from the flatland of Mandalay to the scenic hilltop city of Pyin Oo Lwin (a/k/a Maymyo), elevation 3,510 feet. When Burma was a British colony, its officials would retreat to Pyin Oo Lwin in the summertime to avoid the oppressive heat and humidity of the lowlands.






Yummy Burmese breakfast





Our taxi raced us to Pyin Oo Lwin in an impressive 1 1/2 hours. According to our book, it's a trip that usually takes an hour longer! As a side note, besides not having seat belts, these taxis also lack any handles in the backseat to hold onto. We could have used them.

Craziest load witnessed on a motorcycle: Two guys hauling a full sheet of plywood. The guy on the back was holding the plywood up over both their heads, resting it on his own head, and not holding onto the bike, obviously, at all. If the wood had tipped even slightly one way or the other, he would have flown off his seat like a kite!

Also observed on motorcycles (and scooters): Up to four people on one bike; just a dad and baby; just a mom and baby; people hauling furniture; a guy riding along on his motorcycle eating a big ole slice of watermelon. The women usually rode sidesaddle, unless they were operating the bike themselves. That's some good balance.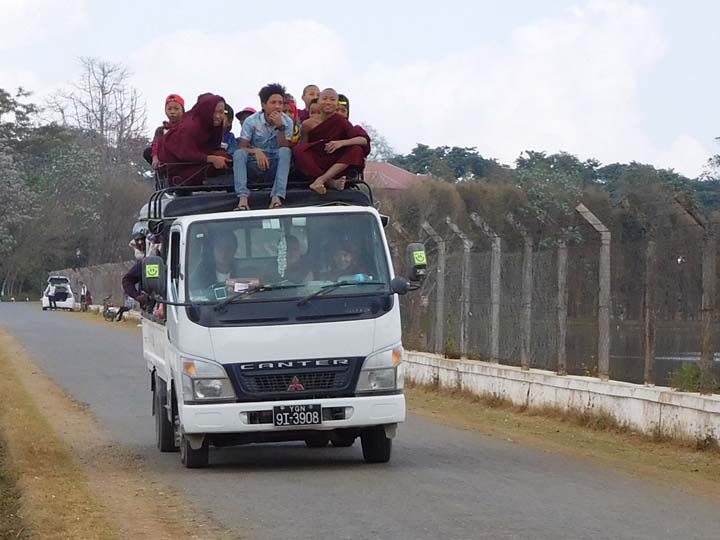 Typical overloaded taxi-truck





In Pyin Oo Lwin we're staying at the Royal Flower Guest House. The place is cute, but the facilities are low frills, in that the room is a bit small and the bathroom has exposed plumbing. The shower was nothing to look at, but it was really quite good. The solar water heater provided plenty of hot water, and the pressure was good as well. Of all our hotels in Myanmar, only the one in Mandalay had a tub/shower area separate from the rest of the bathroom; the rest were "wet rooms," with no separation of the shower, so pretty much the entire bathroom gets wet when you bathe.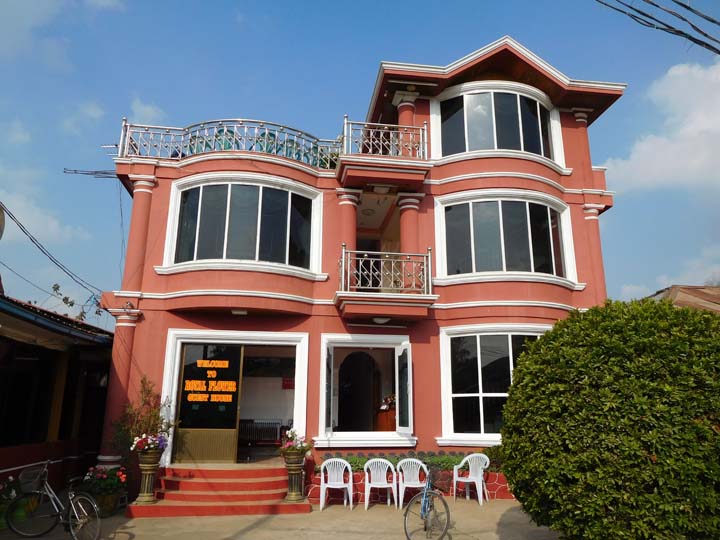 Royal Flower Guest House




Wet-room bathroom





Side note: Pyin Oo Lwin is the only place on our trip where we needed to use an electrical adapter (the Northern European style). All the other rooms had universal outlets that accepted our American plugs. We'd brought a few different adapters, unsure of the plug style, so I thought I'd mention it.






Our cute little room





The hospitality at the Royal Flower is impeccable. The hotel is managed by an old Indian man who speaks perfect English. He gave us a map of the area and pointed out various points of interest and restaurants that would be safe for our wimpy foreign stomachs. The room is $30 per night with tax, breakfast included, and we're here two nights.






From the rooftop terrace





We spent the afternoon visiting the lovely 430-acre National Kandawgyi Botanical Gardens, 4 or 5 km south of our hotel. It was a bit of an adventure getting there on the old, rickety one-speed bicycles we rented from the hotel, but we made it without incident, and the ride was a lot of fun.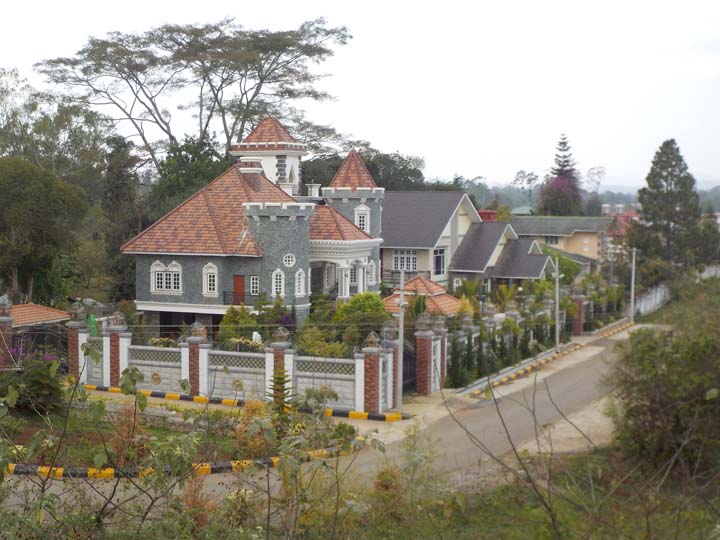 Colonial-style home in Pyin Oo Lwin
Entrance to the National Kandawgyi Botanical Gardens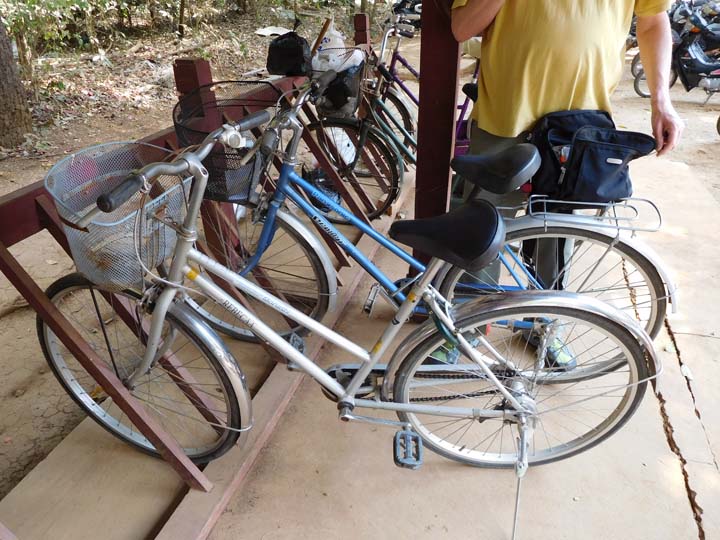 Our crappy bicycles





Entrance to the garden for foreigners is paid in either kyats (6,000) or dollars (5), which was unusual – almost everyplace else insisted on kyat only, a recent change, as I understand it. We parked the bikes and walked the gardens for several hours. It was a beautiful place and a beautiful day!


Nuns in flowers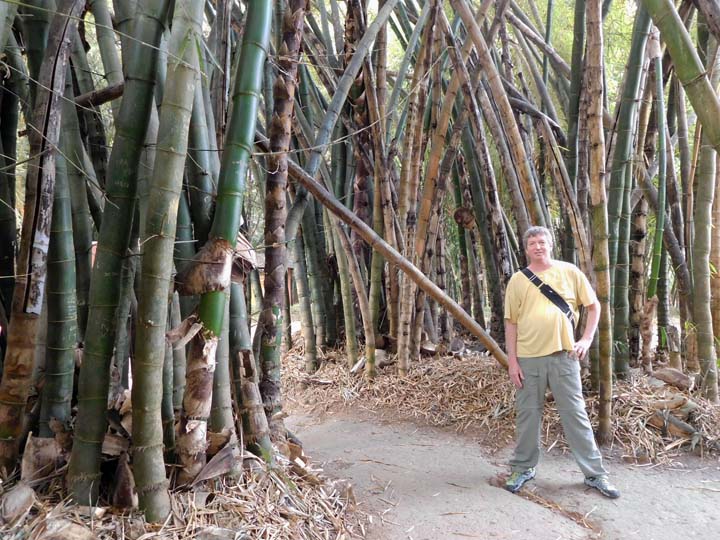 Tom and some big bamboo




Orchid





There were tons of locals at the botanical gardens enjoying the pleasant Sunday afternoon, and they all wanted to say hello to us. We also spotted several people surreptitiously taking our photo. I'm afraid we stuck out like a couple of sore thumbs. We only saw a handful of other obvious foreigners (by obvious, I mean white) all day. I don't think the Korean and Chinese tourists had the same pseudo-celebrity status as we whites.


Pagoda Island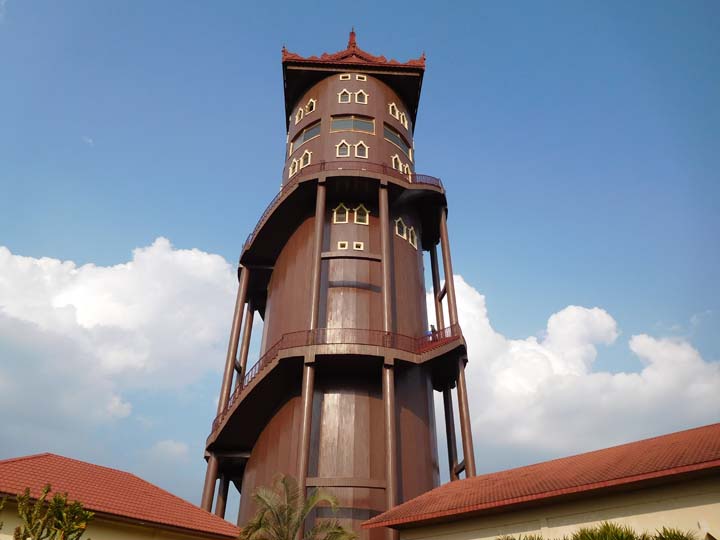 Nan Myint Tower





Back at the Royal Flower, we asked where we could get a couple of cold beers to drink as we enjoyed sunset on the rooftop terrace. The manager hopped on his bicycle and fetched the beers himself in just a few minutes. Then he arranged our bus tickets for two days hence and a taxi to take us to the train station tomorrow morning. As I said, the service is impeccable.






Sunset from the rooftop terrace





We had dinner at Ruby's Chinese Restaurant, beef with onions and cashew chicken. It was an awfully dirty place, but a couple of British ladies we'd met at the hotel had mentioned it, and by the time we reached the restaurant, we couldn't walk another step. We were worried we might regret the meal, but we didn't get sick, and the food was delicious!

In Myanmar it's customary to get the attention of your waiter by making a "kiss-kiss" sound. Tonight I did this for the first time, and it worked like a charm, but it was very awkward for me. I continued to occasionally kiss-kiss for waiters and waitresses for the remainder of our trip, but Tom never did. Coward.