March 2, 2016
Bagan Archaeological Zone by eBike



When I booted the computer this morning, I found our wireless card had fried. I had been sending trip updates almost daily to friends and family, but no more! Since I'd been having fun with the emails, I decided to continue writing them and send them out later when I get a chance. The voice-mail on my phone isn't working right either, and our GPS has failed. We're falling off the grid one device at a time!

Today we explored the Bagan Archaeological Zone by eBike, an electric motor scooter with a top speed of 55 kph. Neither of us had ever ridden one before, so it was pretty thrilling. It went fine, even though I did cut off an ox cart when we were just getting started. I forgot to honk my intentions as is typically done here. Whoops. We rented the bikes from our hotel. Two really good, almost brand-new eBikes cost just 8,000 kyats each (less than $7) for the entire day.


Jana on an eBike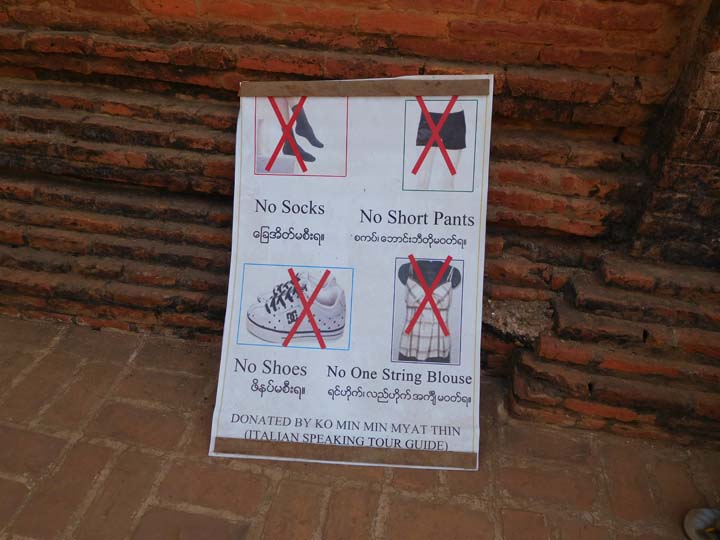 Why we were almost always barefoot in Myanmar





The ruins of the medieval city of Bagan lie over an area of approximately 26 square miles on the east bank of the Irrawaddy River. Around 2,200 temples, pagodas, and monasteries rise above the dusty plain, the remains of an estimated 13,000 structures erected beginning in 1057 and ending in 1287 with the invasion of the Bamar Empire by Kublai Khan's Mongol army.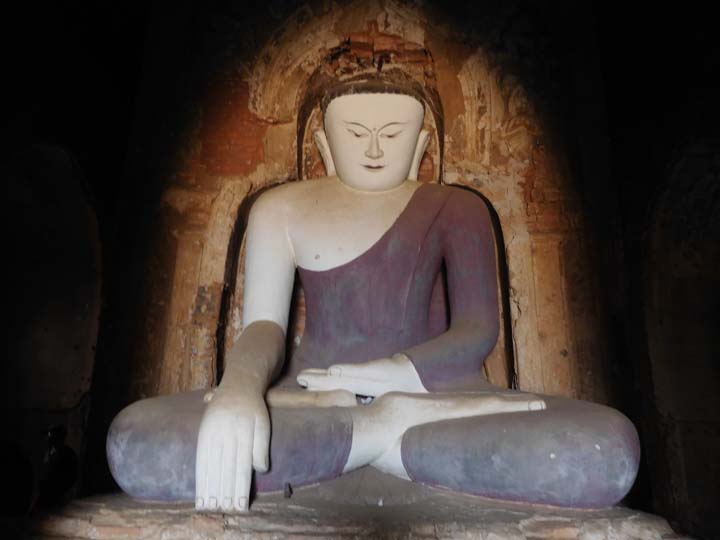 Old Buddha
Ananda Temple, built 1105 AD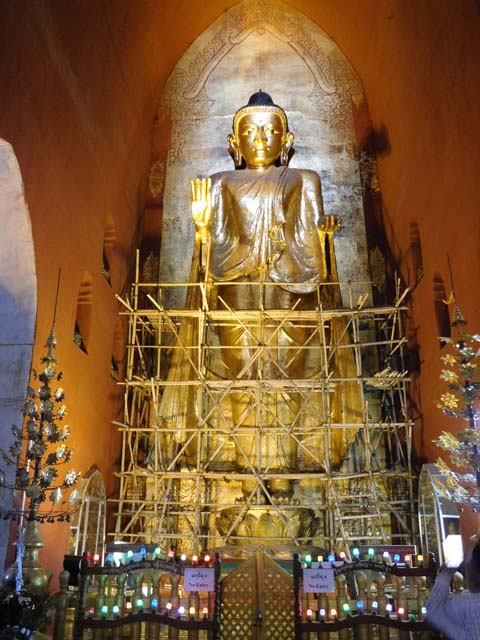 Scaffold Buddha





We covered a lot of ground on the eBikes, exploring the sights of Nyaung U, Old Bagan, and the Bagan Zone's Southern and Northern Plains. I tried to make notes of the different places we stopped, but some didn't have the name posted, or it was written only in Burmese. No worries. We went to many of the better known monuments, but it was even more fun venturing off the beaten path to temples and pagodas where we were the only, or almost only, visitors.


Bupaya Pagoda
Thatbyinnyu Temple
Ananda Temple




Shwegugyi Paya





You're no longer allowed to climb to the top of many of the monuments, to prevent damage to the structures, but there are still quite a few where climbing is allowed. The stairs are often steep, and on a hot day like today (mid 90s), our feet felt awfully tender as we walked around barefoot, sometimes running from shady spot to shady spot, but whenever we reached the top, we were rewarded for our efforts with outstanding views.


Mingalar Zedi
Steep climb, barefoot, on the hot brick




Across the dusty plain





Tom and I were so enthused with Bagan, we actually bought a few small souvenirs throughout the day, which is unusual for us. Outside Shwesandaw Pagoda, Tom bought an old 15-kyat note from a boy, then another young boy talked me into buying some postcards and gave us a couple of sand-art paintings for free. Burmese boys are so cute! I got a picture of one of the kids after Tom made his purchase. He is wearing a longyi, the traditional skirt that Burmese men still commonly wear today.


Shwesandaw Pagoda
Shinbinthalyaung Reclining Buddha




Little Burmese capitalist





One of our favorite temples was Myauk Guni (North Guni). It wasn't marked on either of our two maps, but someone had left a map in the pocket of my eBike, and this place had been handwritten in. It's near Dhammayangyi Temple. We were there at about 3:00 for half an hour, and there were just a handful of other people around. You can climb this temple up a series of narrow interior stairways. The view from the top is superb!


Myauk Guni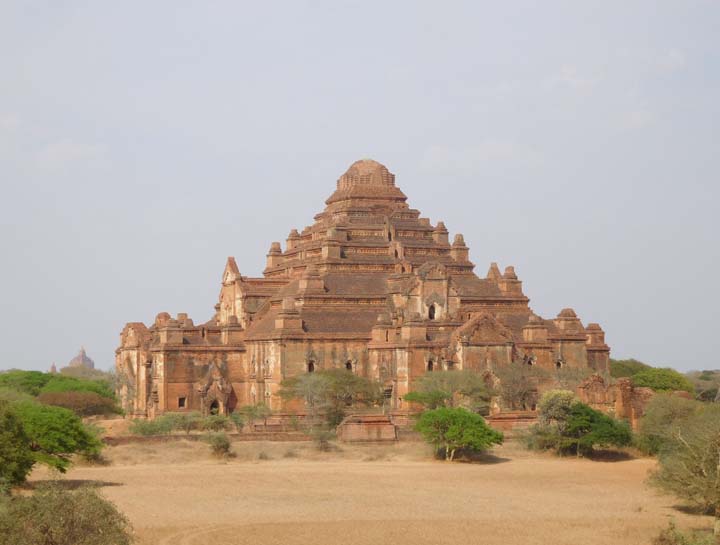 Dhammayangyi Temple




Temples, temples everywhere





On our way to the golden-domed Dhamma Ya Zi Ka Pagoda we'd been seeing in the distance all day, we got way off the beaten track and rode into a previous century through the tiny village of West Pwazaw, that looked like it was from the time of Marco Polo, who had passed through the Bagan area in its heyday. The sandy paths we were riding on were pretty sketchy on the eBikes, but at least it would have been a soft landing if we'd laid a bike over.


Dhamma Ya Zi Ka Pagoda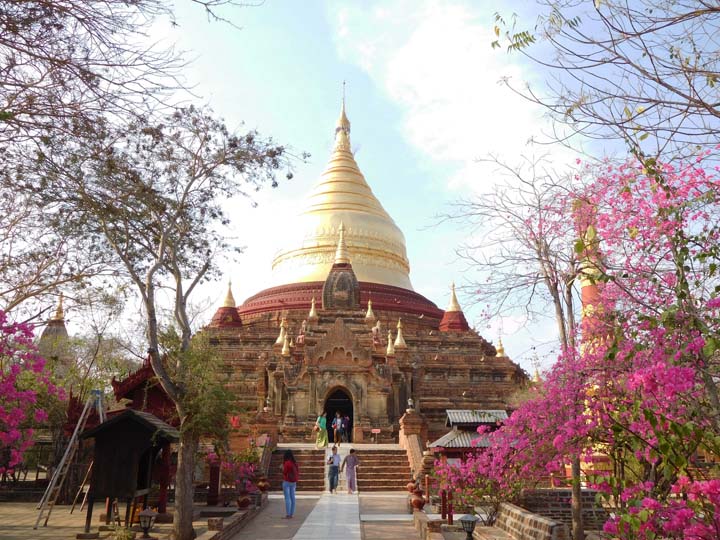 Beautiful blooms, Dhamma Ya Zi Ka Pagoda





Late in the afternoon, we started making our way back north across the plains toward Nyaung U. On our way, we spotted a really pretty white temple which caused us to turn around and stop. This was Lemyethna Pagoda, built in 1222.


Lemyethna Temple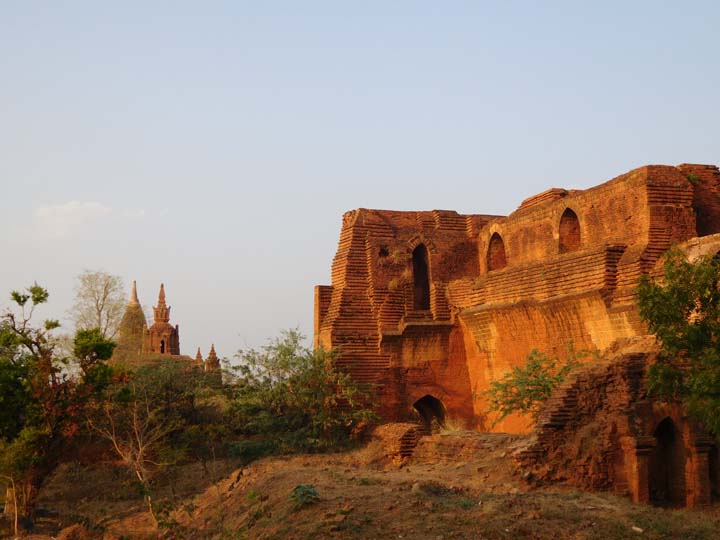 Unrestored platform of Lemyethna Temple





Our last stop was Sinphyushin Temple in the Hsin Phyushin Monastic Complex. We happened on it by chance and pulled over when we spotted people at the top. We climbed up just before sunset for one of the best panoramas of the day.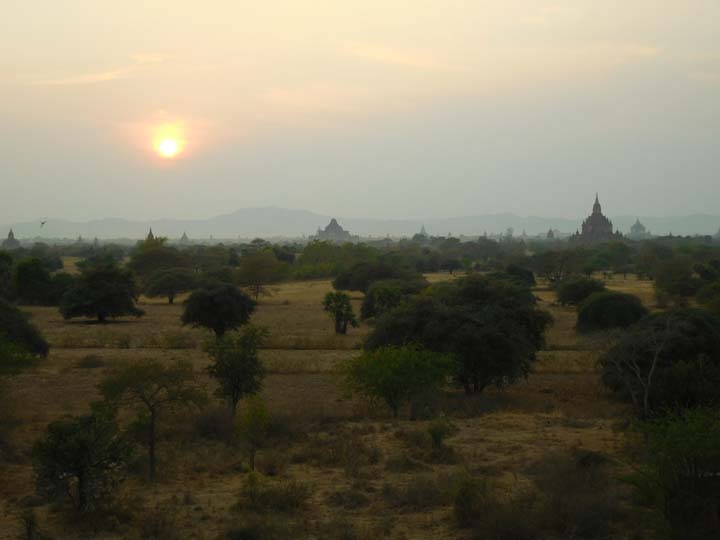 Bagan plain from Sinphyushin Temple





We didn't get back to the hotel until 6:45. It was pitch black outside by then, which made the trip back into the unfamiliar town in fairly heavy traffic very exciting on our little scooters. We were extremely filthy after today's excursion in the heat and sand, and I've rarely enjoyed a shower more than I did tonight. It was an incredible day in Bagan!

At the front desk, the manager arranged our bus tickets to Inle Lake, leaving tomorrow night. We should have booked the tickets yesterday on arrival, but we weren't yet sure when we'd be leaving Bagan, so we waited too long and couldn't get tickets on the "VIP" bus. After a few phone calls, we ended up with tickets on the "third best" bus. Tom asked if it was a good bus, and the manager's response was "not really." Uh-oh.

We returned to San Kabar Restaurant tonight, but this time we ordered Burmese food. Tom had beef curry with plain rice, a carrot salad, and a tomato salad. I had beef curry with coconut rice, a tomato salad, and a cucumber salad. Of course, we also had a couple of 640 ml Myanmar-brand beers (the ever-present brand here). It was one of the best meals of the trip, for only 11,400 kyats (less than $10)!

Tonight we booked our next hotel, near Inle Lake in Nyaung Shwe, on Agoda.com, using my phone. It's hard to research hotels on a phone's small screen, so I chose the first place that looked decent. I'm sure it will be fine...