March 3, 2016
Bagan to Inle Lake: Mount Popa



After breakfast, we arranged for a taxi to pick us up at 10:30 and take us to Mount Popa, 30 miles to the southeast. Mount Popa is a rocky volcanic plug which rises dramatically from the surrounding plain, with the sacred Popa Taungkalat Monastery situated at its top.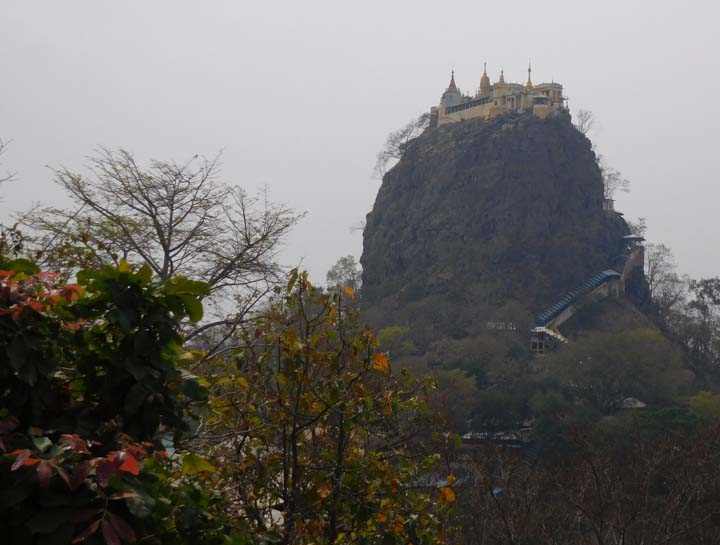 Mount Popa





There are 777 steps from the base of Mount Popa to the summit, which of course have to be climbed barefoot. Our poor feet! It takes 20 to 30 minutes to reach to the top. A few wizened old people were being carried up and down the steps suspended from a pole, each supported by two strong young men.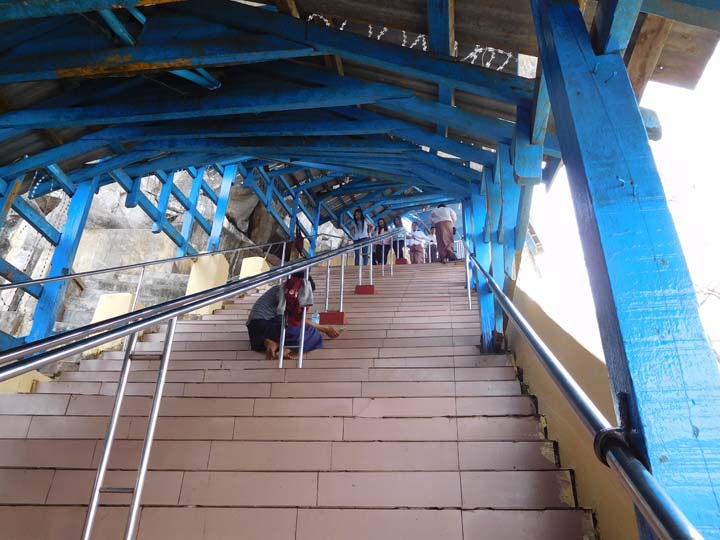 Cleaning the stairway





The area around Mount Popa is overrun with macaques, so you have to keep a tight grip on your things lest they be snatched by thieving monkeys. The steps up the hill are cleaned constantly, so at least you don't have to walk through monkey poo with your bare feet. Each stair-cleaner asks for a donation, naturally, and their service is worth a little something. I wish we'd had more small bills. (There are no Myanmarese coins.)






Mischievous macaque





Mount Popa is considered the home of Myanmar's most powerful Nats, or spirits, and thus is an important pilgrimage site for Burmese Buddhists. At the top, there's a labyrinth of shrines containing statues of the 37 most important Nats, all wearing very colorful clothing.


Prosperous Buddha
Live long and prosper




On top of Mount Popa





We were enjoying the view of the surrounding area when two friendly children approached and gave us candy. Again, we were a spectacle. So many people had their photos taken with us, I couldn't keep count. It actually got kind of overwhelming, like we were being hounded by paparazzi. The novelty of our celebrity status is finally wearing thin.


From Mount Popa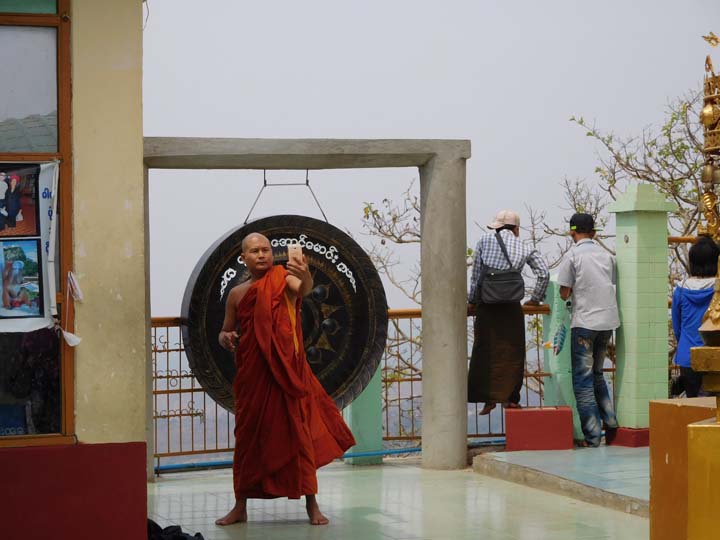 Monk taking a selfie - Priceless




Tom and friends





In the village at the bottom of the hill, we sat down in a little tea shop for a Coke and some people-watching. Notably, Coke and Pepsi products and Tabasco are the ONLY American brands we saw while in Myanmar, with the exception of one newly opened KFC in Myanmar's largest city, Yangon.


People watching below Mount Popa




Elephant guards





Mount Popa was about a four-hour excursion from Nyaung U, an hour drive each way and a couple of hours on the hill and in the village below. We got back to our hotel a little after 2:30 and cleaned up in the shared bath facilities, having checked out of our room in the morning, then ate a late lunch/early dinner at what has become our usual place, San Kabar Restaurant.






Weird old Chinese truck, as seen all over Myanmar





We had just enough time to visit one last temple before leaving the Bagan area. We walked over to Kyanzittha Umin, described as a "cave shrine," which is not a cave at all but rather a low brick building built half under the ground and half above. The walls of the temple are adorned with frescoes dating from the 11th to the 13th centuries. The building was unattended and unlit, but we let ourselves in and used my flashlight to look around.






Kyanzittha Umin





At 6:00 the transfer taxi-truck picked us up at the hotel and delivered us to the bus station outside of town, where we caught an overnight bus to Inle Lake departing at 7:15. The name of the bus company was the Ye'Thu Aung Express. "Express" is a misnomer; we stopped frequently. The fare was only 11,000 kyats each ($9), which as it turns out was too much. In the future, we've vowed to book our bus tickets further in advance, so we will never have to take the "third-best" bus again.

The bus was VERY crowded. In addition to the two narrow seats on each side of the bus, which Tom and I could barely fit our butts into, there was a fifth fold-out seat in the aisle. So I got to cuddle overnight not just with Tom on my right but also with stranger-man in the aisle to my left. To our horror, the bus played very bad Asian pop music videos on a loop for hours. I should also mention that the bus driver looked about 14 years old. I took Dramamine due to the tons of switchbacks going over the mountains, and luckily I was zonked out for most of the trip. Bear in mind this was not the WORST bus. There were several more inferior grades of bus below this one.


Young nuns outside a bus rest area