March 5, 2016
Inle Lake Boat Trip: 5-day Market, Phaung Daw Oo Pagoda, Inthein, Nga Hpe Kyaung



Today we hired a longboat and driver for just over $20 to take us around Inle Lake for over eight hours. Quite a deal, I'd say. The boat driver met us at the hotel at 7:30, and we followed him on foot to the pier, about a mile away. He didn't speak English, which would have been nice, but it wasn't really necessary.






Our longboat and driver





A canal leads from Nyaung Shwe to Inle Lake. As soon as we reached the lake, we saw several Intha "one-legged" fishermen, who row with one leg while they use their arms to work with large conical fish traps. Good balance! The mist-shrouded mountain view from the lake in the morning was quite tranquil.


Intha fisherman, Inle Lake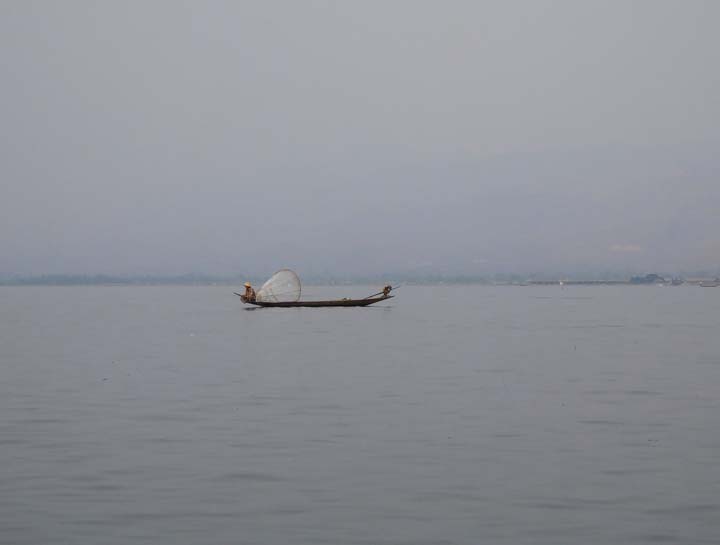 Fisherman with trap




Surreal scene





Intha villages are scattered all over Inle Lake, built high up on stilts. With no malls or supermarkets, shopping on the lake is dependent upon a "five-day rotating market," held every fifth day, with its location constantly changing. We were fortunate our visit coincided with market day, today in the village Nam Pan. It takes an hour to reach Nam Pan from Nyaung Shwe, and we headed there first since the market shuts down in late morning.


Stilt house and floating gardens




Village on stilts





We spent about an hour wandering Nam Pan Market. The part geared toward tourists was kind of annoying, but the local market, particularly the fish and other food, we really enjoyed. Tom bought a couple more old kyat notes in odd denominations.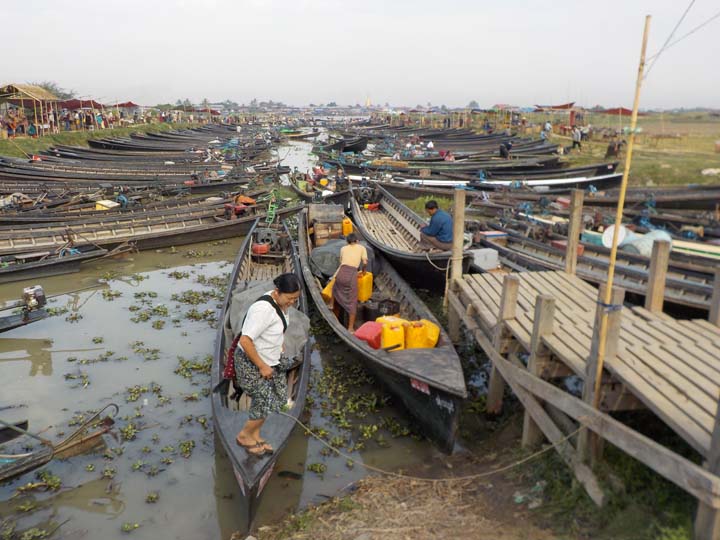 Parking at Nam Pan Market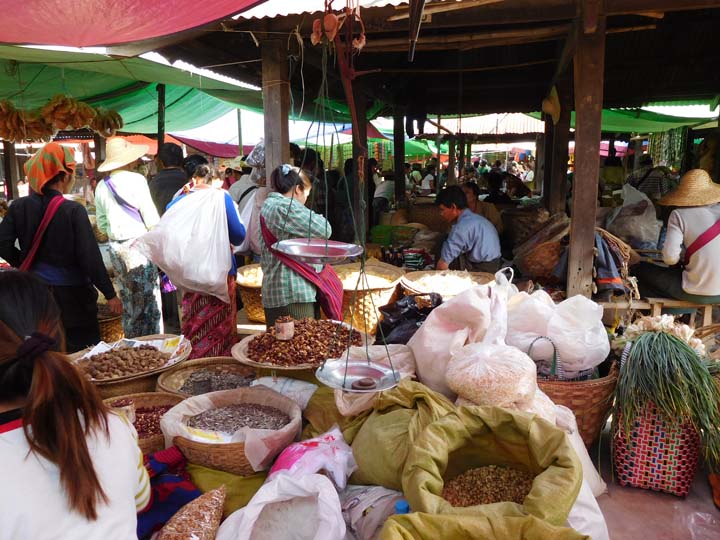 Nam Pan Market




Fresh fish at Nam Pan Market





The Intha are skilled artisans, and the village of Inn Paw Khone is known for its demonstrations of their craftsmanship. Of course, it's a ruse to get tourists in the door to make purchases, but the demos were interesting, and we never got a hard sell. We visited a lotus flower and silk weaving shop; a boat-making/woodworking shop, in combination with a cheroot (cigar)-rolling shop; and a silversmith. The silversmith had a picture of Herbert Hoover on the wall. Hoover ran a silver mine in Burma for four years, well before he was president of the United States. We bought some cheroots, paying the equivalent of $6.50 for 22 cigars in a handmade wooden box.


Spinning thread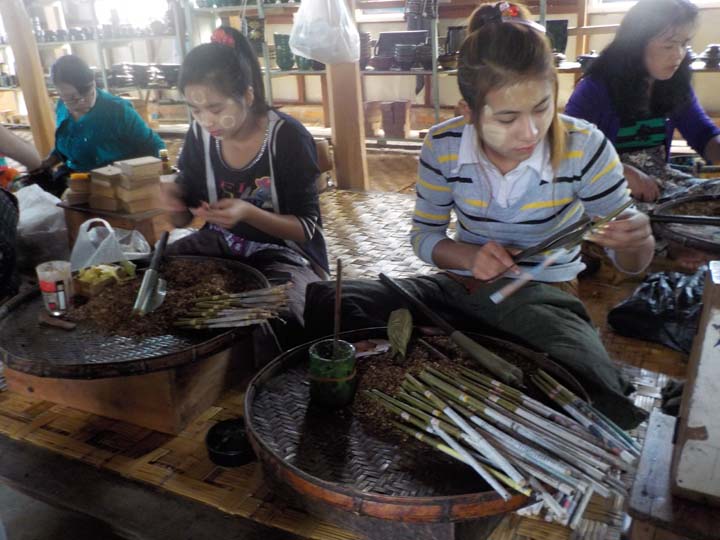 Rolling cheroots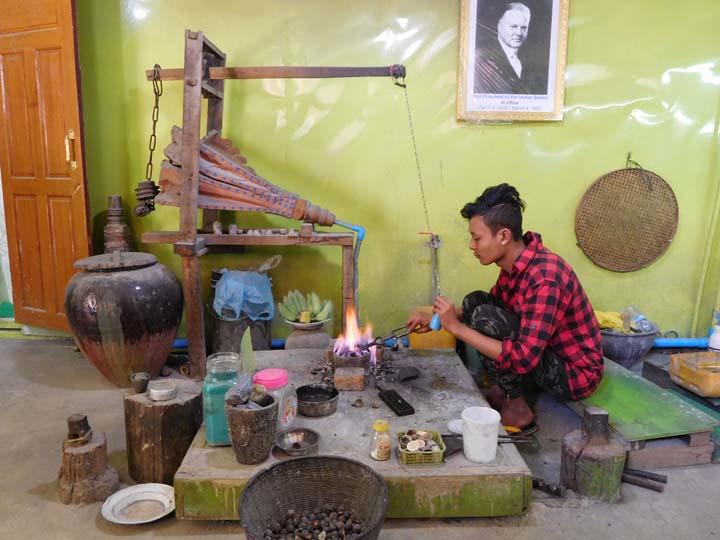 Smithing silver





Phaung Daw Oo Pagoda is one of the holiest sites in Shan State, so holy, in fact, that women are forbidden from approaching its five revered ancient golden Buddhas, so we ladies cannot be blamed for the images being covered with so much gold leaf that they are no longer recognizable. Next to the pagoda is a large golden barge that's used during a festival each year to carry the Buddhas around the lake.


Phaung Daw Oo Pagoda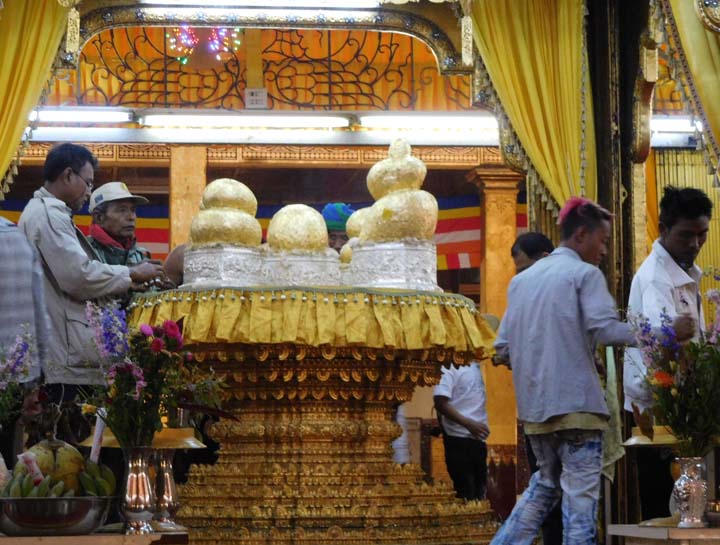 Buddhas rendered unrecognizable by men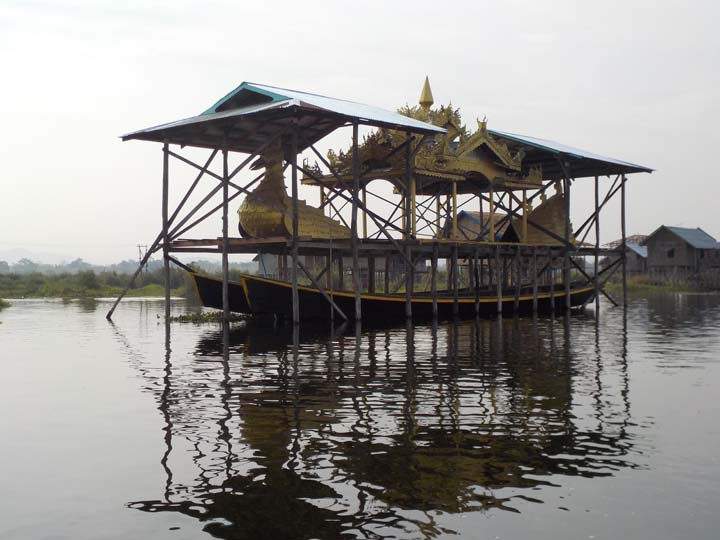 Barge to carry Buddha images





Our favorite part of the day was the ride to the village of Inthein a/k/a Inn Dein, a 25-minute boat ride west of and uphill from the main body of Inle Lake via a canal and over a series of bamboo weir dams. The longboat drivers have to be very skilled to negotiate the narrow openings in the dams. We rode past people washing clothes and brushing their teeth in the canal and bathing alongside their water buffaloes. Things are different here. I don't know what else to say.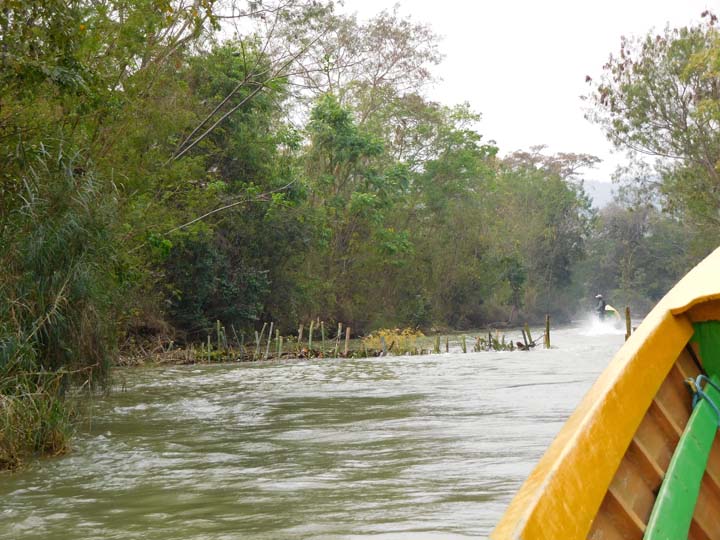 Weir dam on the canal to Inthein




Bathing with a buffalo





Inthein is known for its hundreds of crumbling stupas from the 17th century, some of which are now being restored, the critics say in too pristine a fashion. At Shwe Inthein Pagoda, at the top of a hill, we somehow got surrounded by a hoard of Spanish-speaking tourists traveling en masse. Once we extricated ourselves from the group, we were able to wander on our own.


Shwe Inthein Pagoda




Ancient crumbling stupas





Crossing a bridge at the bottom of the hill at Inthein, following a footpath, and then climbing up another hill, we reached a different set of crumbling stupas and had the place all to ourselves. I was searching for a "stupendous panorama over Inle and its mountain backdrop," as my guidebook promised, but it was too smoky from the crop fires for a clear view. We spent quite a long time at Inthein before returning via the canal to the lake.


Another Inthein view
More crumbling stupas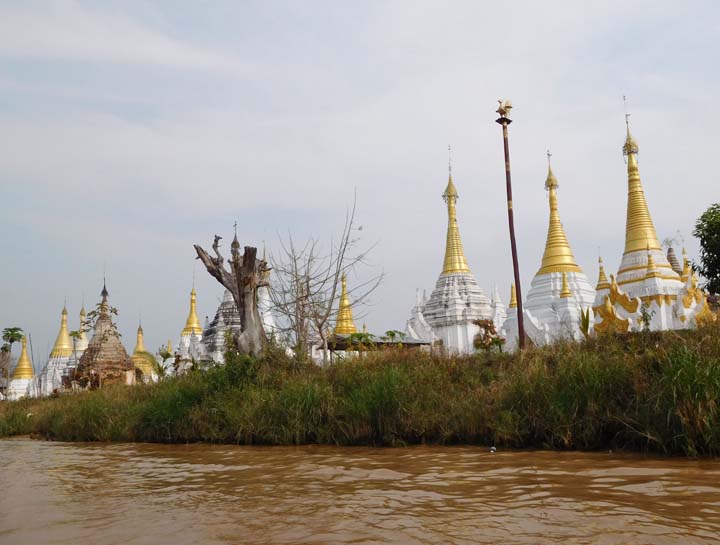 Restored stupas





Many Intha tend vegetable gardens planted on floating plots of land formed from water hyacinth, weeds, reeds, and grasses collected from the lake surface. Muck hauled up from the bottom of the lake is then piled upon the floating weeds. They keep the plots from floating away by pinning the whole thing in place with long pieces of bamboo. The villagers work the gardens from small boats that look easily tippable.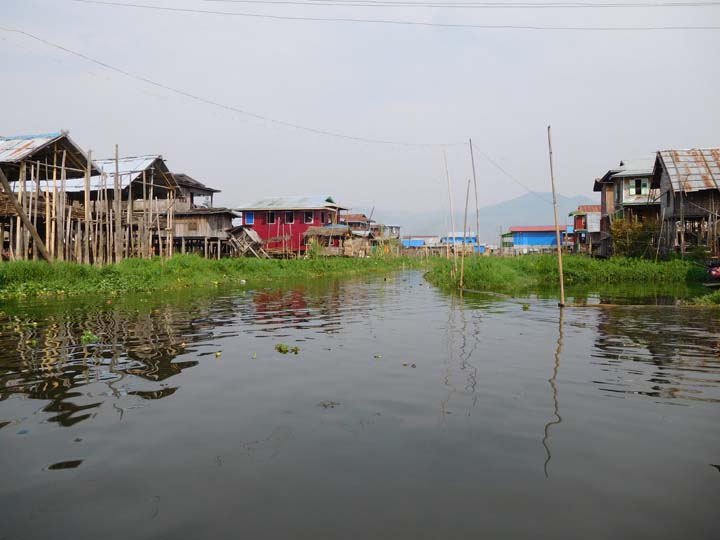 A village in Inle Lake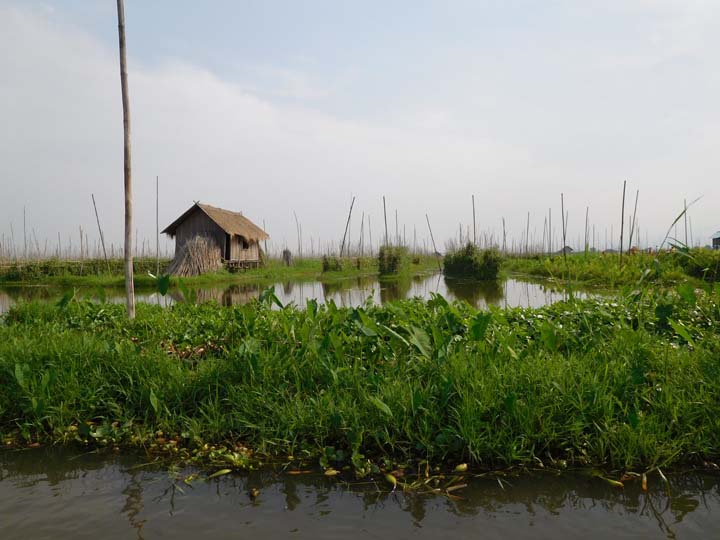 Floating gardens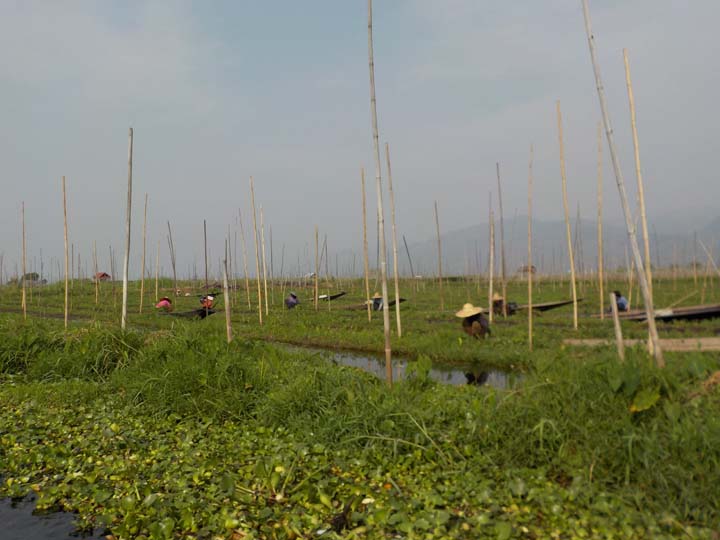 Working the floating crops





Our last stop of the day was Nga Hpe Kyaung a/k/a the Jumping Cat Monastery. There were lots of scraggly cats around, but they haven't made them jump for years. The cats were pretty listless. Their food bowls were full of rice, but cats are carnivores. Poor things!


Nga Hpe Kyaung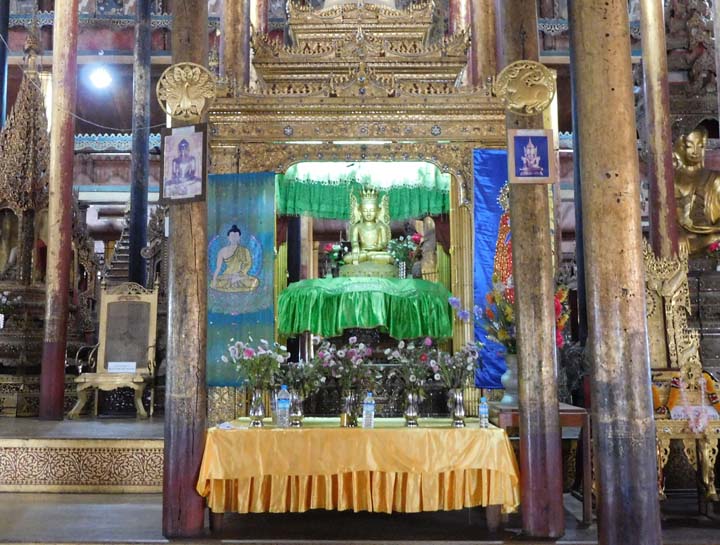 Tiny Buddha





We returned to the boat dock in Nyaung Shwe at 4:15. Back at the hotel, we finished off the afternoon on the rooftop terrace, where we enjoyed a lovely sunset and a couple of beers.






Sunset from the rooftop of Yar Pyae Hotel





For dinner we went to Asiatico Pub for an overpriced meal of potato croquettes and pizza. The service was inconsistent, but they were having their soft opening, so maybe it will improve. We should have chosen a Burmese, Chinese, or Thai restaurant, as that food has been consistently excellent, so I feel like I have no one to blame for the boring meal but myself.

Back at the hotel, we used the computer in the lobby to search for a hotel in Yangon two nights from now, then booked the room from my phone. Tomorrow we're having a lazy day before we catch the night bus to Yangon.