March 6, 2016
Inle Lake to Yangon: Red Mountain Estate Winery



Tonight we're catching another overnight bus, so we decided to take it easy today. From our window just after dawn, we watched the monks receiving their alms and then laid back down and relaxed for a while longer.

Around noon, we bicycled to the Red Mountain Estate Vineyards & Winery, a 20- to 30-minute ride from our hotel. We'd seen the turnoff for the winery near the end of our bike trip a couple of days ago, but it's at the top of a hill, and at the time we weren't up for a strenuous extension of our ride.

From the winery's hilltop vantage, we had a fine view toward Inle Lake and the mountains and a lovely view of the verdant vineyard. It was hard riding up the hill with the limited gears on the cheap bikes, but we persevered and doubly enjoyed our table outside in the shade.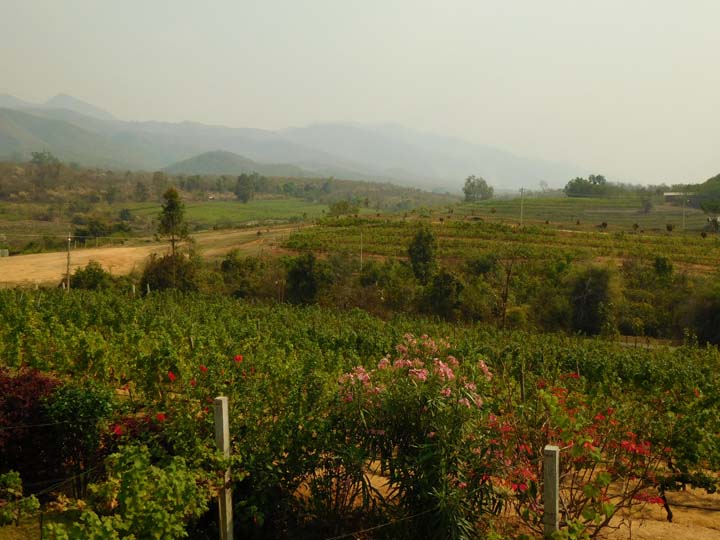 Vineyards of Red Mountain Estate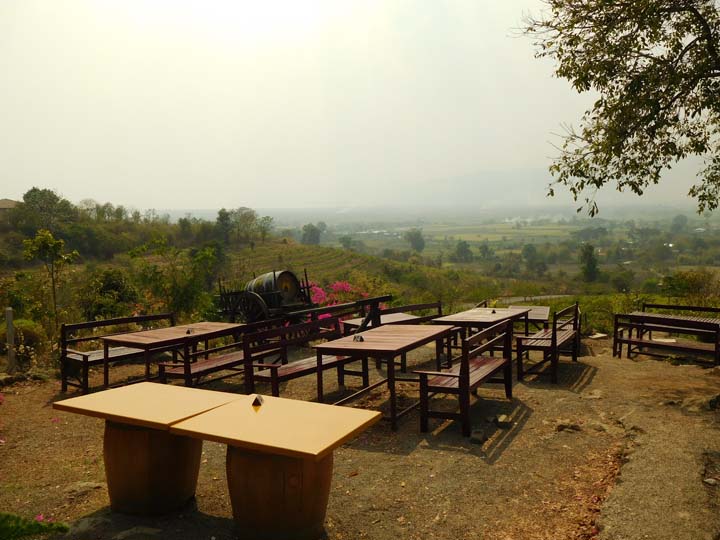 View toward the lake





There are only a couple of wineries in all of Myanmar. The elevation (3,000 feet) and rich soil at Red Mountain Estate are conducive to growing grapes. They offer a wine tasting, but most of the samples are white wine and we like red, so instead we ordered a bottle of Shiraz-Tempranillo. Tom liked the Shiraz, but it wasn't my favorite, so I then washed my mouth out with a nice glass of Cabernet which I liked very much.






The Shiraz-Tempranillo





We had lunch at the winery as well, Shan noodles with chicken for me and fried noodles with pork for Tom. Delicious! There was a side dish of pickled tea leaves, very popular in Myanmar, but in my opinion, it was one of the most vile things I've ever put in my mouth. The Cabernet helped wash that out too. The price for lunch, the wine, and a couple of bottles of water was a very reasonable 25,500 kyats ($21).






Shan noodles





A note about napkins: At most of the restaurants in Myanmar, the "napkins" are either facial tissue or a roll of toilet paper. The same is true at the sink if you go to wash your hands (if provided with anything at all for drying). A couple of places did have cloth or paper napkins, but that was definitely the exception.






TP for hand drying





The hotel staff at Yar Pyae, who had kindly let us check in nine hours early a couple of days ago when we arrived before the crack of dawn, also graciously allowed us to check out five hours late today. That gave us an opportunity to shower after our bike ride and relax in our room for a bit before catching the overnight bus. THANK YOU!

At 5:15 p.m. we were picked up at the hotel to be transferred to the bus station and almost immediately got stopped by a colorful parade. The parade was part of a ceremony for some young boys who were about to become monks.






Monk novice parade





The transfer taxi-truck goes around Nyaung Shwe collecting people from different hotels and then drives everyone to the bus station, located several miles out of town. The kid driver was an idiot. He kept making U-turns, obviously lost, and drove 15 kph through town while he talked on three different cell phones. We never made it to the bus station but did eventually meet up with our bus, ten minutes after it was scheduled to leave, on a random street corner. At least one of the phone calls must have been to make this arrangement because he was running so late.

This time we were on a "VIP" bus for our 12-hour overnight ride to Yangon. The bus company's name was written in Burmese script on both the ticket and the side of the bus, but we were told that the name translated to "Blue Mountain." The tickets were about $14 each.

This was a MUCH more comfortable ride than the previous buses. This bus was configured with two seats on one side of the aisle and one seat on the other side, and the seats leaned way back. They only played horrible Asian pop music videos for the first couple of hours and then turned the "entertainment" off so we could sleep. There was even a pillow and blanket, and we REALLY needed the blanket. The air conditioning was on full blast the entire 12 hours, and it was FREEZING! It got down to 13 degrees Celsius in there. That's 55 degrees Fahrenheit ! 55! Why???