March 8, 2016
Yangon: Indian Quarter, Shwedegon Pagoda



In the morning we visited a series of markets in walking distance of our hotel. First was the Bogyoke Aung San Market, just across the street to the north, described by our book as "the largest and most interesting of Yangon's bazaars." Large, yes, but not so interesting. It was mostly storefront after storefront of souvenirs and jewelry. Yawn.






Bogyoke Aung San Market





Far more dynamic is the area to the south of Bogyoke Aung San Market in the Indian Quarter, especially the indoor market Theingyi Zei and the street market which surrounds it. This is where the locals shop, in a colorful and cramped confusion of commerce. If you've ever seen the market stalls of India on TV and thought, "No way am I ever going there," that's where we were. We didn't see another white face while wandering the Indian markets, and we got a few stares from the locals, but all benign. It was great!


Indian market Theingyi Zei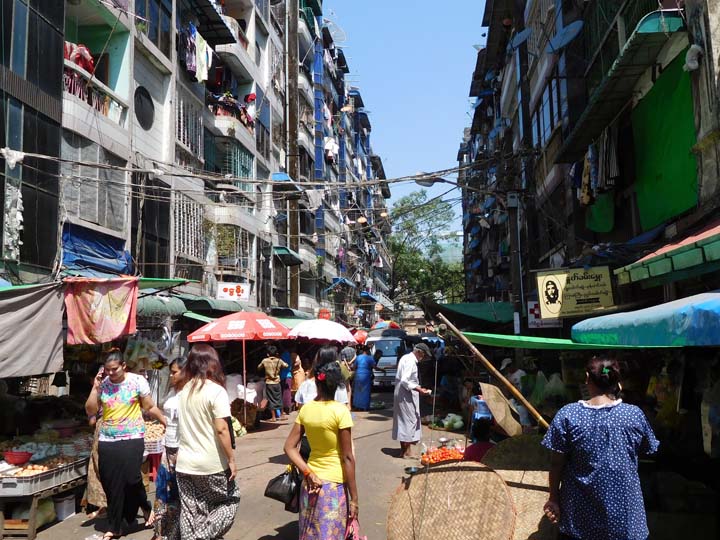 Outdoor Indian market
Spice stall




Rajesh, the friendly butcher





We went back to our hotel for a couple of hours in the early afternoon to cool off. It was 99 degrees, the hottest day yet, but bearable if you stayed out of the sun. We had another excellent meal in the hotel coffee shop, crispy fried noodles with pork and Kung Pao pork.






Good choice of tenements





Around 3:00, we took a taxi to Shwedegon Pagoda, the holiest site for Burmese Buddhists and the top tourist destination in all of Myanmar. It is believed that the gold-covered stupa enshrines eight hairs of Gautama Buddha and also relics of three of his predecessors. Like Sule Pagoda, Shwedegon has also been a rallying point for the pro-democracy movement in recent years.

We removed our shoes at the bottom of the southern stairway before passing through security, paying an entrance fee of 8,000 kyats each, and then proceeding to the main terrace. The day had cooled considerably, but the tile was still hot on our bare feet. The mats laid out around the terrace helped.


Shwedegon Pagoda main stupa




Mini-parade for a novice monk





Shwedegon Pagoda is decorated with an unbelievable amount of gold, 22,041 bars of it, from what I read. Yes, 22,041 bars of gold. The 326-foot-tall gold-covered stupa is topped by an elaborate hti, or umbrella, decorated with 1,485 gold and silver bells, 4,351 diamonds, and 2,000 rubies, sapphires, emeralds, and other precious gems. At the very top rests a 76-carat diamond.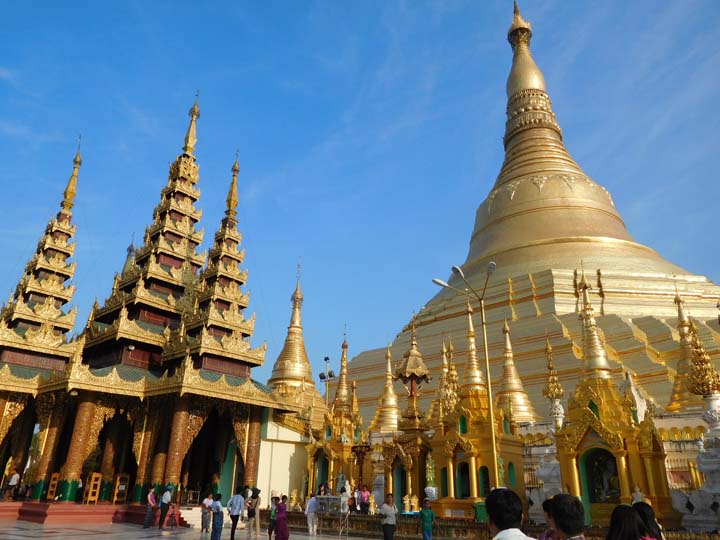 Shwedegon Pagoda




More Shwedegon stupas





Around the main stupa are 64 smaller stupas, multiple prayer pavilions, and numerous shrines, temples, and planetary posts where pilgrims pause to pray. Of course, there are Buddhas everywhere, and also sphinxes, chinthe (lion-like guardians), and five Bodhi trees grown from cuttings taken from the holy Bodhi tree in India under which Gautama Buddha gained enlightenment.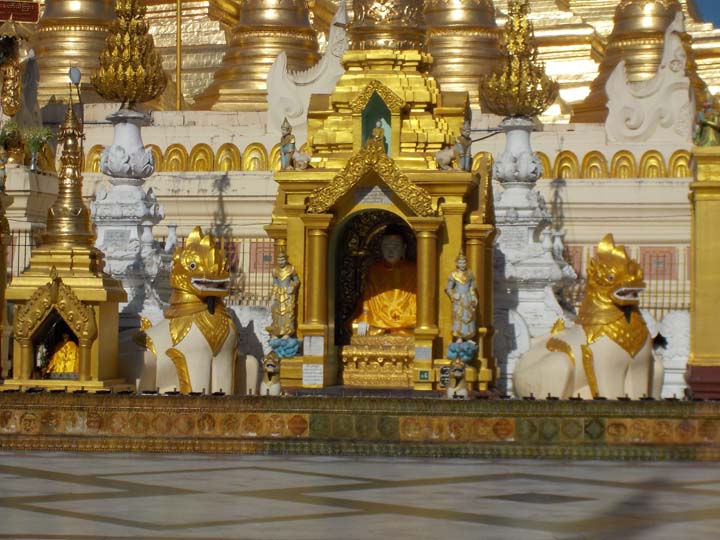 Prayer pavillion with guard chinthe
Big-hand Buddha
Mini chinthe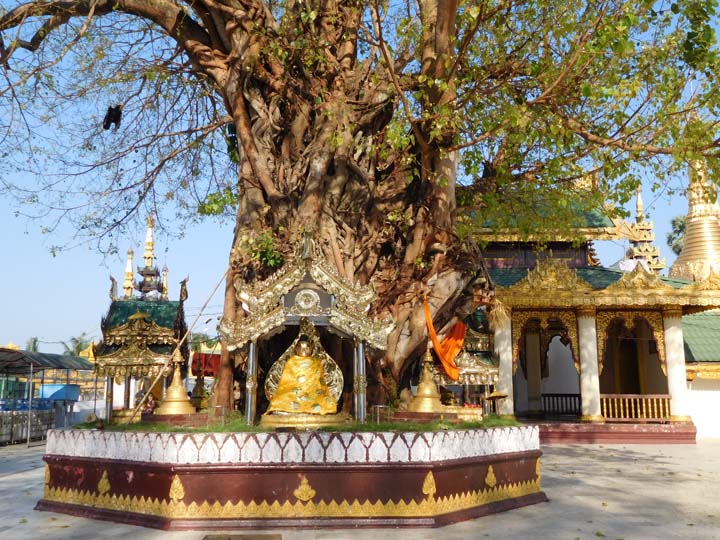 Bodhi tree





Shwedegon Pagoda is mesmerizing and just as over the top as the most over-the-top cathedral you've ever seen. It's impossible to take it all in! A visit to this place was a good way to end our time in Myanmar. I love this country!


Many Buddhas, no waiting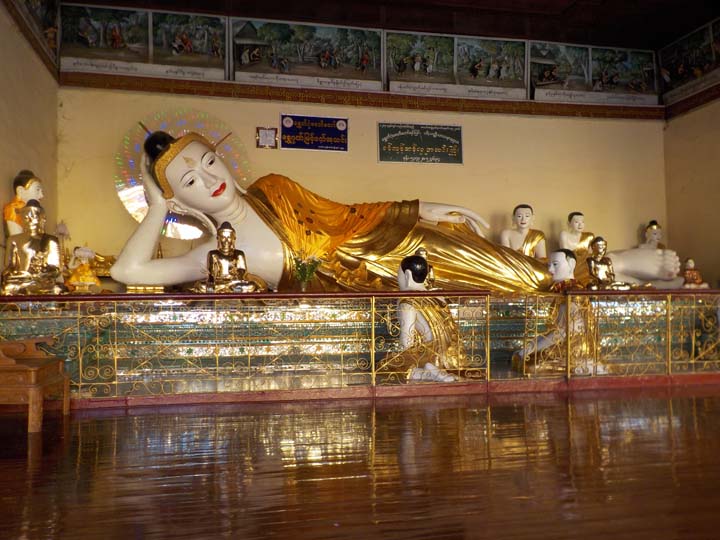 Reclining disco Buddha




Deep meditation





We taxied back to our hotel and walked across the street to the Sule Shangri-La Hotel, where they allowed us to use their business center at no charge to print boarding passes for our AirAsia flight tomorrow. Then we looked for a restaurant nearby but wound up back at the coffee shop in our hotel when the top alternative didn't serve beer. As a break from noodle and rice dishes, this time we got sandwiches. This was not the cook's forte, and it was the single bad meal of the trip. That's what we get for ordering western food.