March 9, 2016
Yangon to Bangkok, Thailand: Sukhumvit District, Soi Cowboy



Today we left our beloved Myanmar. We checked out of the hotel and took a taxi to the Yangon International Airport, a 40-minute ride, arriving at 9:55 for our 12:50 flight. Unlike Mandalay, Yangon has a much more typical international airport, with planes and everything!

Even though we already had our boarding passes, we still had to check in with AirAsia so they could verify our travel documents and give us a departure card, which we filled out and turned in at immigration. We also had to pass through two separate sets of security, including hand-wanding for everyone, but they let us keep our shoes on, and we could leave the computer and liquids (still only tiny amounts allowed) in our bags.

After paying for the taxi, we were down to our last 2,100 kyats (less than $2). We kept a 200-kyat note as a souvenir and deposited the remainder in a Red Cross donation box strategically placed near the boarding gate.

The flight between Yangon and Bangkok is only an hour and 20 minutes. We left a little late, but by 3:00 p.m. we landed in Bangkok, did the immigration and customs thing, exchanged dollars for baht, and then followed yellow arrows on the floor to the taxi stand. The taxi rate is fixed at whatever the meter comes to, plus tolls, plus 50 baht. Due to the time of day, we told the driver to take the highway regardless of the tolls. The total fare came to 395 baht.

Our hotel was a little hard to find, and our taxi driver was not the sharpest tack in the box, but Tom and I spotted the hotel as he drove past it and finally got him to stop half a block later and walked back, glad to be rid of him. We arrived a little after 4:30.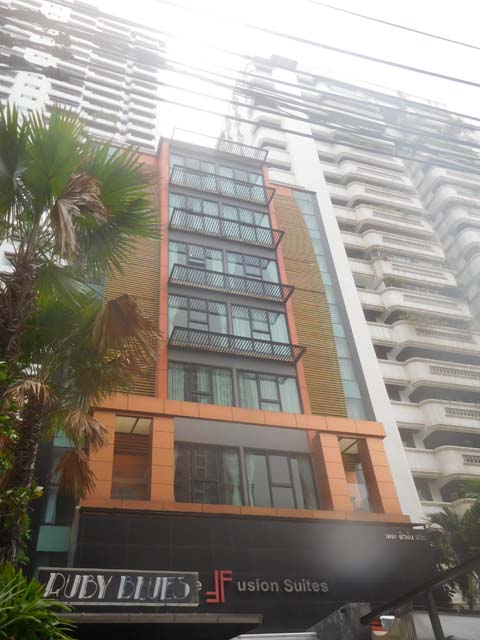 Fusion Suites Hotel, Sukhumvit District, Bangkok





This time in Bangkok we're staying at the Fusion Suites Hotel in the Sukhumvit District, in walking distance of Soi Cowboy. The room is okay but kind of funky. It's a Superior Suite, no breakfast, for $41. The room has large windows, but they're covered from the outside with "art," so you can't see out, and making it very dark inside. Weird. The location is good, though. There's an extensive minibar, complete with condoms, but everything seems expensive after the super-cheap Myanmar prices.






Can't see out the windows





In the early evening, we walked to the infamous Soi Cowboy, a happening little red-light alley not far from our hotel, popular with tourists and ex-pats. The street gets its name from T. G. "Cowboy" Edwards, a cowboy-hat-wearing black American serviceman who opened the first bar on the street in the '70s. We made one pass down the street and then stopped for dinner at a pub called The Old Dutch Corner, enjoying a spicy Thai beef red curry and a non-spicy beef curry.


Banana Club, "Massages for men by men"




Two kinds of curry at The Old Dutch Corner





About 40 bars line the narrow, 150-yard long Soi Cowboy, most of them full of scantily-clad girls and/or ladyboys. The majority of the bars have seating outside as well, so we got a street-side table at Tilac Bar (as seen in "Hangover 2") and had a couple of beers and people watched until we almost melted from the humid heat. Before leaving, we ducked inside the bar for a minute to use the restrooms and look around. There were about a dozen girls go-go dancing on small stages.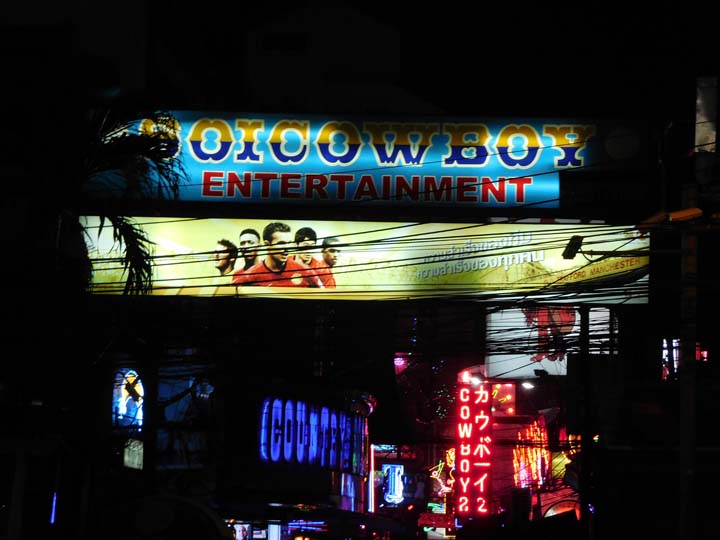 Soi Cowboy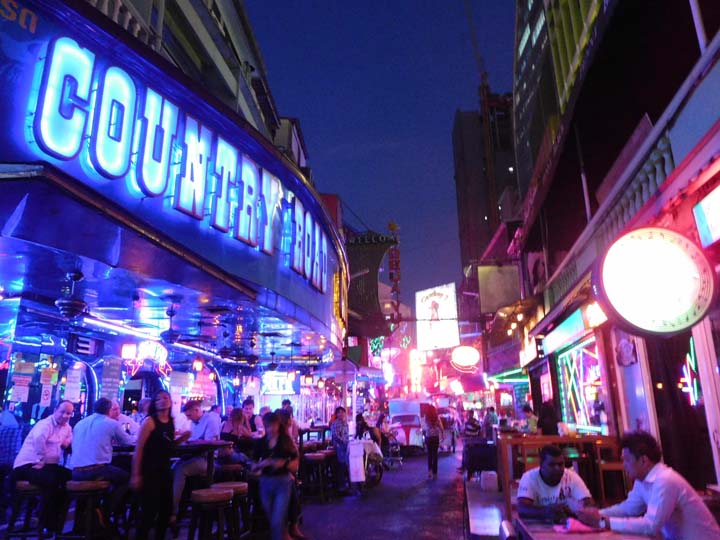 Red-light district




Tilac Bar





The weather was hot but pleasant for most of our trip, but tonight the humidity was miserable, so we went back to the hotel to cool down. Then around 11:00 we went back to Soi Cowboy, and things were even more lively than before. Girls were all over the street trying to entice men into their particular bar. There was a sign posted at both ends of Soi Cowboy stating that you have to be 20 years old to enter the area, but apparently that didn't apply if you were a working girl, as some of these girls were pretty young.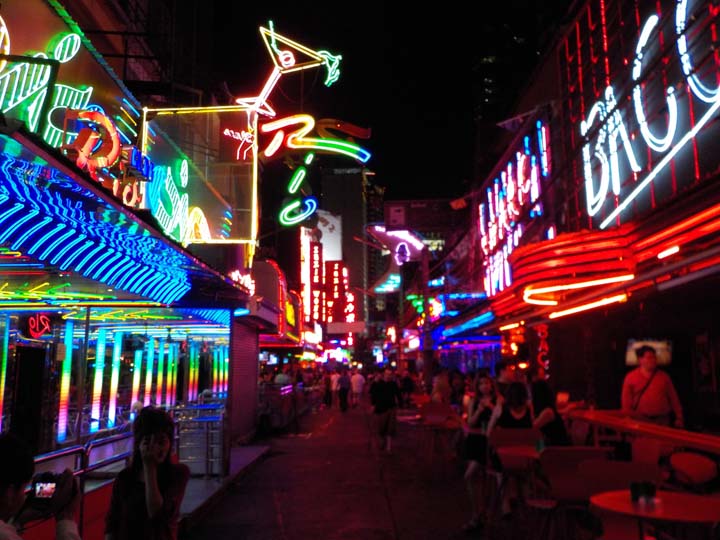 Girl at bottom left flipping off photographer




Cockatoo ladyboy bar





Instead of getting a drink at one of the bars, we picked up some beers at 7-Eleven and returned to our room. I turned on the TV, and the first thing I found was cockfighting. Bangkok!