March 10, 2016
Bangkok to Dubai to Washington, DC, to Knoxville: Chinatown, Terminal 21, Home



March 10 was the last day of our vacation, if you don't count the day and a half of travel to get home (which I don't). We checked out of the Fusion Suites Hotel at noon, left our bags at the front desk, and took the BTS SkyTrain from Sukhumvit Station to Hua Lamphrong, the closest station to Chinatown.






Very Thai





In Chinatown we visited the temple of Wat Traimit, home of the largest solid-gold Buddha image in the world, almost 10 feet tall and weighing over 12,000 pounds. The Buddha was cast in the 13th century and was later completely covered with plaster to protect it from marauders invading Thailand. It was then forgotten, being "rediscovered" only in the 1950s when it was dropped from a crane while being moved to a new building within the temple complex, cracking the plaster and revealing the gold underneath.


Wat Traimit Temple
King of Thailand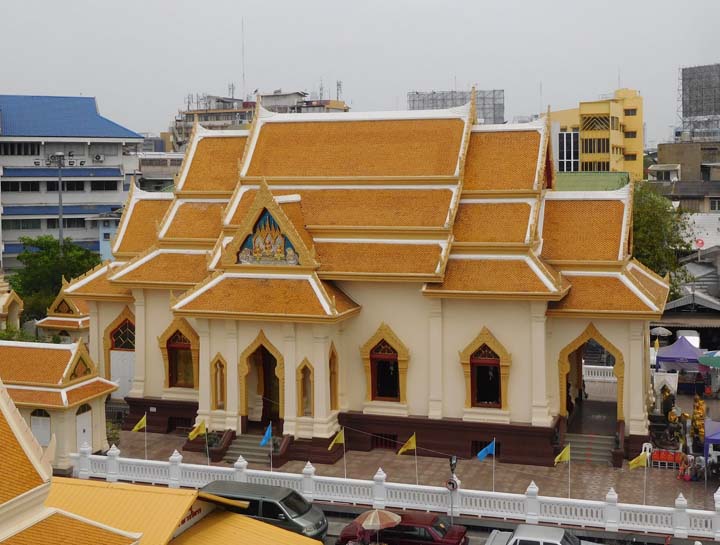 Part of the Wat Traimit Temple Complex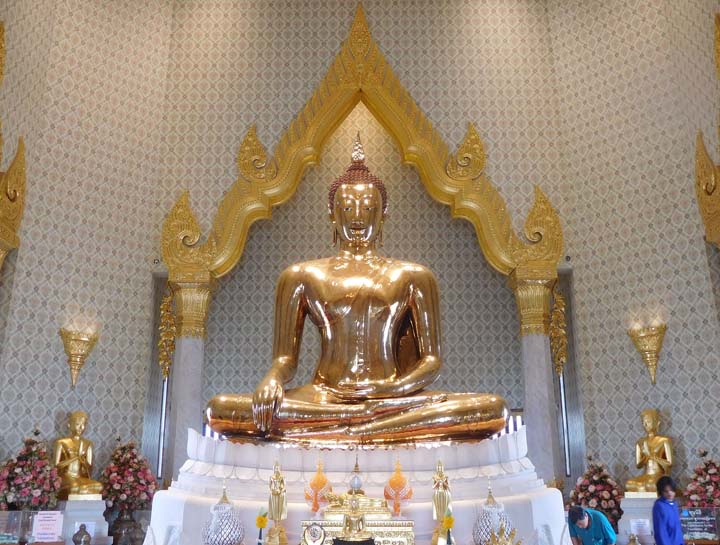 Golden Buddha





Next we walked over to the Chinatown gate, which marks the ceremonial entrance to Chinatown. Located in the middle of a traffic circle, the gate was built in 1999 to commemorate the King of Thailand's 72nd birthday. This is a very popular king. His picture is all over Bangkok.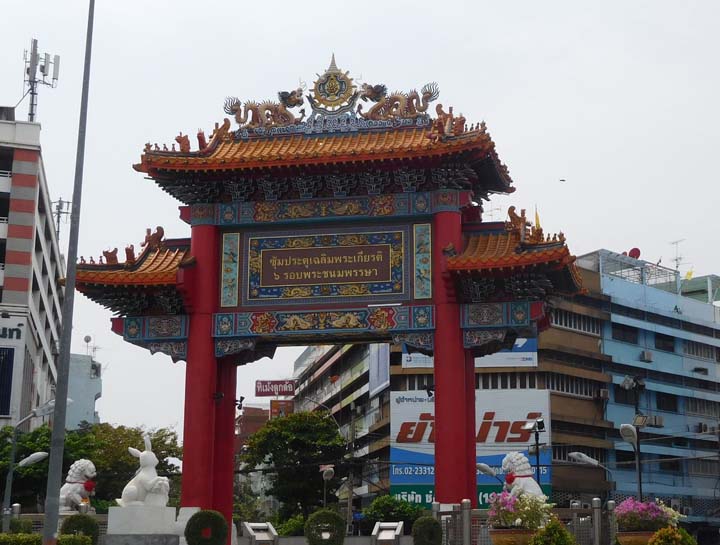 Chinatown Gate





When we couldn't stand the heat anymore, we took the BTS back to the Sukhumvit area and went to Terminal 21, a modern nine-story shopping mall near our hotel. Each floor has a theme based on a well-known world city, such as Tokyo, Rome, and San Francisco, but we were there mainly for the air conditioning. The humidity along with the 99 degree heat has made Bangkok BRUTAL this time around.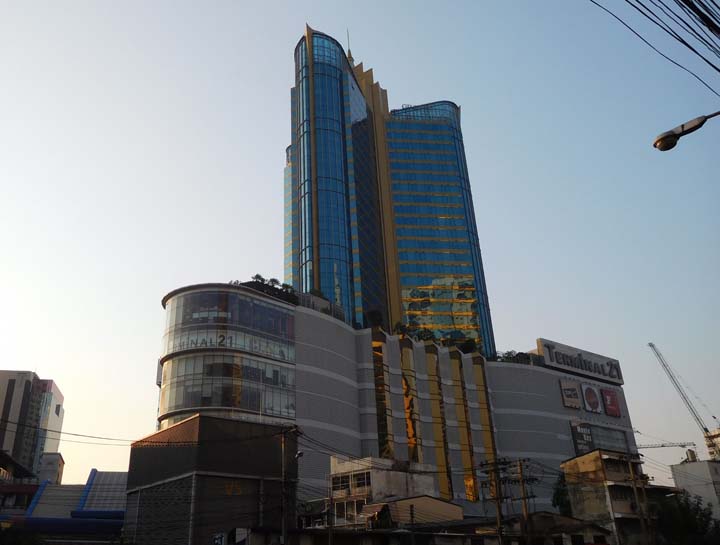 Terminal 21 Mall
Tokyo Floor
San Francisco Floor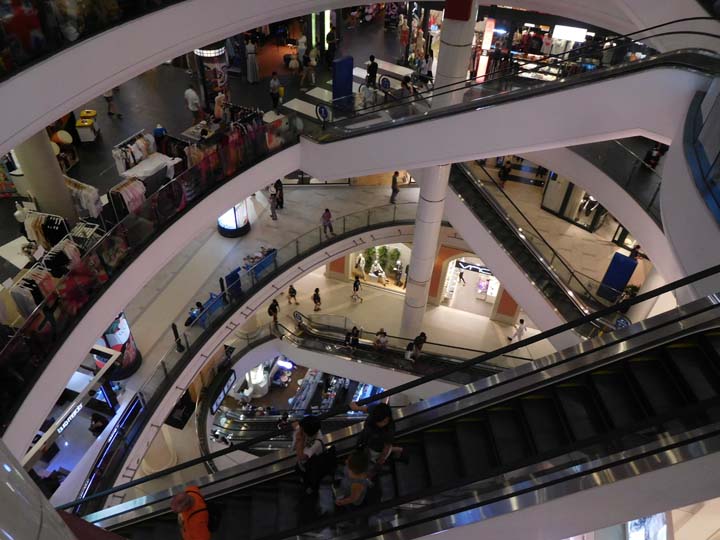 Inside the mall





We had a delicious late lunch at Big Mama's Italian Restaurant before picking up our baggage and catching the metro to the airport. We left the hotel at 5:00, walked to the metro, took two different trains, and walked some more once we got to the airport, arriving at the very long Emirates Airline check-in line at 6:20 p.m.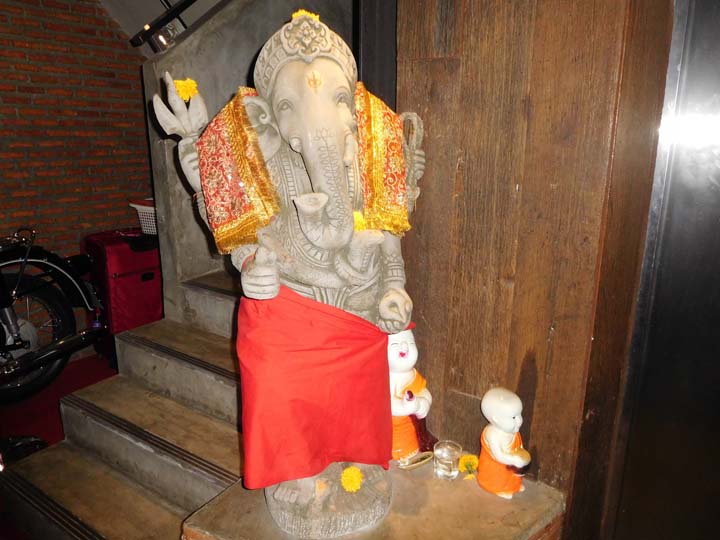 Ganesha in the Fusion Suites lobby





The Bangkok airport was a barely controlled chaos, but we finally checked in, made it through security and immigration, and had just enough time to spend our last few baht on beer and chocolates before boarding our completely full plane, leaving at 8:35 p.m.

7 hours and 15 minutes later, we arrived in Dubai, at 12:50 in the morning on March 11. I was shocked at how busy the airport was at that time of night. We spent the last of our dirham on a bottle of duty-free bourbon before boarding our next flight, leaving at 2:20 a.m. This was again the ridiculously large Airbus A380-800 superjumbo airplane, the biggest passenger plane in the world, with seating for hundreds, but unlike on the flight over, the plane was completely full this time, making logistics a nightmare. It took forever to board. There weren't enough flight attendants, weren't enough toilets, and when we got to Washington-Dulles, things really fell apart.

After a 15-hour flight, we arrived in Washington at 8:20 in the morning, where we emerged into chaos. Dulles is NOT equipped to handle that many passengers arriving at once. First there was a big backup at immigration, and then the baggage-claim area was mayhem. 500 of us were crowded into a too-small area waiting for our luggage. Bags would come down one conveyor for a while and then stop, nobody getting matched up with all of their luggage, and then eventually bags would be spotted coming down a different conveyor dozens of yards away, and all 500 of us would run over there at once. This happened several times with no announcement, and no one knew what was going on. It was ridiculous.

In all, it took over an hour and a half to get spat out of the airport system once we arrived in D.C. We then walked over to the ground transportation area and called the Springhill Suites Hotel for a shuttle. It arrived in due course and took us to our car at the hotel in Ashburn, Virginia. We went into the lobby for coffee and then hit the road for the eight-hour drive home, stopping only for gas and hamburgers on the way.

Finally we reached home at 7:00 p.m. Travel time from leaving the hotel in Bangkok to our home outside of Knoxville was 38 solid hours. Nothing to it! Ha, ha!



THE END