Sunday, June 4, 2017 – Knoxville, Tennessee to NYC


We got up at 5:00 a.m. to catch our 9:11 flight to Newark. It struck me as odd that a flight to Newark would be scheduled for 9:11, but there you go. Anyway, we were on Allegiant Airlines, so of course it was uncomfortable. The seats don't even recline, for crying out loud. But it's only a two-hour flight, so we toughed it out. Tom and I both had window seats (since Allegiant charges extra to choose adjoining seats), and we had good views of West Virginia, Delmarva, and the Chesapeake Bay.

The Newark-Liberty Shuttle bus took us from the airport to the Port Authority in New York City for $17 each. We chose this method of conveyance because it dropped us off only two blocks from our hotel, Row NYC, on 8th Avenue, between 44th and 45th Streets. The shuttle was a fine choice for a Sunday afternoon, taking only about an hour, but I would definitely choose the train on a weekday to avoid traffic.

1:30 was too early to check into the hotel, so we did a "pre-check-in" and were told that they would send an email when the room was ready, and we would then be able to bypass the (very long and slow) check-in line and pick up our key card at an automated kiosk. To jump ahead in the story, they never did send an email, and when we returned after normal check-in time, we had to deal with a second surly receptionist, though I did step around the line to do so. In any event, in the meantime, we left our bag with the bellman and headed out into the big city.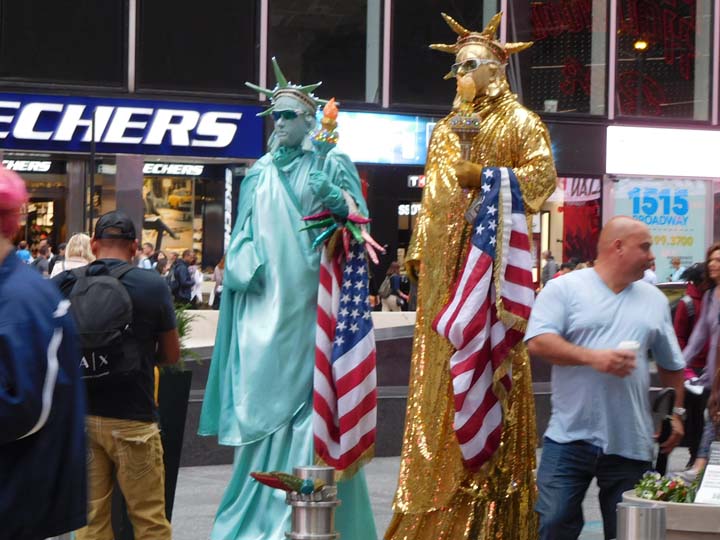 As seen on the streets of NYC





Tom and his brother John had made arrangements to meet this afternoon in Manhattan, so John and his wife, Kathy, and their daughter Cailin took a train into the city from Connecticut, and we walked half a mile from our hotel to Grand Central Station to meet them. It's a very busy train hub, like Grand Central Station (oh, wait, that comparison doesn't really work here), but we didn't have any trouble connecting with them.






Grand Central Station





It was a gray and misty day, but we walked to Central Park, getting some delicious street food on the way. We walked much of the south end of the park and saw the band shell from the rock musical "Hair;" Strawberry Fields, a memorial to John Lennon near the spot he was killed; and picturesque Bethesda Terrace and Fountain.


Band shell from "Hair" - The dawning of the Age of Aquarius
Memorial to John Lennon




Bethesda Fountain and Terrace, Central Park





Also in Central Park we saw a group of people clamoring to take a photo of something behind some bushes, and when Kathy managed to get close enough to see what it was, she reported back that they had surrounded a raccoon! Silly city folk! And poor raccoon!

My review of Central Park: If you don't live in a very large city, wherever you come from is probably greener than here, so you don't really need to go, but you probably will anyway, so just remember I told you so. It's nice for the residents of Manhattan, though, to have a little taste of nature in their concrete world.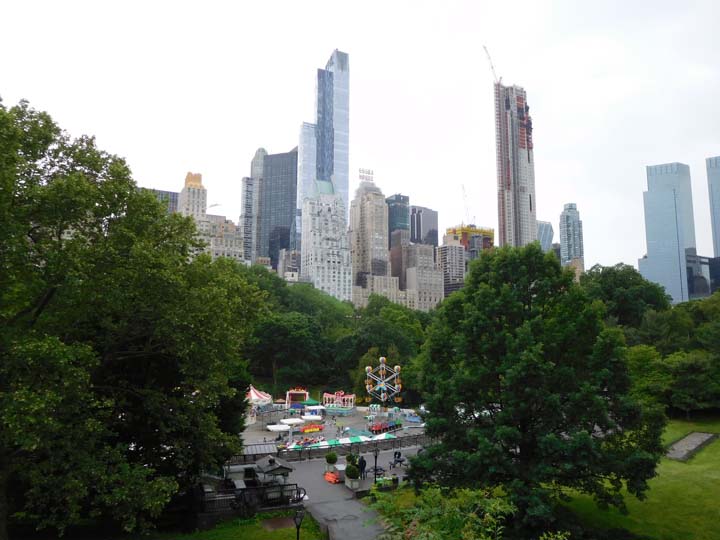 View from Central Park





On the walk from Central Park back to the hotel, we passed Trump Tower. The president wasn't in residence at the time, obviously, or there would have been protesters. Just look for the gaudy gold building. You can't miss it!






Trump Tower





We stopped back at the hotel and got our room, after a fairly surly exchange with the receptionist. I thought it was surly anyway, but perhaps she considered it being her usual charming self. Welcome to New York City! She did make it clear that we needn't interact again when we check out. In fact, we can just keep the key, and don't let the door hit us on the way out. (Okay, that last part was implied, but that was the gist.)

I'd paid for an upgrade, so we got a largish corner room on the 17th floor, albeit with a minuscule bathroom. The room and the bed were very comfortable, and being up so high, it was reasonably quiet.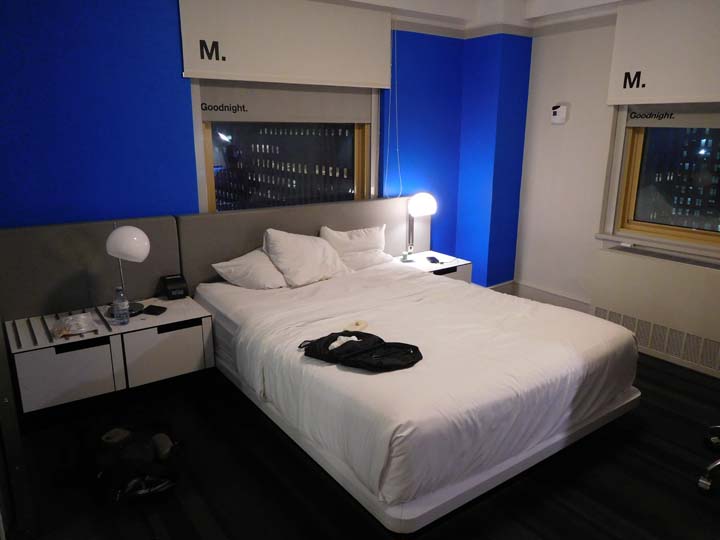 Our room at Row NYC





The five of us (John, Kathy, Cailin, Tom, and Jana) then had an early dinner at Tir na Nog Irish Bar & Grill nearby. The shepherd's pie and Blue Point Toasted Lager (brewed in New York) were excellent. Afterwards, John, Kathy, and Cailin walked us to Times Square, where we parted ways and they headed home to Connecticut. We'll see them again at their house in a couple of days.

Tom and I walked through Times Square, returned to the hotel for a while, and then went back again later to check it out after dark. The place was SWARMING with people. I just don't see the appeal. And I can't imagine why anyone would spend their New Year's Eve here, when it's even MORE crowded.


Times Square
Pedestrian traffic control




Swarms of people on a random Sunday night





Quickly tiring of the crowd, we picked up a six-pack of Spaten Oktoberfest, went back to our room, and caught an episode of "Seinfeld." Appropriate.