Saturday, June 10, 2017 - Thousand Islands, New York/Ontario


Officially, there are 1,864 islands that make up the Thousand Islands archipelago in the St. Lawrence Seaway, but I guess that's too wordy to speak aloud, so they just say "thousand." To be "official," an island must be above water 365 days a year and must support a living tree. The water in the seaway was unusually high during our visit, and some of the "islands" were underwater. Are they going to recount?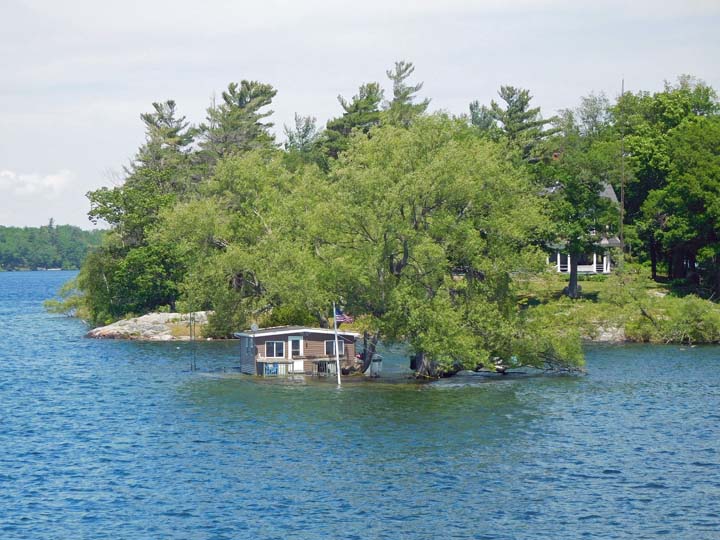 Is a submerged island still an island?





Uncle Sam Boat Tours offers tours of the region leaving from downtown Alexandria Bay. We took the "Two Nation Tour" ($23 each), a 2 ¼-hour narrated trip through some of the islands in both Canadian and American waters, past points of interest including mansions, little quirky homes, and Boldt Castle. You can also buy wine slushies aboard the boat, which I certainly did. It couldn't have been a prettier day!


Uncle Sam tour boat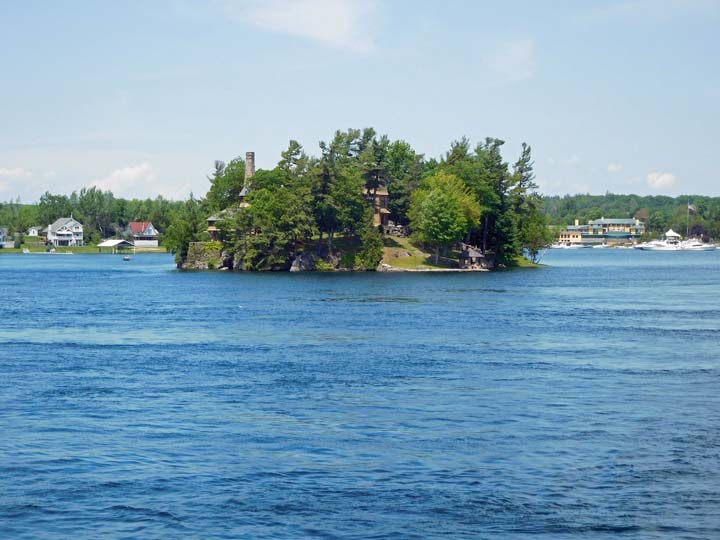 One of the 1,864 Thousand Islands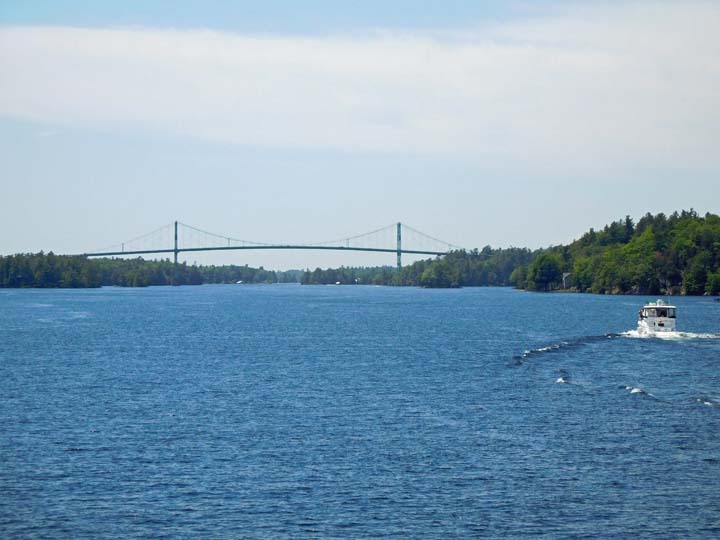 Thousand Islands Bridge, linking the USA and Canada
Smaller bridge linking the USA and Canada




Sunken Rock Lighthouse





Boldt Castle is a 120-room mansion built in the early 1900s by George Boldt as a tribute to his wife, Louise. Construction on the castle stopped when Ms. Boldt passed away suddenly in 1904, and the property sat vacant for 73 years, falling into disrepair. The Thousand Islands Bridge Authority acquired the property in 1977, spent millions of dollars on restoration, and opened the grounds to visitors. The Uncle Sam boat stops at Boldt Castle to let people off to take an additional tour, if desired, and another Uncle Sam boat will ferry guests back to the mainland when they're ready.


Alster Tower and Boldt Castle
Boldt Castle on Heart Island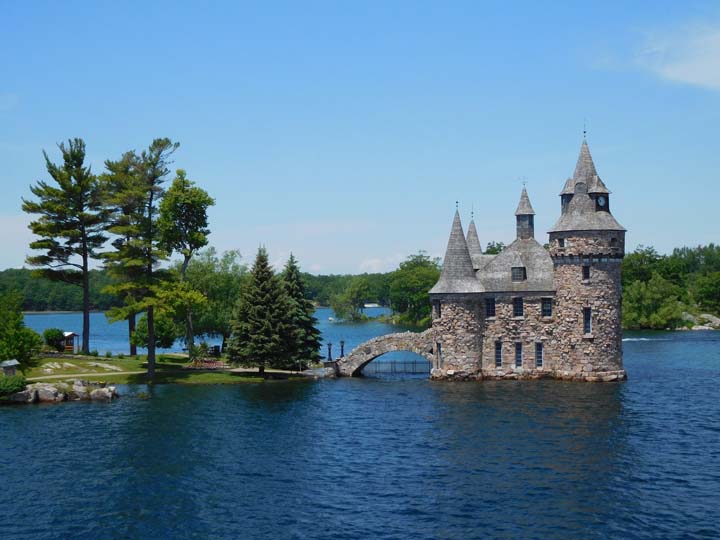 Boldt Castle Power House and Clock Tower




Boldt Castle Yacht House, temporarily closed due to flooding





We returned to the hotel after the boat tour for a lunch of leftover pizza, then went for a drive west along the St. Lawrence Seaway, stopping at Cape Vincent and the Tibbets Point Lighthouse, situated at the outlet of Lake Ontario into the St. Lawrence River.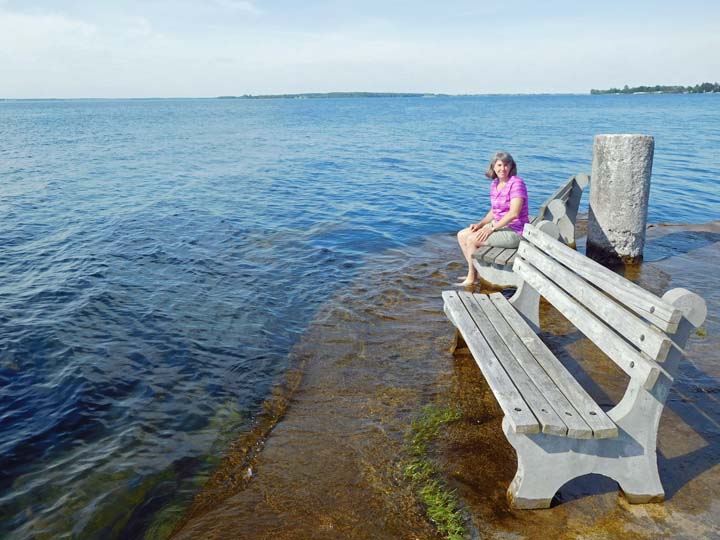 Jana wades into the St. Lawrence Seaway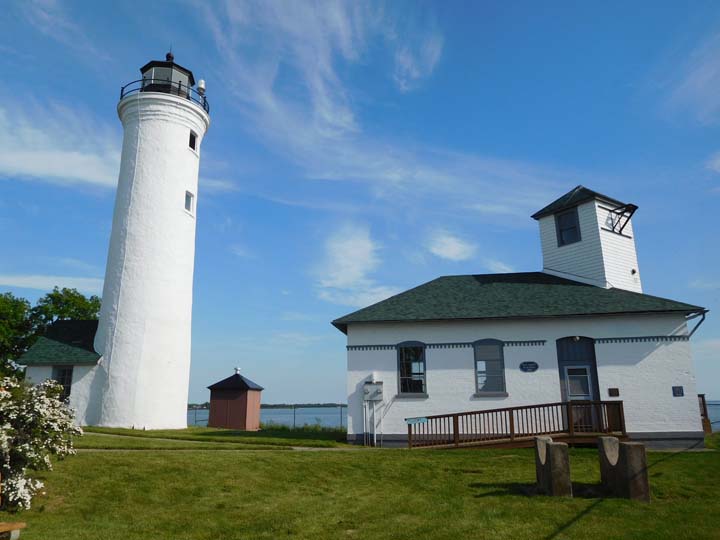 Tibbets Point Lighthouse and foghorn building





After our drive, I dropped Tom off back at the motel and drove half a mile to Otter Creek Preserve to go hiking. The preserve was very nice but also very swampy, and I had to turn back mid-hike due to an abundance of mosquitoes. After all the black-fly bites I got yesterday, I didn't know how much more my poor body could take before I'd require medical attention. Plus I'd never seen so much poison ivy, poison oak, and poison sumac in my life. The terrible trifecta!


Otter Creek Preserve
Otter Creek Preserve mosquito breeding ground




Otter Creek poison ivy, oak, and sumac preserve





We had dinner at Coleman's Dock of the Bay. Good cheeseburgers and great service, but the beer selection was pretty average. We made do with Yuengling Lager and Shock Top. It was a nice night for dining al fresco. Later in the night, we admired the gorgeous moon.


Dinnertime view from Coleman's Dock of the Bay
Moonrise