Sunday, June 11, 2017
Alexandria Bay, New York to Niagara Falls, Ontario


We checked out of the hotel in Alexandria Bay and had a big breakfast at Tricia's Rondette in Clayton, New York, before heading north. The food was cheap, fast, and very good. I recommended the garbage omlette.

Crossing into Canada on I-81, we underwent a cursory examination of our passports by the very polite Canadian authorities, turned west on 401 to Kingston and then onto scenic 33, aka the Loyalist Parkway, running along the northern shore of Lake Ontario.






Goofy Canadian road sign





At Adolphustown we encountered a 45-minute delay waiting on a ferry. In the middle of June, the ferry is still running on a winter schedule of once every 30 minutes, and as it's a very small ferry to Glenora, we didn't get on the first one that came along. The ferry ride itself takes only ten minutes, crossing the small Bay of Quinte. It was windy and the water was choppy, but the ride wasn't rough.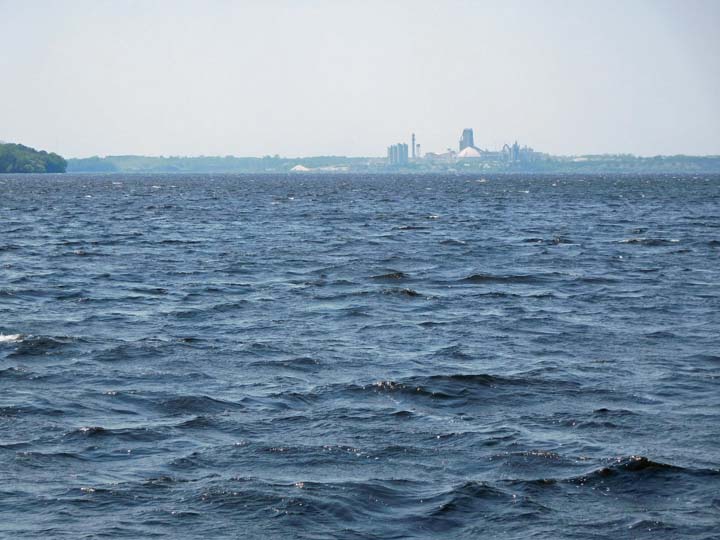 Crossing the Bay of Quinte, Lake Ontario




Glenora Ferry





Mid-afternoon I was driving 70 mph on 401 West when a sudden loud noise came from underneath the car. I thought maybe we had a blowout and immediately pulled to the shoulder of the freeway, but when we got out, the tires were fine. Then I noticed a piece of plastic was hanging loose just behind the front bumper. Since it was dangerous to loiter where we were, we got back in the car and very, very slowly limped the car to the next exit, dragging the plastic piece as we went.

I pulled over at a fire station just off the exit, sadly deserted, parked in a shady spot, and Tom wriggled under the car. We had no tools, not even Tom's Leatherman since we hadn't checked a bag on our flight, and so I rummaged around for anything I could find that might be of use. All I could come up with was the tire iron and the bottle opener off my key chain. This wasn't enough for Tom to reattach the piece, but after a half-hour struggle, he managed to remove the piece completely so it wouldn't drag, and we continued on our way.

This piece of plastic, whatever it's called, is what keeps road debris from flying up into the undercarriage and causing major damage, so driving around without it isn't a good idea, but we didn't have much of a choice at the moment. This is the same freaking piece that failed on our cheap little rental car in Iceland; only that time the car at least underwent some abuse first. This time the failure was spontaneous. We were pretty pissed.

We proceeded on through the traffic of Toronto, taking note of the CN Tower, at 1,815 feet, the tallest free-standing structure in the Western Hemisphere, then took Queen Elizabeth Way south to Niagara Falls, Ontario. Events conspired to slow us down today, but we arrived at King's Inn Near the Falls at 7:00 p.m. It's an older hotel with free parking and a low room rate, located only .7 mile from the waterfalls. I was happy with it.

Just before dark, we walked toward the water to find dinner. Niagara Falls is very touristy. The closer you get to the falls, the more Gatlinburg-like it gets with the T-shirt shops, Ripley's attractions, etc. The most touristy street is Clifton Hill. We ate dinner on a quieter side street at Yanks Old Niagara Bar & Grill. The beer was boring, and the food, their version of nachos, which they called "Mexican cheesecake" (wtf?), was pretty uninspired.






Clifton Hill's World Famous Street of Fun by the Falls





After dark, we walked over to see the falls, which are illuminated at night. Niagara Falls is actually three waterfalls, American Falls and the smaller Bridal Veil Falls on the American side and Horseshoe Falls in Canada. A massive amount of water was flowing over the 167-foot-tall waterfalls, but they didn't look as mighty as I expected. Also, I don't mind the illumination, but why have colored lights? Natural wonders don't need our improvement.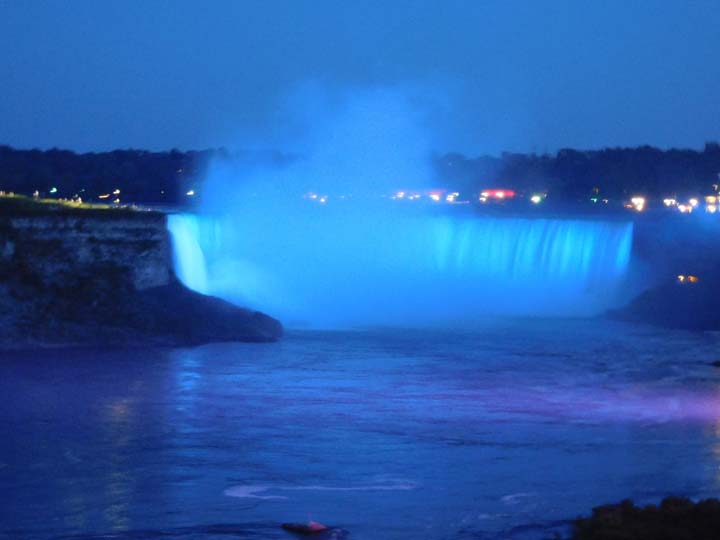 Horseshoe Falls, Canada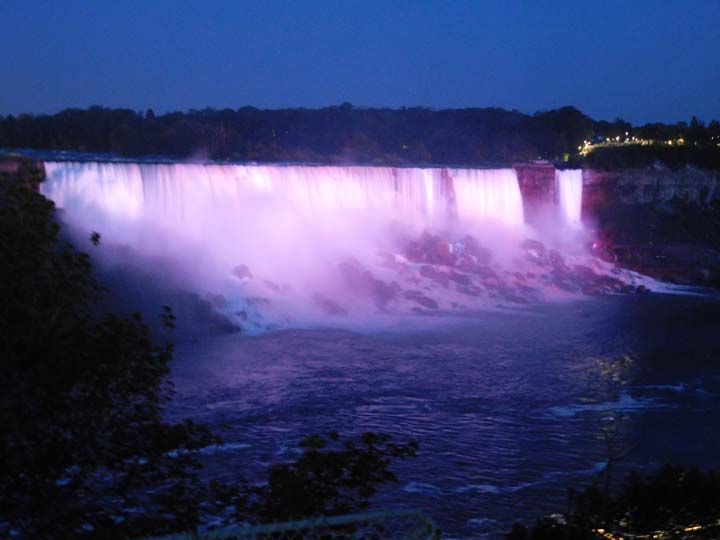 American Falls