Tuesday, June 13, 2017
Niagara Falls, Ontario to Frackville, Pennsylvania


We crossed back into the United States this morning over the Rainbow Bridge, and thus ended the least foreign international adventure we've ever had. There was no wait, no toll, and no hassle at the border crossing. We enjoyed our short time in Canada.

Today we decided to visit New York's Letchworth State Park (entrance fee $10 per car), home to the "Grand Canyon of the East" and voted best state park in the USA! Well, we just had to see about that. The park encompasses several miles of the Genesee River as it flows through a narrow gorge with rock walls rising as high as 550 feet. The Grand Canyon comparison is a little bold, but it's a very pretty park, and we took our time driving through, stopping often at the plentiful overlooks.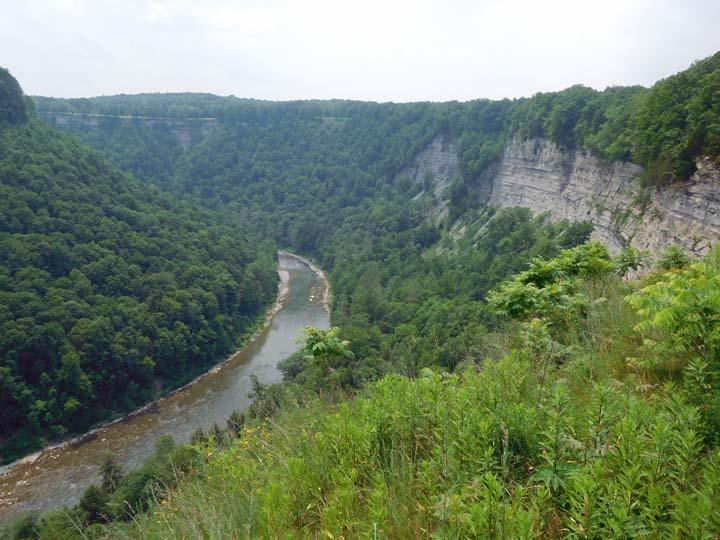 Letchworth State Park, New York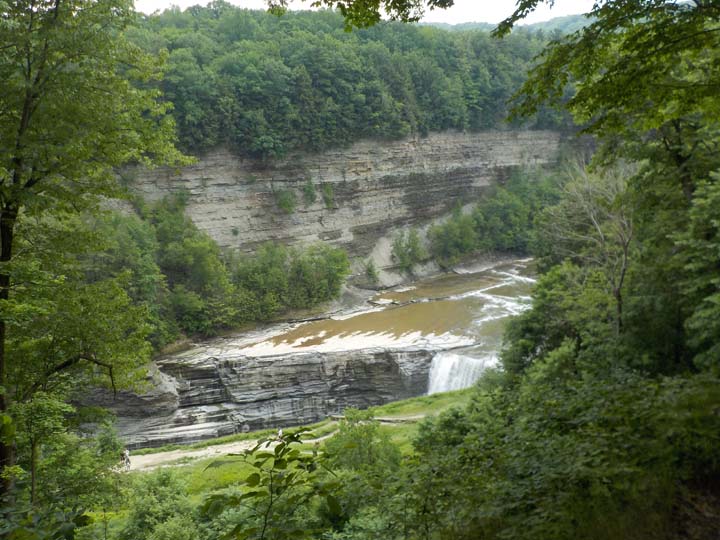 Genesee River Gorge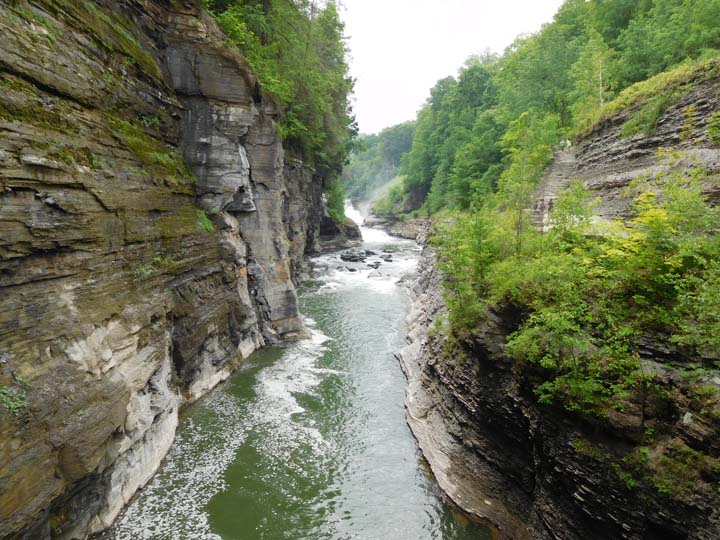 Genesee River





The park includes three major waterfalls, with the clever names of Upper, Middle, and Lower Falls. There's a very nice hike in the area of Lower Falls, where the trail includes stone walkways and a lovely arch bridge. We hiked about a mile of it, including a steep stone staircase.


Lovely Lower Falls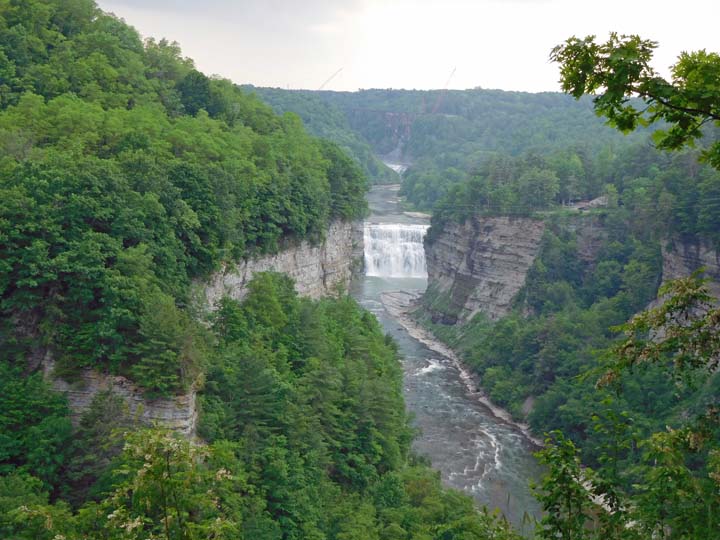 Middle and Upper Falls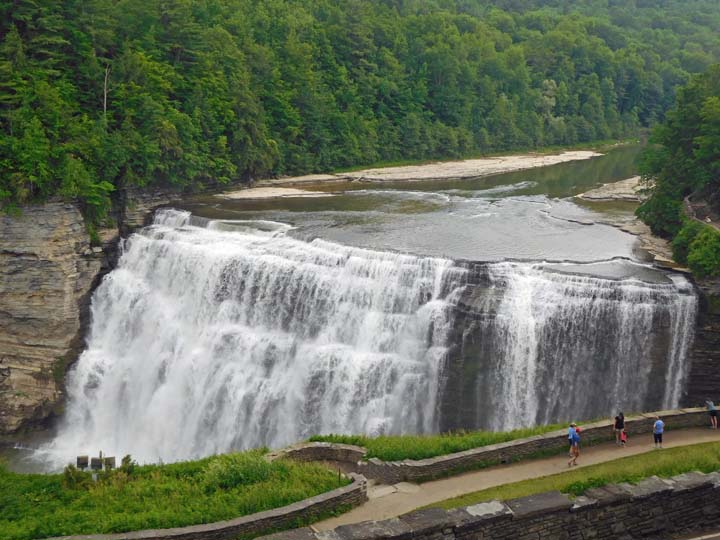 Middle Falls





Leaving the park, we continued south and entered eastern Pennsylvania on U.S. 15, stopping at the first rest stop. I had no idea Pennsylvania was so beautiful! Of course, we were in coal country here, not the cities, so maybe I shouldn't have been surprised, but I was!


Pennsylvania Welcome Center




The rolling hills of Pennsylvania





It was getting late in the day, but we wanted to stop by Centralia, Pennsylvania, a town that's been on fire for 55 years. Well, it used to be a town, anyway. What was once a community of over a thousand people is now virtually a ghost town. Tom and I had recently watched a documentary on this environmental disaster, so we were curious.

In 1962, local firefighters in Centralia were burning trash in an attempt to clean up the town landfill, located, unbelievably, in an abandoned strip-mine pit. Unfortunately, the fire escaped the pit and reached a labyrinth of coal seams running underneath the town, at which time mismanagement of the disaster ensued.

In 1984, the U.S. Government, due to the increasingly dangerous situation in Centralia, bought out most of the town residents, who relocated to nearby communities, and their homes and businesses were bulldozed. In 1992, the governor of Pennsylvania invoked eminent domain on the entirety of the town, condemning all the buildings within and dislocating the remaining residents. In 2013, a handful of holdouts won a lawsuit against the government, earning them the right to stay in Centralia for the rest of their lives and ending their status as squatters in their own homes.


Road to nowhere, Centralia, Pennsylvania
Assumption of the Blessed Virgin Mary Church, Centralia




Spooky Centralia tree





There's not much left to see of Centralia. The coal seams under the town still burn and are expected to continue to do so for another 250 years, until the coal is exhausted, but there was no visible smoke today. There's a church and three cemeteries, but most of what you see is buckled roads and driveways to nowhere, with the occasional remains of a structure being slowly reclaimed by nature, if the vandals don't finish the job first.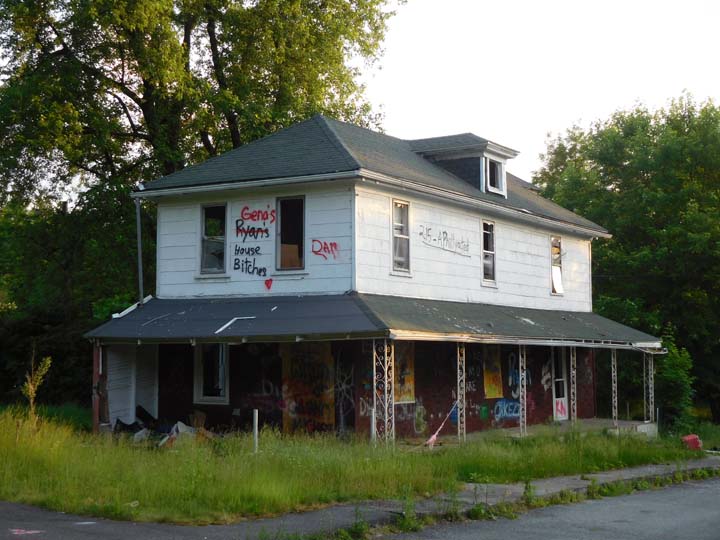 Recently abandoned home, now claimed by vandals




Claimed by nature





"Graffiti Highway" is a section of Route 61 that was closed over 20 years ago because it was declared unsafe. It's now one of the most popular locations to visit in Centralia, in spite of the "No Trespassing" signs posted by the Commonwealth.


Sign at the end of Graffiti Highway
Yeah, sure, whatever
Graffiti Highway




A positive message





It was getting late as we left Centralia. Restaurants close early in small towns, so we raced to get some dinner before finding a hotel and arrived at OIP, Original Pizza Restaurant, on LeHigh Street in Frackville for our first real meal of the day at 8:50 p.m. They graciously served us, although it was pretty obvious they were all but closed. The lasagna was superb!

While waiting for our food, I made a reservation at an Econo Lodge .4 mile away. Never in our lives did we ever dream we'd be spending the night in Frackville, Pennsylvania. (Nor did we know it existed.) But the town had good food and a comfy bed, and it was there when we needed it.