Thursday, September 21, 2006 - The Northern Romantic Road, Germany
At 10:00 a.m. Tom and I took a taxi over to pick up our rental car. Alamo had lost our paperwork and given away the crummy car we reserved, so they were forced to give us a major upgrade. We were supposed to get a midsize automatic, but what we got was a deluxe automatic, a Volkswagen Phaeton, which is two categories up from premium class. Yes, I was driving around Europe in a $70,000 (or more) piece of fine German engineering, complete with navigation system, heated leather seats, windshield wipers that sensed the rain and adjusted speed accordingly, and features I'm sure we never even discovered. This car had more lights, dials, and knobs than a 747, and they had to rent it to us for €200 for a week. Ha! The rental agent seemed kind of angry. He must have been crazy jealous!
The rental guy spent a couple of minutes showing us the navigation system, which he really didn't know how to work either, and then sent us on our way. We needed to get back to the Ibis to pick up Brian and Mooney, but we didn't know exactly how to get there, and Alamo didn't have a map to give us! Earlier we'd asked for a map of Augsburg at the train station and our hotel but could only obtain maps of the city center. Two men at Alamo gave us directions, but sadly for us, their directions differed markedly, and we ended up on the Autobahn headed toward Munich. By the time we got to an exit, turned around, and finally found our hotel, we'd been gone about an hour and a half. Brian and Mooney thought we'd fallen off the face of the earth. Anyway, I parked in what may or may not have been a legal spot, and we loaded up and set out on the next leg of our journey...
So much trouble getting into the Augsburg city center from Alamo, and now we were trapped! We drove around in circles trying to leave the city, but it was like a vortex kept sucking us back in. After much trial and error, we finally escaped. It would be a simple task now, we thought, to follow the signs for the Romantische Strasse (Romantic Road), but no. Although we had multiple maps, a detailed road Atlas, and the electronic navigation system, we made wrong turns all day long. I got very good at making U-turns in the Phaeton. As a matter of course, I had taken a Dramamine this morning (Don't leave home without it!), but Brian and Mooney were getting a little ill in the back seat. Freakishly, every time I made a U-turn, the radio would come on. We never did figure it out, but a few days later it stopped. Curiously, the road signs for the Romantic Road are written in German and Japanese.
Mooney had never been to a castle, so we stopped at Schloss Harburg, a large castle dating from 1150 located 15 kilometers southeast of Nördlingen. The castle is still owned by "royalty" today. I put "royalty" in quotes because on principle I don't accept the concept. The view from outside the castle walls is delightful, overlooking the town of Harburg and the Wörnitz River.
Schloss Harburg
Harburg, on the Wörnitz River
At 3:00 p.m. we stopped at a McDonald's in Nördlingen. It was fast, cheap, convenient, and we were glad to have it. Those breakfast salami sandwiches had worn off long ago. We each had a Royal with Cheese, gross fries, and a gross Coke. "Gross" means large, but it was still funny.
Dinkelsbühl's Altstadt (old town) is surrounded by a nicely preserved medieval wall, a moat, 18 towers, and four gates. Like Harburg, it is on the Wörnitz River. The town, with its cobblestone streets and ridiculously cute houses, is very picturesque and, yes, romantic. We spent about an hour walking around, but it would be nice to stay here for a couple of relaxing days.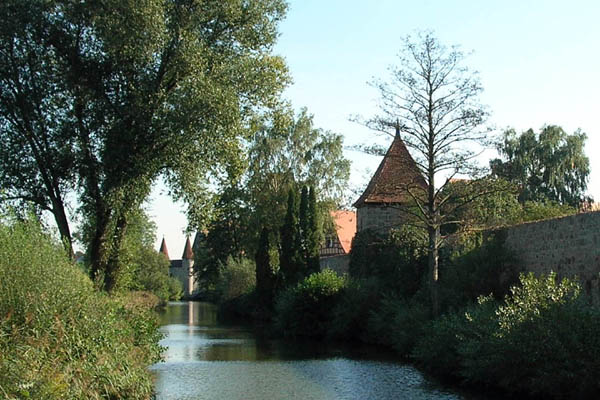 Delightful Dinkelsbühl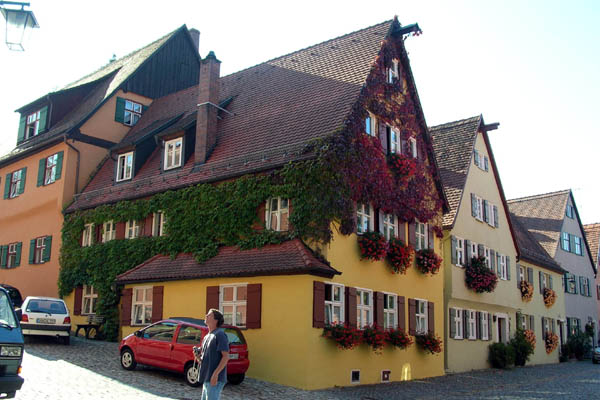 A colorful house in Dinkelsbühl
Rothenburg ob der Tauber is widely considered to be Germany's best-preserved walled city and is the main tourist stop north of Augsburg on the Romantic Road. The city wall is about three and a half kilometers long. We walked about a kilometer of it and then wandered around town. There seems to be more to do in Rothenburg than in Dinkelsbühl, but we found Dinkelsbühl less touristy and more charming. But, heck, I'd come here again, too!
Rothenburg's medieval city wall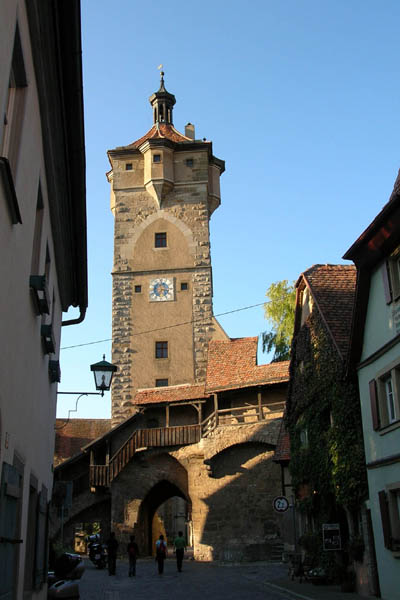 Old city gate, Rothenburg
It was after 6:00 p.m. when we left Rothenburg, left the Romantic Road, and headed west toward Nuremberg. We'd almost made it when we came to a closed road and had to find an alternate route. Tom did a good job navigating us to our hotel in the dark, and I'm happy to report I only drove the wrong way down a one-way street once getting us there (that I know of).
The Hotel San Remo is in the southern outskirts of Nuremberg in an Italian neighborhood. We checked in to our very nice, large rooms (€74 for a double with breakfast) and went downstairs to the hotel's restaurant for some fantastic Italian food. The menu was in Italian with German descriptions, but we were able to recognize words like "lasagna" and "spaghetti," so it wasn't a problem. Mooney ordered water and forgot to specify no gas. She got a tiny glass of fizzy water that tasted horrible and none of us would drink, and it cost more than our half-liter beers! Beer is the most economical beverage to buy in Germany.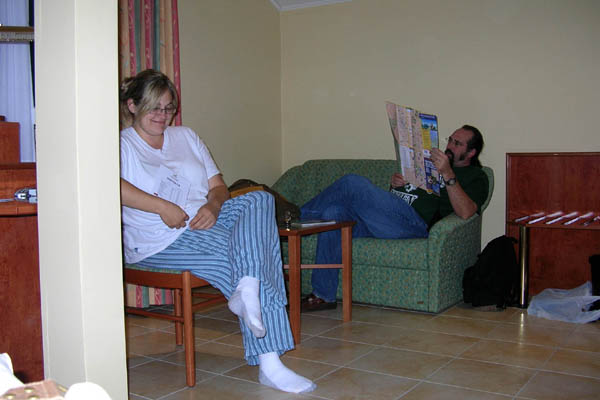 Relaxing at the San Remo, Nuremberg, Germany
I can't mention Nuremberg without mentioning Vivien Spitz, the youngest of 26 court reporters to report the Nuremberg war crimes trials after World War II, including the Nazi doctors' case. Since her retirement from reporting, Ms. Spitz has given speeches throughout the U.S. about her experiences with the trials, medical ethics, and human rights. She has been confronted several times by Holocaust deniers and has had to be rushed from the podium by security personnel on at least one occasion. I heard her speak at an Oklahoma Court Reporters Association meeting in the mid '90s. How anyone can deny the Holocaust in light of the testimony and evidence is incredible.