Saturday, September 23, 2006 - Fucking, Austria and Berchtesgaden, Germany
We were leaving at 6:30 this morning to get Mooney to the Munich airport for her 10:00 flight, so I got up at an unnatural 5:30 a.m. (Yikes!) and drove over to the Altstadt for a couple of photo, since none of us had our cameras with us last night. Who knew Landshut was going to look so cool!
Landshut Altstadt, St. Martinskirche on right
After bidding Mooney farewell, we three remaining stooges headed to the nearest town, Erding, for an emergency infusion of coffee. The town was just waking up this early Saturday morning, and the only thing open was a bakery in the town square - Exactly what we needed! The coffee and pastry were delicious and greatly appreciated.
Erding, Germany
We filled up with diesel before leaving Erding. We bought diesel four times during the trip, ranging in price (converted) from $4.37 to $5.24 per gallon, for a total of $262. All the filling stations we used were easy to work, no buttons or levers or instructions you had to read. Just take the nozzle out, stick it in the tank, squeeze the lever, then go in and pay.
Winding through the German countryside, we crossed the Salzach River and shortly found ourselves in Fucking, Austria, which was way funnier than I thought it would be. Of course we took a number of Fucking pictures, but beyond that, there wasn't much to do. There weren't even any Fucking businesses open. Tom wanted to mail a postcard, but we couldn't find the Fucking post office and didn't see any Fuckers to ask.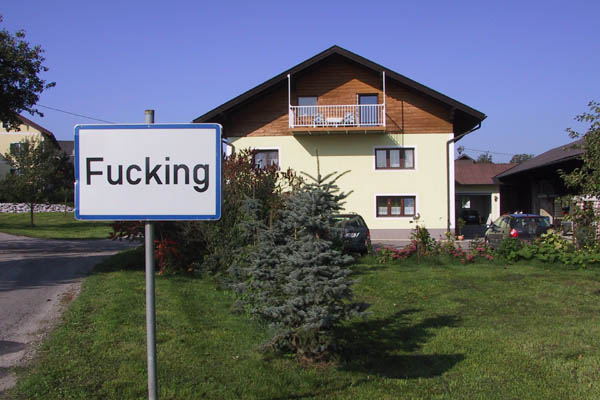 Fucking, Austria
I stopped at a gas station and went inside to purchase a "vignette," a tax sticker required to drive on the motorways of Austria. We were headed back to Germany for the afternoon, but then we'd be in Austria for a day or two, so we needed the sticker. This was the most difficult transaction of the trip due to the language barrier, but I managed to acquire the vignette anyway. Success! A ten-day vignette is €7.60.
We crossed back into Germany at Oberndorf bei Salzburg, Austria, where the Christmas carol "Silent Night" was first performed in 1818. The bridge between Oberndorf and Laufen, Germany, was under construction and one lane was closed, making both towns traffic nightmares.
Lunch with an Alpen view
Berchtesgadener Land is a beautiful region in far southeastern Germany, tucked in the Bavarian Alps near the border with Austria. Near the town of Berchtesgaden is Kehlsteinhaus, known also as the Eagleís Nest, Adolf Hitler's mountain retreat. The Eagleís Nest was designed as a birthday present for Hitlerís 50th birthday, but he never spent much time there because he was afraid of heights. Pussy. Hitler actually lived lower on the mountain in the village of Obersalzburg, where he evicted the residents and designated the Führersperrgebiet (the Fuehrer's off-limits area), a second seat of power for the Third Reich outside Berlin. A large complex of homes for Nazi leadership, security, and staff was built here, most of which was destroyed by Allied bombings, but Kehlsteinhaus was spared demolition due to its low association with Hitler. The Obersalzburg area was used from 1945 to 1996 as a recreational area for the U.S. Armed Forces and has now been turned over to the Bavarian government.
The road to the Eagle's Nest is closed to private traffic. For €14.50 you get a round-trip bus ticket for the last 6.5 kilometers from the parking area and an elevator ride to the top. The road is very steep, with a 700-meter elevation change and just one switchback. At only four meters wide, the road is not wide enough to pass another vehicle. The bus traffic coming up and down the mountain is precisely timed for the downward buses to pull off in just the right spot to make way for the upward traffic. There are five tunnels carved in the mountain, which the buses just barely fit through. The view from the road is magnificent.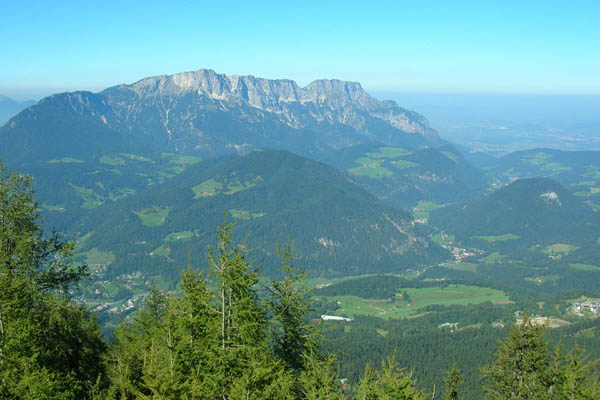 Berchtesgadener Land, Germany
The buses drop you off at the entrance of a 124-meter granite tunnel leading to an enormous polished brass elevator that travels another 124 meters up through Mt. Kehlstein into the Eagleís Nest building itself. They cram as many people as possible in the elevator; I counted 35 getting off one lift. The elevation at the top is 1834 meters, offering a breathtaking view over Berchtesgadener Land, Salzburg, Austria, and beyond.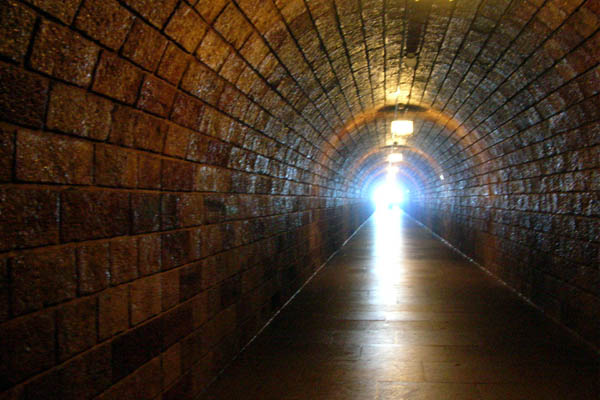 Tunnel into Mt. Kehlstein
Tom on the summit
Kehlsteinhaus is now a restaurant, run by a charitable trust, but we were there for the scenery. Usually when Tom and I visit mountains, we appreciate solitude, but it was a pleasure to see people swarming all over Hitler's hideaway.
The Eagle's Nest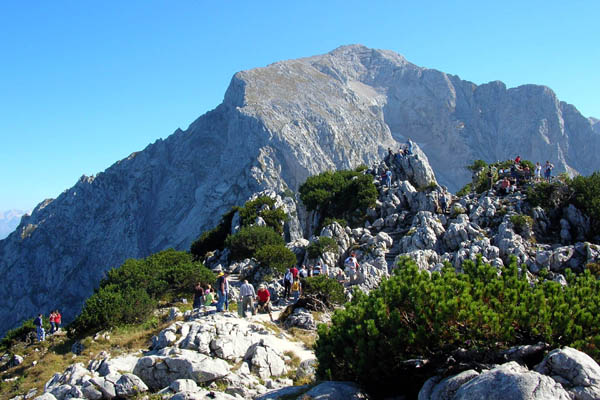 Hitler's Fortress of Solitude
I'd wanted to spend a couple of days in Salzburg on this trip, but the city was hosting a bicycle race and expecting an extra 350,000 people when we would have been visiting. This in a city of 145,000. No, thanks. Maybe next time. At least we could see Salzburg from Mt. Kehlstein.
Salzburg from above
Back down at the gift shop by the parking lot, Brian found the greatest souvenir ever, Lederhosen! Too bad Mooney's gone - She loves a butt in Lederhosen. I'm sure she'll get other chances to check it out, though. If anyone can find an excuse to wear Lederhosen in Oklahoma, it's my brother the Biermeister.
Brian models his bier gear
We drove in circles getting out of Germany. The road downhill got steeper and steeper until I thought it was going to turn into stairs before we finally popped out on a real highway. Once again we crossed into Austria, this time headed toward our hotel in Werfenweng. Just before we got there, we passed a fantastic castle, which we'll see again tomorrow.
Our room tonight is at the Gasthof Pension Sonneck. I booked all our hotels on the Internet, and we were really pleased with the results. Gasthof Sonneck is pretty much out in the country, in the midst of the Austrian Alps, a very peaceful setting. This place is a ski chalet in the winter, so we were visiting in the off season and got a good deal, €87 for the room and breakfast. The room was a touch odd, though. Tonight we'd booked a triple, and I was surprised to see in a room for three people that the shower was situated centrally in the room in a transparent cubicle. This is the one day of the vacation I skipped showering.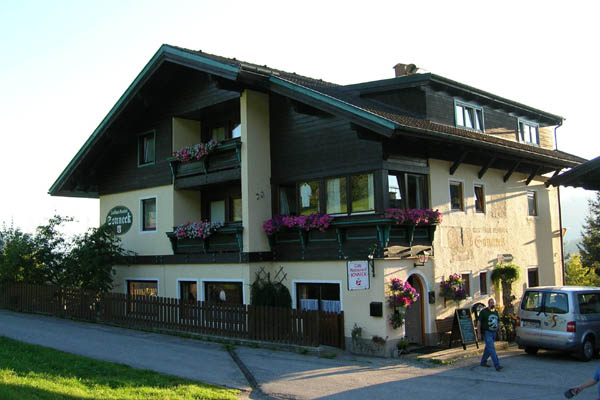 Gasthof Pension Sonneck, Werfenweng, Austria
Dinner in the Gasthof Sonneck's restaurant was awesome, the best meal of the trip. I had grilled sausage, turkey, and pork, with a plate of fries. Brian had diced sausage and fried potatoes with a fried egg on top. And it was steak, onions, and stuffing for Tom. That and several beers set us back only €49, which is quite the deal for Europe. After dinner we sat out on the porch and enjoyed the vast abundance of stars in the clear nighttime sky.