Monday, September 25, 2006 - Italy, Liechtenstein, and Lucerne, Switzerland
Along the Isel River, Lienz, Austria
The Gasthof Goldener Stern is over 600 years old. Our room was in a newer addition, but we had breakfast in a charming room in the original building. This morning's Frühstück (breakfast) was pretty much the typical salami sandwich fixins we've now become used to, but instead of a buffet, this morning the food was brought to our table. Actually, I have to give this place credit. In addition to the cold cuts, there were a couple of nice sweet breads with excellent jam as well.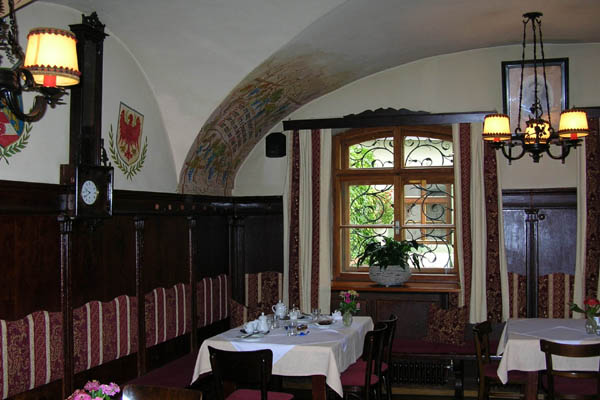 The historic Gasthof Goldener Stern
We had about 500 kilometers to cover today, so we dieseled up the car and headed out of town. It's pretty cloudy this morning, but we got a few good views of the jagged Dolomites looming above, and from time to time we stopped to photograph an unexpected castle by the side of the road.
The sinister Dolomites
Heinfels Castle, Austria
At the Austria-Italy border you could see where the guard station used to be, but it was unmanned. I was a little concerned about driving in Italy because you hear how crazy the Italians drive, but this far northern part of Italy is more like Austria or Germany, and we just saw a couple of lunatics.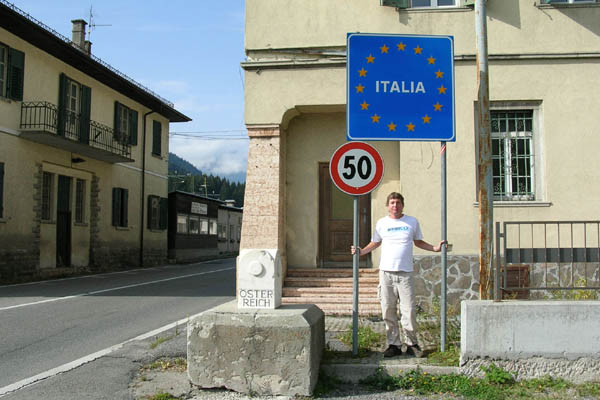 Österreich-Italia border
We crossed back into Austria at another abandoned checkpoint, and near Innsbruck we turned west. There were a number of toll stations today. They've got to pay for all those tunnels somehow. The longest tunnel we passed through was 15 kilometers. The far western province of Austria, Vorarlberg, is pretty much cut off from the rest of the country, and many of the residents consider themselves more Swiss than Austrian. It was a surreal feeling as we popped out of the tunnel into Vorarlberg, the clouds closed in, and it started to rain.
About 3:30 p.m. we reached the tiny country of Liechtenstein, just 25 kilometers long by six kilometers wide. At the Austria-Liechtenstein border there were border "guards," but they didn't even look at us and waved us on. We stopped in the capital city of Vaduz (population 5005) for a late lunch at Pizza Azzurro. Liechtenstein and Switzerland have not adopted the euro and instead use Swiss francs (CHF) as their official currency. We were able to pay for our meal and some groceries in Vaduz with euros, but our change was given in francs.
We messed around in Vaduz for a couple of hours before continuing on to Switzerland. At a rest stop we pulled in to use a Geldautomat (ATM) and purchase a vignette (tax sticker) for the car. Though we'd only be here for a few days, Switzerland only sells vignettes by the year, for CHF 40. A Swiss franc is about $.80.
Swiss cheese memorial, Switzerland
At 7:30 p.m. we arrived at the Tourist Hotel Luzern in Lucerne, Switzerland (CHF 180 for a two-bedroom triple with breakfast). It's pretty much a hippie hotel, but it was clean, and the location is great. Located inside the old city walls, I had to drive through a medieval gate to get there. The street parking was full, but we illegally parked to unload and then were directed to free parking at a restaurant a block away.
Lucerne was chosen as an overnight stop based solely on how far we thought we could make it today, but, wow, we really lucked out. This is a neat city. It's situated on the western edge of Lake Lucerne, on the Reuss River. The large old town retains a portion of its medieval city wall and is home to two fantastic medieval covered bridges, the Kapellbrücke (Chapel Bridge) and the Spreuerbrücke (Spreuer Bridge), dating from the 14th and 15th centuries. The Kapellbrücke was partially rebuilt after a 1993 fire, but the Spreuerbrücke retains its original structure. Both bridges have painted murals from the 17th century adorning their trusses, the Kapellbrücke's theme being events from Swiss history and mythology, and the Spreuerbrücke's theme being "The Dance of Death."
"The Dance of Death"
Due to our late lunch, we skipped dinner, but we spent some time at the Rathaus Brauerei and sampled their excellent dark Rathaus Bier. The waitress asked us if we wanted our beer in a three-centiliter glass or one PINT. At this point, I have been in Europe one week. It took one full week for Brian and Tom to bore me to tears with their talk of beer. I wish Mooney was still here! Our bar tab for eight pints of beer was CHF 68. That's about $6.75 per beer. This was the best beer of the trip, but gee whiz, Switzerland is expensive!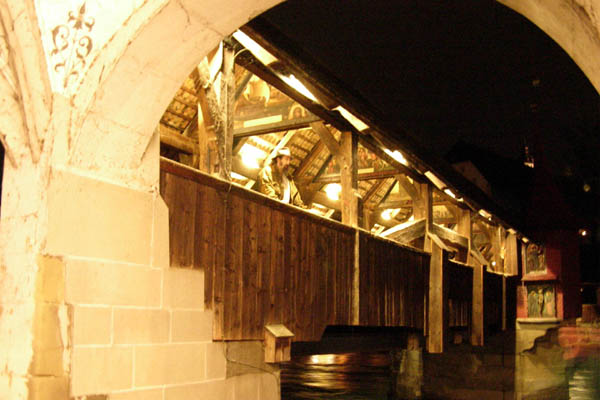 Brian on the Spreuerbrücke