Thursday, September 28, 2006 - Mürren, Switzerland to Augsburg, Germany
For an exciting breakfast twist this morning, we had HAM sandwiches rather than salami! Is this a classy place or what? Also on the buffet was yummy-delicious kiwi fruit. We got up at 6:30 this morning and caught the 8:10 cable car down to Stechelberg. All we're doing today is driving. The rental car place in Augsburg closes at 6:00 p.m., and we're hundreds of kilometers away, so there's no time to waste.
On the cable car from Mürren
Really, we'd been lucky with the weather throughout our vacation, but today was a typical European dreary day. It didn't matter much anyway as we had no planned sights, but we drove a short ways along the Bodensee, and it would have been nice to view it. Bodensee, or Lake Constance, is on the borders of Austria, Switzerland, and Germany. At 63 kilometers by 14 kilometers, it's central Europe's third largest lake.
There were border guards standing at the Switzerland-Austria border, but they weren't doing anything, and everyone just drove right by. At the German border, however, all traffic was directed off the road to a control point. Guards there were searching a majority of the vehicles, but they just waved us through. I guess we didn't fit the profile.
Today I got the rental car up to between 180 and 200 kilometers per hour on the Autobahn. Tom says 200. I thought I was just over 180, but at that speed I couldn't look that closely at the speedometer. 200 kph is 120 miles per hour. This VW Phaeton is sweet! My Xterra would have rattled to pieces.
We got of the Autobahn in Landsberg am Lech, had a typically greasy McDonald's lunch, and took the Romantic Road the last few kilometers into Augsburg. After only a few frustrating wrong turns, we found the Hotel Ibis beim Königsplatz, where we checked in for our final night in Europe (€65 for a double without breakfast). The Ibis where we stayed at the beginning of our trip was full, but this Ibis was only a couple of blocks from the first.
Next we had to find the rental car place. When we rented the car a week ago, we had a LOT of trouble getting back to our hotel. Consequently, we had no idea how to get to Alamo now. The hotel receptionists were no help, and they didn't have a map of Augsburg we could take with us, but there was a map posted on the wall in the lobby, and Tom and I planned our route. By the grace of God, we found the place without a problem, managed to fill up with diesel on the way, and returned their pretty Volkswagen without a scratch. I drove it a total of 2150 smooth-riding kilometers. I'm gonna miss that car.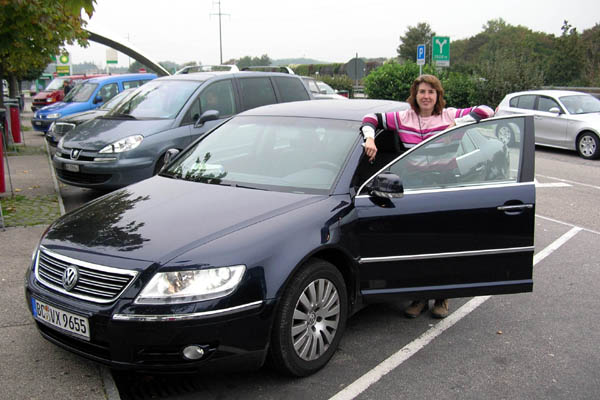 My sweet ride
We took a taxi back to the Hauptbahnhof and checked the train schedule for getting to the Munich airport in the morning, but we didn't really want to mess with changing trains/subways in Munich with our luggage. There's also a shuttle bus that leaves down the street from train station that goes directly to the airport, but it only operates a few times a day. The only bus that would work with our schedule leaves at 5:45 a.m. and arrives at the airport at 7:00 a.m. That's great for Brian's 10:00 a.m. flight, but Tom and I would be arriving freakishly early for our 11:30 a.m. flight. The shuttle is a good deal at only €15 each. We debated the pros and cons of train versus bus and decided we'd all take the shuttle bus together.
At our hotel restaurant tonight, "The Table Restaurant," we got eight beers and three good meals for €44. That's more like it. We were back in our rooms early tonight, but Tom didn't want me to go to sleep and be well rested for tomorrow. He wanted us to stay up and watch a South Park rerun in German instead. I growled at him and went to sleep anyway.