Saturday, October 4, 2003
From our balcony at the Hotel Monte Río, a.m.
The Hotel Monte Río
We went to breakfast in the hotel and then walked around the plaza, since they had now rolled the sidewalks back out and opened the stores. Seeing storefronts decorated for Halloween when it feels like the middle of summer is surreal. We bought a T-shirt and then left town.
A fountain in the plaza, Adjuntas
Our next Ruta destination is Cerro de Punta, the highest point in Puerto Rico, 4,389 feet. We drove our little car, Smoky, to the top on a one-lane, VERY steep road utilized mainly by workers accessing the communication towers at the top. I had to floor the gas to make any progress uphill whatsoever, and I honked at each turn, with high hopes we wouldn't meet anyone coming down. The view from the top is awesome. We could see all the way to the coast, and then the clouds started rolling toward the peak, giving it a spooky aura.
From Cerro de Punta
The clouds move in
The cerro lies within the Toro Negro Forest Reserve, 7,000 acres right in the heart of Puerto Rico, some of the wildest territory on the island. The Ruta goes through this reserve for about ten twisting and turning miles, and you are truly at the rooftop of Puerto Rico. We wanted to hike the two miles to the Salto Doña Juana, a 200-foot waterfall crashing over a cliffside, but it started to rain (as it does almost constantly in this forest), so we drove on.
La Ruta
Further along the Ruta we stopped at the Mirador Villalba-Orocovis, a very well-kept park with views to the north and south coasts. There's a playground for kids, a small restaurant, and restrooms. Lucky for us, it had stopped raining. The views are espectacular!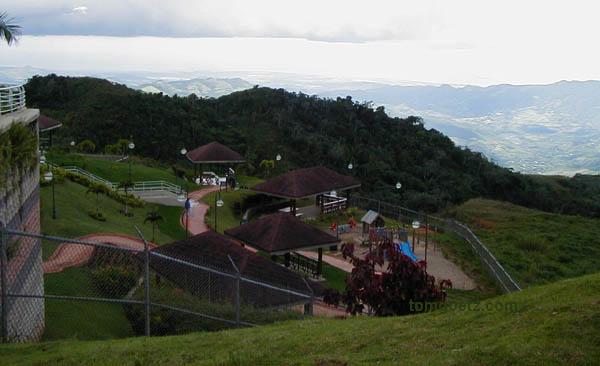 Parque Mirador Villalba-Orocovis
Earlier we'd decided to stay in Barranquitas if we could find a place. According to "Lonely Planet," the Hacienda Margarita is the only game in town and hard to find. I pulled over at a farmer's market, and Tom got out to ask directions. He came back with a bare-bones description of where to go, and as I was backing out, the lady he spoke to came running toward us. She had flagged down a police officer to show us the way, and he gave us a police escort to our destination! It's always an adventure traveling with Tom and Jana. No lights and sirens, but we did run a couple of stop signs! We never would have found this place without him. The cheap rooms like ours go for $79.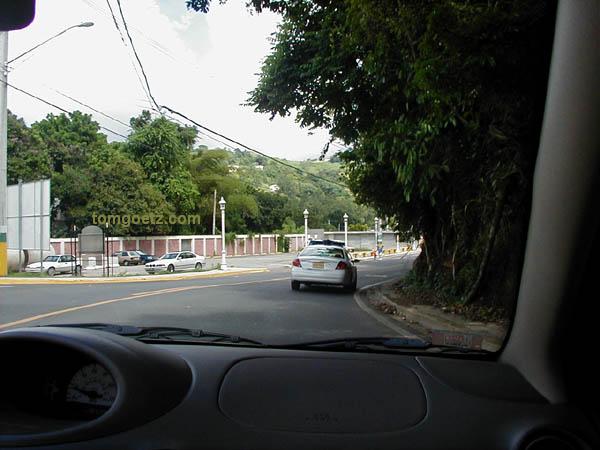 Our police escort!
We weren't done exploring for the day yet, so we had to leave again. Our only hesitation was that we thought there's no way we'll be able to find this place again. (You have to wind your way through a subdivision to get here.) Tom explained our concern to Jorge, the proprietor, and he made us a detailed hand-drawn map. Then he said to call him "when" we got lost, and he would come and escort us back! Oh, he of little faith.
View from the Hacienda Margarita
With a few wrong turns, not our fault, we made our way back to town and had lunch before driving on to Aibonito, "the Switzerland of Puerto Rico." Since we'd already stayed in Adjuntas, "the Switzerland of the Caribbean," we thought we should check it out. At an elevation of 2,401 feet, it is the highest town on the island. To just sum up our impression succinctly, Switzerland NOT, but it does have a pretty plaza.
Aibonito plaza
The Mirador Piedra Degeta is just down the road from Aibonito. We got there shortly before they closed the gate, and shortly before the clouds covered the mirador. The clouds were coming right for us! You can see San Juan from here through a cleft in the mountains. We couldn't make out Ponce to the south because the clouds were moving in from that direction. Very nice.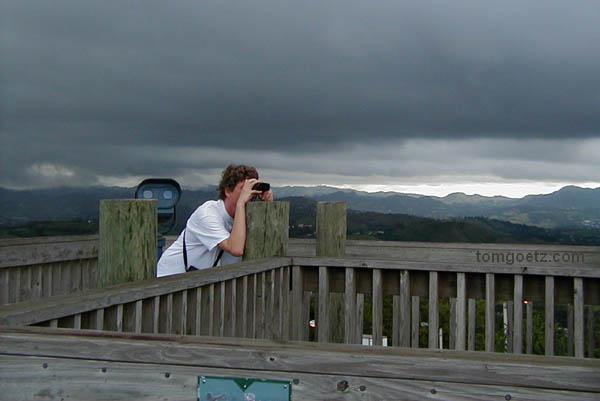 Tom at el Mirador Piedra Degeta
The Cañon de San Cristóbal is a 500-foot deep, narrow volcanic fissure cut into the landscape between Aibonito and Barranquitas. We were able to catch just a glimpse of the canyon from a distance from the highway, but we couldn't get close, and there were no pull-offs where we could stop and really admire it. The canyon is striking, but the lack of access was a big disappointment. Skip it. "Off the Beaten Path" said we could get there from route 725, kilometer 5.5, down a side road. Another inaccuracy.
We went back to Barranquitas to see the sights, but there's nothing really to do there. The plaza is under construction, and we had no interest in their strip mall - we've got strip malls of our own. We took our time at the supermercado picking up snacks for later tonight, and headed back to Hacienda Margarita. Much to the surprise of Jorge, we found our way back without assistance. We have two English-language TV channels tonight, PBS and baseball. We mostly just read our guidebooks.
"Allow three days for the Ruta Panorámica" our guidebooks said. "Ha" we said. Okay. They were right and we were wrong. It does take three days. But after two days, our vacation is running short, and we have to decide what to hit and what to miss. We decide to leave the Ruta - we feel we've seen the highlights - and head back north.