Sunday, October 5, 2003
Earlier than we intended on this vacation Sunday morning, we were awakened by the sound of screaming, playing niñas - Grrr... I guess we might as well get up. Surprisingly, this hotel is equipped with a Frankenshower. This is America - you'd think they'd at least have it plugged into a GFCI outlet.
Return of Frankenshower!
Filled up with gas and coffee and headed out. The going rate for petrol has been around 36.9 cents per liter, which comes to $1.39 a gallon. Cheaper than Knoxville even! Puerto Rico is schizophrenic when it comes to standard versus metric. Fuel is in liters, speed limits are in miles per hour, distances are in kilometers, and odometers are in miles - Yikes!
Cerro las Tetas
We decided to go south before we go north, and we aimed toward what is supposed to be some of the prettiest coastline in the world. In Vázquez we stopped for a picture of the Cerro las Tetas, then we drove toward Guayama and then to Maunabo. At Cabo Mala Pascua we stopped again and watched some little niños play in a calm bay. It is a very pretty place, but the beach is rocky. I prefer a nice white-sand beach myself. As we left the coast we went into the hills again for a short time and were afforded some stunning views back toward the south coast.
Cabo Mala Pascua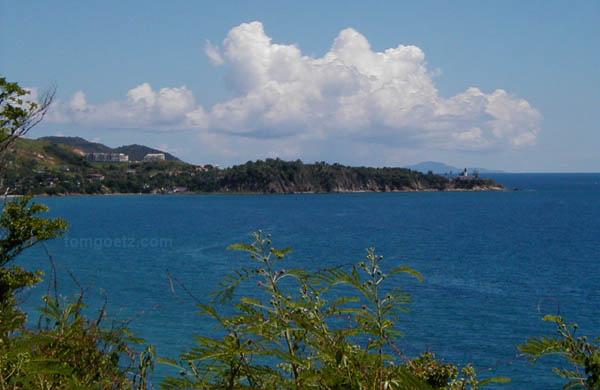 The southeast coast
North we go toward The Caribbean National Forest, more popularly known as El Yunque, in the Sierra de Luquillo mountains. El Yunque means "the anvil," which is supposedly what the 3,500-foot El Yunque peak looks like when viewed from the north. We saw no anvil. This is the only tropical rain forest in the U.S national forest system, and it covers 43 square miles. 240 inches of rain fall in El Yunque annually, but it didn't rain the day we were there!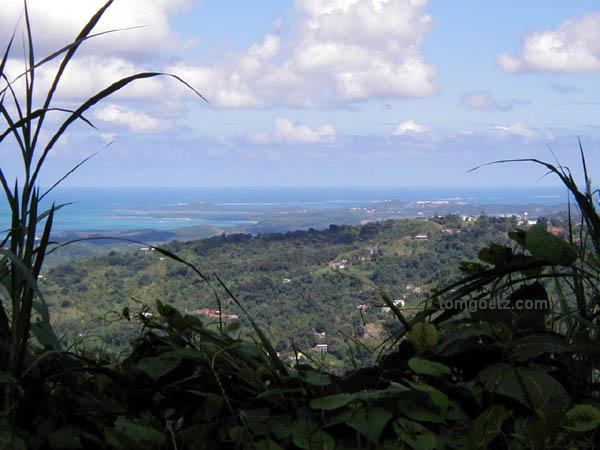 From the route 9966 entrance to El Yunque
We entered the forest via route 9966, a less common entry than via 191. Don't try to enter El Yunque from the west though. It is a fool's errand through some major jungle. Trust me; we tried it. We enjoyed 9966 because it was practically deserted. There are great views of San Juan from this road and from many places in El Yunque. Shortly after turning onto 191 we came to the Catarata la Coca, an 85-foot waterfall tumbling over moss-covered rocks just off the highway.
Looking up the Catarata la Coca
Just a little further beyond La Coca you come to Torre de Yokahú observation tower, 1575-foot elevation. From here one is afforded wonderful views of San Juan and the northeastern coast, tarnished only by the busload of package tourists fresh off the cruise ship that will inevitably arrive just before you.
Resorts just east of San Juan
The Palo Colorado Visitors Center was pretty crowded, so we drove on to the end of the road, where we went on a 1.6-mile hike (round trip) to the Torre Mt. Britton observation tower, 3,088 feet. Blah, blah, spectacular views and so forth. I'm sure you're getting sick of hearing about this by now.
El Yunque tropical rain forest
We returned to the visitors center, across from which is the Baño Grande, a swimming area built during the depression. Then we took a steep two-mile hike (at least, I'm telling you) to La Mina Falls, a 35-foot cascade dropping into a swimming hole popular with bathers. We had to quick-hike out of there, because the park gates close at 6:00 p.m. El Yunque is a gorgeous place, but just between you and me, it looks a LOT like the Smoky Mountains, with bigger ferns and no mountain laurel.
The enormously popular La Mina Falls
We're returning tonight to where we began our trip, the Green Isle Inn in the Isla Verde area of San Juan. Once again today we've been too busy to stop and eat. All we've had is a few chips and some peanuts. Combine that with the hiking, and we were famished. We stopped at Subway for our first and last meal of the day.
After supper we got on Highway 187, thinking we could miss the bulk of the San Juan traffic. We did okay at first, blazing to the north coast almost by ourselves. Then we got to Loíza and the traffic jam from hell. We literally just inched forward for at least two hours, thinking what the hell, until we finally, finally, finally reached the big holdup. And what was it, you ask? The whole big ordeal was due to gringos, thinking they're having a typical Puerto Rican experience, clogging up a narrow portion of road while they do the bar scene. Drunken a__holes. We were moving so slowly I was actually cut off by a person on horseback. The police were out, but they just made the traffic worse with their cars parked alongside the already narrow road.
It was all better though when we finally made it to our hotel. The room we loved so much last time was taken, and they gave us an even better room, a suite with a living room and a kitchen, for the same price, $69 a night. We walked to the 7-Eleven for provisions (beer), then took a swim and relaxed - nice!
I just saved a lot of money by switching to Geico