Sunday, February 5, 2017
San Diego


Wow, overcast, damp, and 54 degrees this morning. What happened to sunny Southern California? I don't think the San Diegans want this info getting out, but it's not warm and gorgeous there 365 days a year. Hopefully, it will warm up later in our trip.

By the way, I can't recommend this Super 8. I don't mind so much that it's old and rather worn, but I got a bunch of bug bites in the night, and the breakfast buffet had a whole "People of Walmart" thing going on. But we're only here for three nights of our lives, so we'll grin and bear it.






Things you see in San Diego





Today we're just going to mess about San Diego, especially the coastal part, and see what we can see. The hotel is near Mission Bay, a saltwater lagoon that's part of a large municipal park, so we started there and then drove south through Ocean Beach and Sunset Cliffs. The cliffs are very cool, not super high, but with really interesting formations and beautiful ocean vistas.






Sunset Cliffs





Next we drove out onto Harbor Island and got some good views of downtown San Diego and saw the wooden ship San Salvador sailing just offshore. The San Salvador is a replica of a Spanish Galleon that called on San Diego in the 1500s.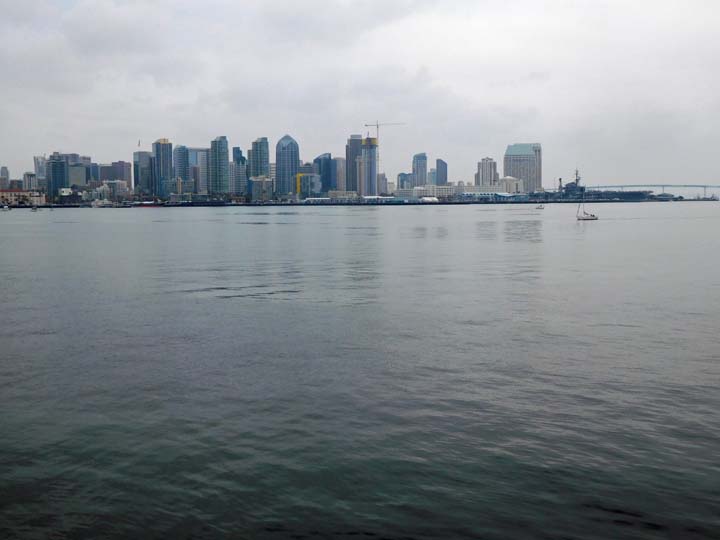 Downtown San Diego




A Spanish Galleon sails by





We parked at the Navy Pier on Harbor Drive, next to the USS Midway Museum, and got tickets for a one-hour boat tour of the south San Diego Harbor with Hornblower Cruises . It was still only in the low 50s and overcast. We hadn't packed propper cool-weather clothing, and with the wind coming off the water, we got pretty chilled.






USS Midway





The boat tour took us past Coronado Island, under the Coronado Bridge, and by huge container ships, aircraft carriers, hospital ships, guided-missile destroyers, and more. It was a great activity in our limited time here. I'd love to go through the USS Midway Museum, but we don't have the time. Luckily, we'll be back in August for Chris and Kelsey's wedding!


Coronado Bridge
Banana boat
USNS Mercy




USS Zumwalt stealth destroyer





After the harbor tour, we checked out some Greatest Generation monuments just south of the USS Midway, and then walked to the Gaslamp Quarter for a late lunch/early dinner. The Super Bowl was starting about this time, which limited our options because a lot of places were packed, but we were lucky enough to find the surprisingly non-crowed The Field Irish Pub , where we had tasty shepherd's pie, a corned beef sandwich, and of course a couple of beers.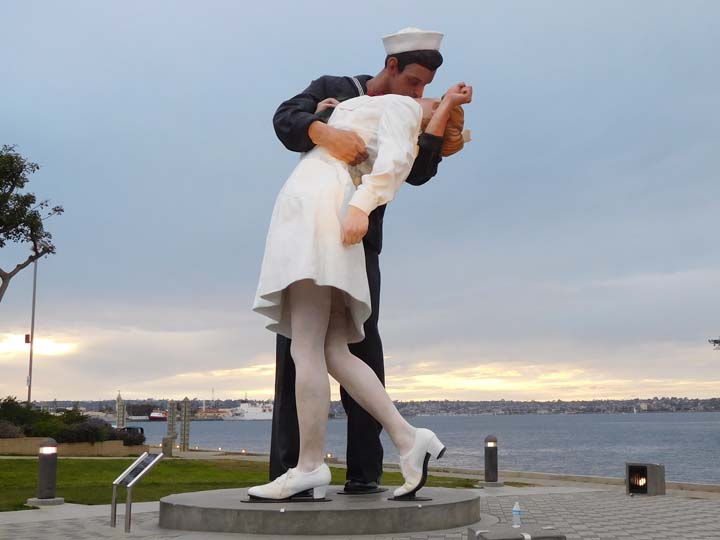 Unconditonal Surrender, August 14, 1945





Just before sunset, we drove up to Mt. Soledad, 822 feet above sea level, for a panoramic view of San Diego and the Pacific Ocean. I wish the sky had been more clear, but, again, we'll have another shot at it in August. The mountain is topped by the Mt. Soledad Veterans Memorial , marked by a 29-foot cross and surrounded by more than 2,400 black granite plaques displaying photos, names, and stories of American veterans. Great spot.


La Jolla from Mt. Soledad
Mt. Soledad Veterans Memorial