Tuesday, February 7, 2017
Indian Canyons


Alice made sausage and eggs for breakfast, and we lazed about most of the morning enjoying the gorgeous mountain and golf course view from their veranda.


Jana and Tom, barefoot and fancy-free
Casa de Kawan from the golf course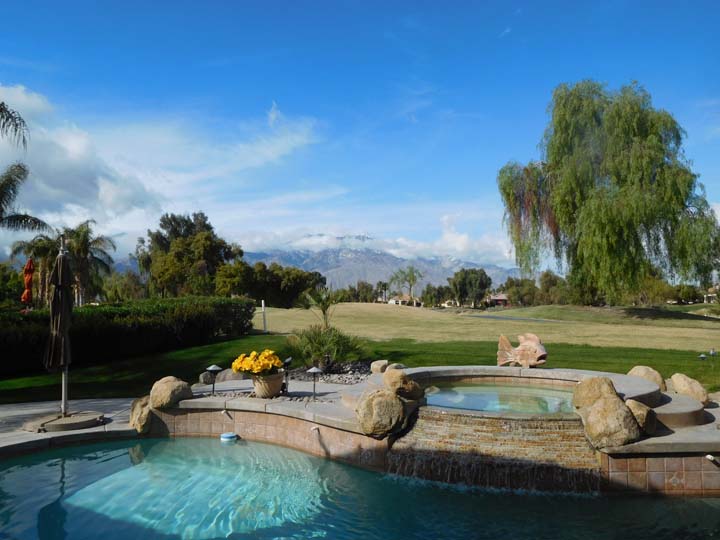 San Jacinto Mountains from Casa de Kawan





Around 11:30 we drove a short way to Indian Canyons in Palm Springs, the ancestral home of the Agua Caliente Band of Cahuilla Indians. It was $9 each for access to three canyons. First we went to Palm Canyon, an oasis in the desert where we walked a 2-mile out-and-back trail along a creek shaded by palm trees, with interesting rock formations along the way.


Palm Canyon
Tom in a tree
Jana in a Cahuilla grass house




Palm Canyon





Next we drove over to the parking area for Andreas Canyon and walked the 1-mile loop trail past more palm trees and even more striking rock formations. To visit Murray Canyon, you had to hike there from Andreas Canyon. We didn't make it that far.


Rocks of Andreas Canyon




Andreas Canyon trail





After the canyons, we had a look around Palm Springs. Tom took my photo with a statue of the late Sonny Bono, and then I snapped a pic of the late Debbie Reynolds's sidewalk star.


Jana and Sonny




Mother of Princess Leia





Finally, we drove up the mountain from Rancho Mirage on Highway 74 to Cochella Valley Vista Point (2,400 feet). We got to the viewpoint about 4:30, and the desert light was beautiful.


The road to Vista Point




The vista





Joe and Alice took us to a little local Mexican restaurant in Rancho Mirage for dinner, La Perlita. The chiles rellenos and margaritas were fantastic! Then back at their place, Alice opened a bottle of tequila that they'd been saving to drink with us for YEARS, Milagra Reserva Burrica Selecta Anejo. Three of the four of us really enjoyed it!


From the highlands of Jalisco