Wednesday, February 8, 2017
Joshua Tree National Park


We left Alice and Joe's around 10:45, picked up lunch supplies at a gas station in Indio, and entered Joshua Tree National Park at its southern end, off I-10, at the Cottonwood Visitor Center. The entrance fee is $25 per vehicle for one week. Maybe we'll be back another day...

The east side of the park, below 3,000 feet elevaton, is in the Colorado Desert (part of the Sonoran Desert), and the west side, above 3,000 feet, is in the Mojave Desert. In the hotter and drier Colorado Desert, ocotillo and cholla cactus thrive, but only in the Mojave do you find the Joshua tree.






Ocotillo in the Colorado Desert of Joshua Tree National Park





The Cholla Cactus Garden has a short nature trail through "jumping" cholla, so-called because of their tendency to attach themselves to the careless. Apparently, they also attract a lot of bees.






Cholla Cactus Garden, hiker beware





From White Campground, we did a short loop hike through a bunch of cool granite rock formations to Arch Rock. The arch is about 30 feet across. Then just up the road, we stopped at a pullout for Skull Rock, where no hike is required, but it's fun to climb around on the boulders.


White Campground
Along the trail to Arch Rock
Jana at Arch Rock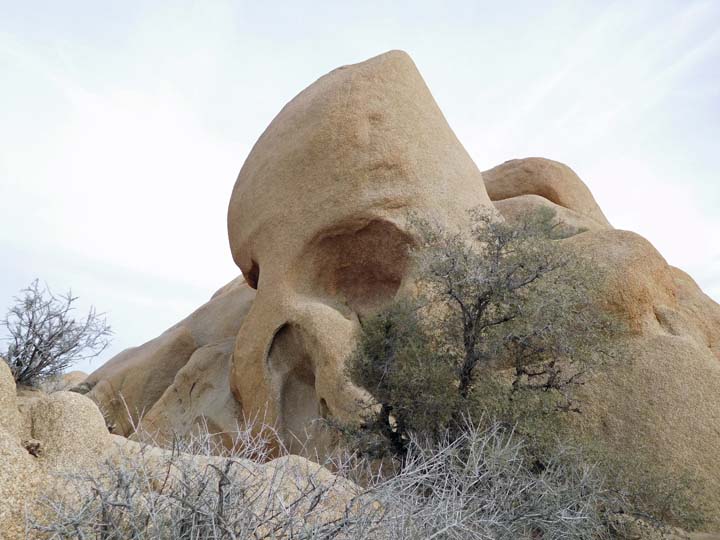 Skull Rock





Joshua trees aren't trees at all, but rather a species of yucca (a member of the agave family). They can grow up to 40 feet tall, at the rate of only one inch per year. Once we left the Colorado Desert and entered the Mojave Desert, they were abundant.






Desert rat in a Joshua tree





The temperature dropped from the mid-80s to 61 degress as we drove up to Keys View, at 5,185 feet, where you get an expansive view of the San Jacinto Mountains, the Coachella Valley, and all the way to the Salton Sea. We had a picnic here with our gas station sandwiches. This was the first place we came to in Joshua Tree with more than a smattering of people. I'm glad we're here on a Wednesday. Chris and Kelsey said it gets really busy on weekends.






Keys View





The next hike we did was to Barker Dam, a 1.3-mile loop trail leading to a small reservoir. It was a pretty hike, with lots of lizards, both dead and alive.


Tom at the Barker Dam reservoir




Late lizard





The 1-mile loop trail at Hidden Valley is the best hike we did all day. It's a microcosm of the entirety of Joshua Tree National Park crammed into a single short hike. We were here at 4:30 and the light was gorgeous. We enjoyed watching rock climbers from this trail.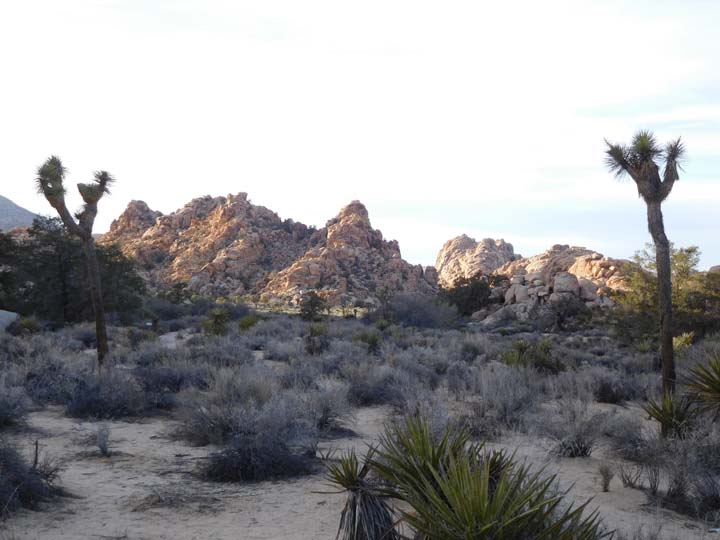 Hidden Valley
Along Hidden Valley trail




Moonrise





There was one more trail I wanted to hike that we didn't have time for today, so we might just have to return. We left the park at sunset and headed back toward Alice and Joe's. We'd told them not to expect us for dinner, so we were on our own. We ended up at The Block Bar & Grill in Cathedral City for cheeseburgers and beers. Just what we needed! We hung out for about an hour and a half until open mic night started and we fled the scene!