Friday, February 10, 2017
Joshua Tree National Park and Pioneertown


Today we headed back to Joshua Tree National Park to hike the trail we didn't have time for on Wednesday. We also found a few other things to check out that direction as well. We left Casa de Kawan just after 11:00 and had tacos in Yucca Valley on our way. We had a specific destination in mind, but sometimes you just come upon random art in the desert.


Random things you see roadside in the desert




Random no. 2





Specifically, we wanted to visit the Noah Purifoy Outdoor Desert Museum of Assemblage Sculpture in the town of Joshua Tree. Like the sculpture garden in Slab City, these artistic assemblages are also made of repurposed refuse (trash). I guess we're spoiled from all the wild desert art we've seen thus far, though. This place had nothing on East Jesus! Still, we got a few cool photos.


Noah Purifoy Outdoor Desert Museum of Assemblage Sculpture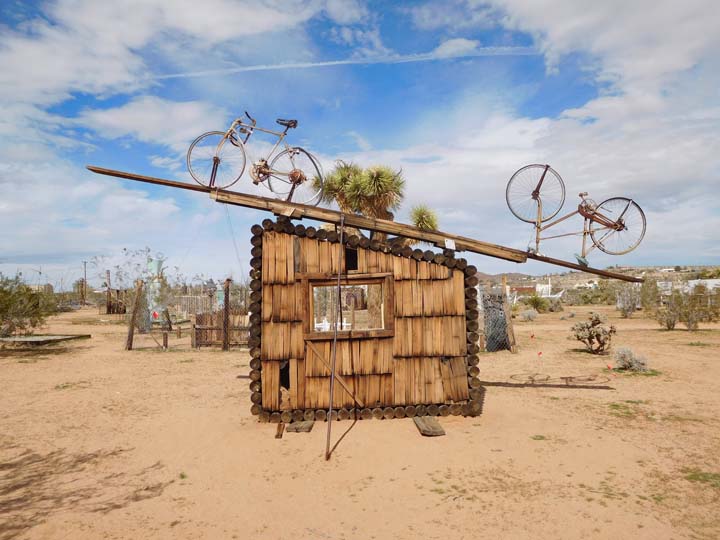 "No Contest" by Noah Purifoy




"Kirby Express" by Noah Purifoy





Joshua Tree National Park was a lot busier today, at the start of the weekend, but like anywhere in America, if you get more than 50 yards from your car, you're usually alone. This time we entered the park at the north entrance in the town of Joshua Tree, near Twentynine Palms, where we exited the other day. There was a short line of cars entering the park, but no big deal.

We'd returned to the park to do the 2.2-mile round trip Wall Street Mill hike, found at the Barker Dam trail head, which leads to an old gold-ore crushing mill used from 1930 to 1966.






Wall Street Mill, Joshua Tree National Park





The trail to the Wall Street Mill leads past decay, disintegration, and disrepair, including an old windmill, rusted-out trucks, and ruined buildings. It's completely different from the other hikes we did in Joshua Tree. The trail is very sandy and kind of a pain to walk on, but it was a lot of fun and pretty interesting. I'm glad we returned.


A solitary scene
Tom takes a breather
Handyman's dream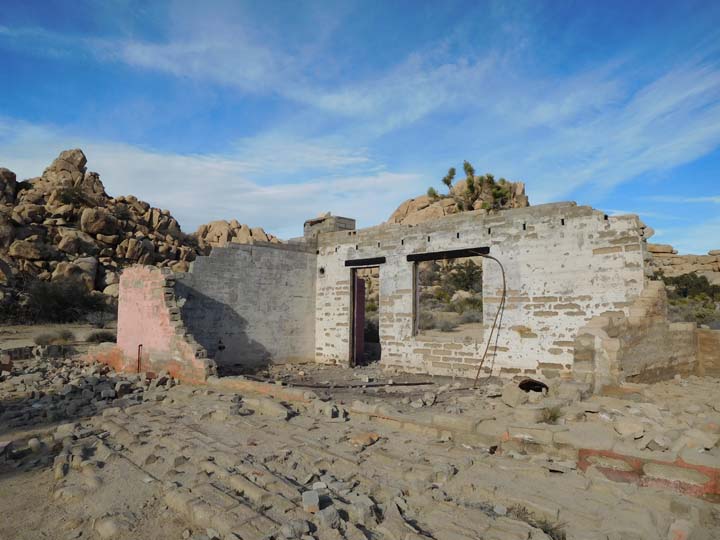 A real fixer-upper




The sandy trail to Wall Street Mill





Upon leaving Joshua Tree, we headed for Pioneertown, population 341, founded in 1946 by Hollywood investors, including Roy Rogers, as a real town built to double as an 1880s-style Old West movie set. More than 50 movies and TV shows were filmed here on "Mane Street" in the '40s and '50s, the locals serving as extras.


Stake your claim
Tom in trouble




Go west, young man





We walked Mane Street and then entered the infamous Pappy & Harriet's Pioneertown Palace for dinner and a couple of beers. The chili was great, the live music was fun, and the place was lively! We left as the action was really heating up, and the place was getting packed. I hate to think of all those people driving back down that winding mountain road after a night of too much fun!


I love a good honky-tonk