Monday, February 5, 2007
Knoxville, Tennessee, to Meridian, Mississippi
After kind of a late start due to rental property problems, we made our way south to Scottsboro, Alabama, home of the Unclaimed Baggage Center, an unseemly enterprise profiting on the airlines' ineptitude in matching suitcases with their owners. I object that my missing unmentionables might make someone money, but we couldn't resist checking the place out. I swore I wouldn't buy anything! But I did. There was an odd assortment to choose from.
Item with the narrowest appeal: A T-shirt stating, "Hi. I'm Ken from Connecticut."
Saddest items: At least a dozen wedding gowns. Hopefully, the ladies were returning from their weddings rather than going to their weddings. I'd hate to be the airline employee who was working the lost-luggage counter when one of these bristling brides came through the door!
Some of the stuff really makes you think, gee, I'm not sure the airlines are really trying their hardest to reunite lost items with their owners. Didn't anyone report a wedding dress missing? Were there just so many gowns astray that there was no way to match wedding gown with bride? How about the hot pink Barbie bicycle? Was that too generic an article to return to the correct little girl?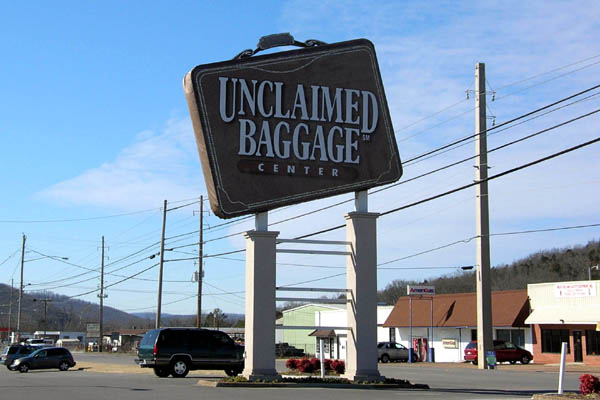 Profiting from your loss since 1970
We got as far as Meridian, Mississippi, where we spent the night at a Super 8 with alleged high-speed wireless Internet. The router was so weak we had to take our computer outside to get a connection!
The frontage roads of Meridian are very confusing, but we finally circled our way over to the China Buffet II for dinner. They offered lots of good seafood choices, plus one uncommon, very Southern addition to a Chinese-food buffet: Gravy.