Tuesday, February 6, 2007
Meridian, Mississippi, to Thibodaux, Louisiana
It was 50 degrees when we awoke, much more agreeable than the bone-chilling 20 degrees we left behind at home, and by noon in Laurel, Louisiana, it was a wonderful 70 degrees! I was tempted to call Holly and Valerie back at the office in Knoxville to gloat, but I'd rather they not call me while I'm on vacation, so I returned the favor.
The beach at Biloxi
We reached the south coast at Biloxi, Mississippi, stopped by the beach, then drove around and gawked at the destruction still evident one and a half years post Hurricane Katrina. They're hard at work rebuilding, but there's still a lot left to do. Nature is a powerful force.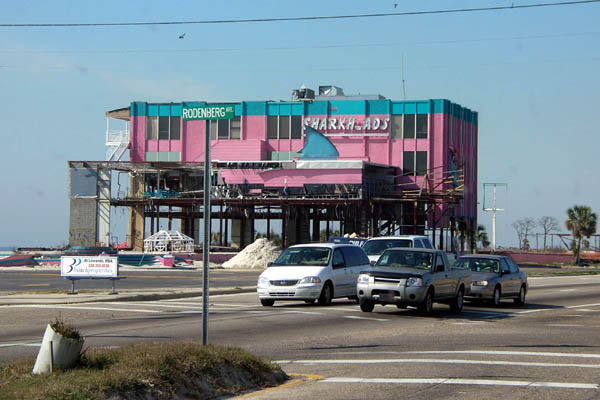 Sharkhead's remnants
The property is deemed unsafe? Really?
The devastation in Pass Christian, a few miles west of Biloxi, is almost total. They're starting nearly from scratch with the reconstruction.
A former subdivision in Pass Christian
Just past Pass Christian, Highway 90 is closed where a bridge washed out, and we had to go back up to I-10 and go around.
Bridge between Pass Christian and Bay St. Louis
We caught Highway 90 again at Waveland, heading toward New Orleans. All along this route are many sets of lonely stilts reaching into midair where houses once were supported. Boats are still scattered everywhere, having been stranded by the retreating storm surge. Not small pleasure craft, but good-sized commercial vessels and barges.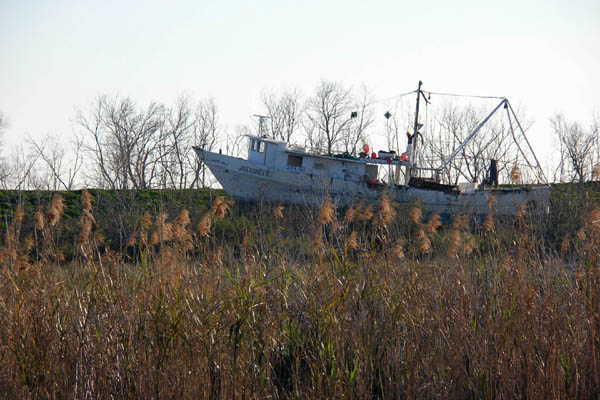 High and dry
It was rush hour in New Orleans as we were passing through. It's hard to believe there's only half as many people here as pre-Katrina. East New Orleans is a decrepit dump. Tom thinks it's general dilapidation as opposed to hurricane damage, but I refuse to believe that anyplace in the United States could be that crappy without a major disaster.
By the time we reached Houma, Louisiana, it was well after dark, and all the hotels in town were full. Apparently, there are few rooms available for visitors anymore since the 2005 storms. Finally at 10:00 p.m. we found a place to stay in Thibodaux, Louisiana, a nice, big room with a flawless Internet connection at the Ramada Inn which we rented for two nights. We didn't feel like going back out tonight and had sandwiches in our room.