Wednesday, February 7, 2007
Exploring Cajun Country
What a beautiful, sunny, 70-degree day! Hard to believe it's early February. Even here in the South, this is unseasonably warm. I love it! And it's pleasant being someplace with palm trees.
Jana enjoys the sunshine
In Kraemer, an interesting little community of stodgy shacks and gator-filled marsh on Bayou Boeuf, about 45 minutes outside of New Orleans, we showed up without reservation at Torres' Swamp Tour a little past noon. There were no group tours running, but the Torreses were more than happy to give us a two-hour private boat tour for 20 bucks each.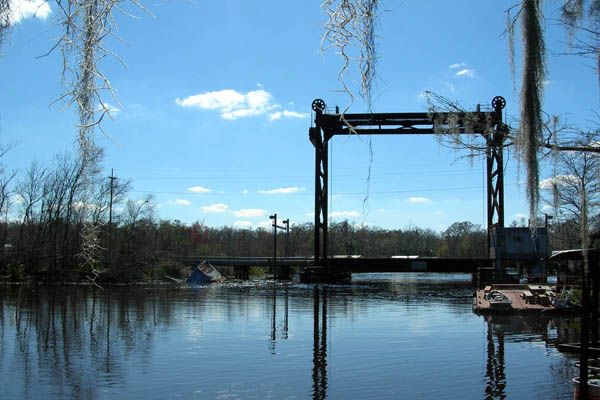 A drawbridge over Bayou Boeuf
Serene swamp scene
Captain Brian Torres, professional alligator hunter and tour guide, warned us that we likely wouldn't be seeing any alligators today because they hibernate in the winter. But sometimes the juvenile gators will come out of hibernation for a day or two if it warms up enough, and we were lucky enough to see two of them, one in the water, and one posing for our photographs while sunning himself on a log.
What it looks like before it's a belt
In addition to the alligators, we also saw snowy egrets, great blue herons, and tons of turtles. Other common wildlife on Bayou Boeuf, which we did not come across, are raccoons, nutrias (a type of giant rodent), and snakes. I didn't mind missing them a bit.
Turtle territory
Snowy egret among cypress stumps
The swamp was more beautiful than I'd imagined, with moss-draped cypress trees, switchgrass, and red-leafed swamp maples. It's very peaceful. The tour was enhanced by the narration provided by Captain Brian with his melodious Cajun accent.
Eerie Spanish moss takes over the trees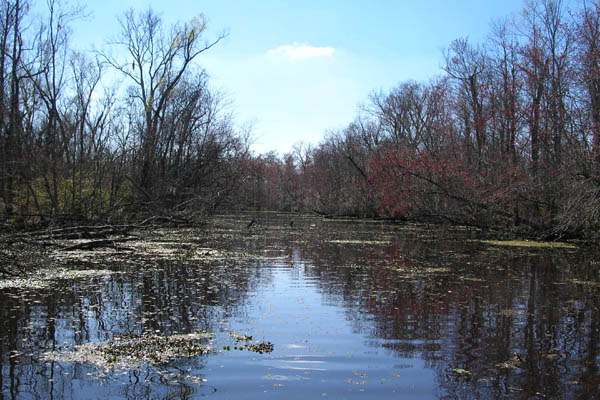 Another classic swamp scene
After a picnic lunch swamp-side, we headed for the southern part of Terrebonne Parish on Highway 56, south of Houma, and next stopped at the Chauvin Sculpture Garden in Chauvin, Louisiana, on the eastern bank of the Bayou Petit Caillou, to see the art of Kenny Hill. Do you suppose people from Chauvin are called Chauvinists?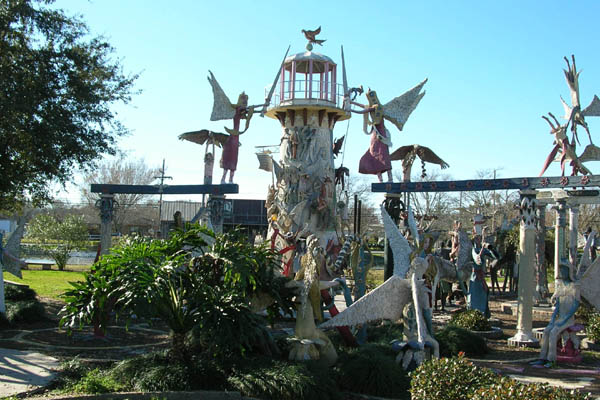 Chauvin Sculpture Garden
In 1989 a reclusive bricklayer by the name of Kenny Hill arrived in Chauvin from Arkansas. For over a decade he worked feverishly composing his spiritually-themed sculptures, the inspiration for which, according to his neighbor, came to him in dreams.
In early 2000, after a disagreement with his landlord, Kenny disappeared, leaving his artwork behind, and was never heard from again. The property was subsequently purchased by the Kohler Foundation and gifted to Nicholls State University, which now maintains it as the Chauvin Sculpture Garden.
Angels guard the entrance
Listening to the music of a stringless harp
The bulk of the sculptures are made from cement and wire mesh, while the centerpiece of the garden, a 45-foot-tall tower, is composed of more than 7,000 bricks.
The eclectic tower
Kenny's former next-door neighbor Julius came out to talk to us and told us that many of the sculpted figures resemble Kenny himself. This is a curious place and made a very worthy stop on our quest for oddities.
Kenny Hill in his own image
From Chauvin we continued south to the end of the road at Cocodrie, Louisiana, as far into the wetlands as one can go. From Chauvin to Cocodrie, all the homes are built on seriously tall, telephone-pole-diameter stilts. I wouldn't even consider living anyplace where they anticipate that big of a water incursion. How scary would it be to be home when the water starts to rise? There's a lot of miles between that furthest house and safety.
Stilt trailers over the wetlands
Back in Thibodaux, we ate dinner at a Mexican restaurant, La Casa del Sol, the only non-fast-food place in town we could find. It was good, but we had to examine the menu closely to find a food selection that didn't come covered in gravy. Perhaps they were using the term "gravy" generically to mean enchilada sauce or some such thing, but this is the Deep South, and we weren't willing to take that chance.
We drove around a subdivision after dinner and found the homes decorated with Mardi Gras decorations and Mardi Gras lights, much like Christmas decor, only the color theme is gold, green, and purple. Very pretty!
Back at the hotel, I dared Tom to jump into the ice-cold swimming pool, and he actually did it. I did not join him. Swimming in February! Brrrrr...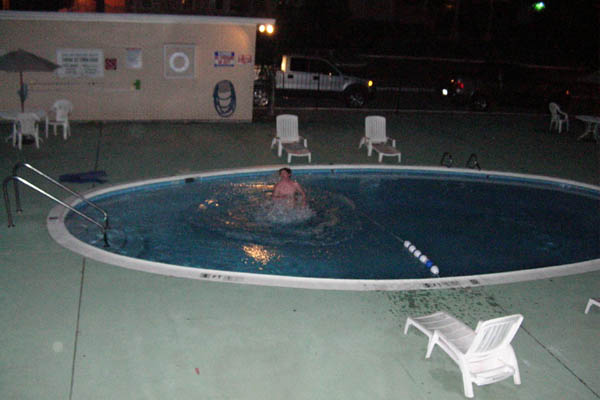 Tom takes the plunge