Sunday, February 11, 2007
Rosie's Colonia, Nuevo Progresso, Mexico
Happily, we didn't try to get an early start this morning. I did make it to the lobby in time for coffee and a bagel at the continental breakfast, but then we lazed around until 11:30, when the Neighborses, Goetzes, Hanlins, and Mooney met in Ed and Joan's room for a nice sandwich lunch.
Jack & Ed gab while Mooney works
At 1:00 everyone piled in my truck and Ed's van, both loaded down with goods, and drove over to the Southern Comfort RV Park, where we met up with the Sniders and Lynn. Then we headed for the Mexican border, just a few miles away. There's a $2 toll to cross the international bridge into Mexico, but customs and immigration is a breeze. In fact, the border agent didn't even look up as I drove by.
First we stopped at Gloria and Mario's house. Gloria is the head of a colonia (neighborhood ward), who Ed and Joan have known for many years. Gloria speaks English and selects the families for the houses to be built, plus helps Ed and the rest of us with anything we may need while in Mexico. Mario pours the cement for the homes' foundations. Gloria recently had a baby, and Ed and Joan brought some gifts for the family.
Gloria & Mario's house
It had poured down rain a couple of days earlier, and the "roads" in Nuevo Progresso were a muddy mess. We had to do a U-turn when leaving Gloria and Mario's, and I got caught in a quagmire when my 4-wheel-drive wouldn't lock into gear. Mario pulled me out with his pickup, and I got the 4-wheel drive locked in right after that (figures) and didn't have any more trouble.
Stylish boy gets his wiggles out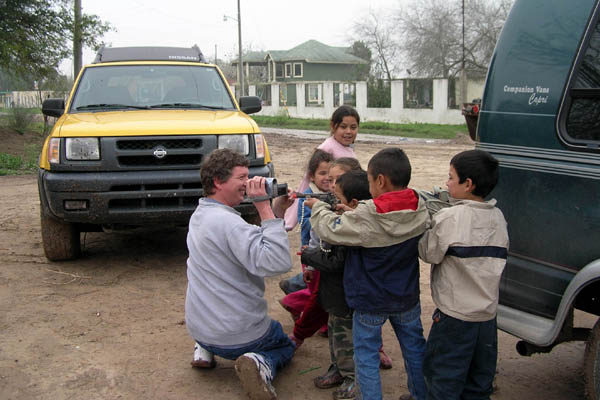 Tom gets accosted by boy bandits
Next we went to Rosie's, the head of another colonia, where we gave away the bulk of our goods. Ed and Joan run a food pantry for the needy out of their church in Enid, Oklahoma, Bethany United Methodist Church, so they're able to acquire lots of food very cheaply. The rest of us had collected all the clothing, tools, toys, and household items that we could fit in our vehicles. We unloaded everything and hung around while Rosie distributed it.
Rosie's colonia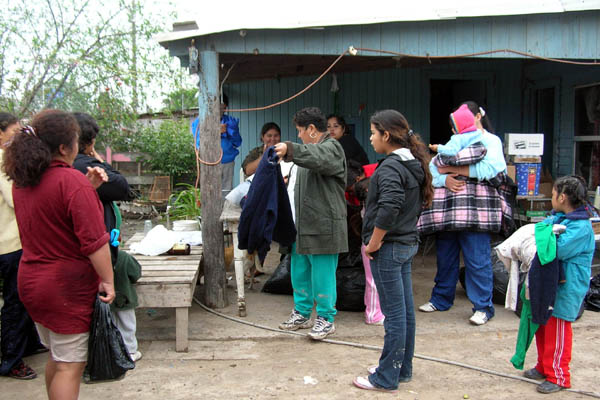 Rosie disburses regalos
Happy guy hits the jackpot
Rosie's husband cooked us some tacos on a homemade, portable grill composed of an old refrigerator shelf, a wheel rim, and a lawn mower. Tom and Jack walked to a nearby tienda and picked up a six-pack of cerveza and offered one to our host, whereupon he pulled out a bottle of tequila and passed it around. A good time was had by all!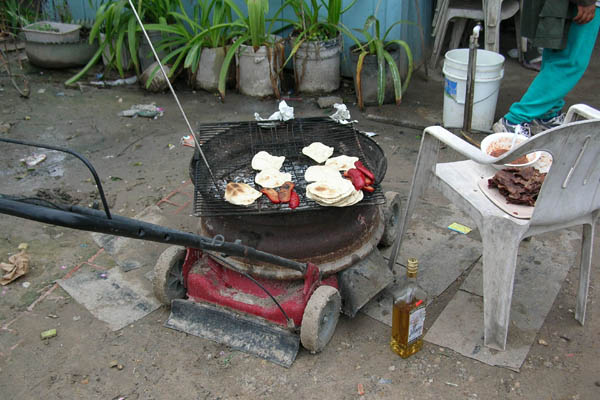 Tacos on the grill
Despite Jack's expression, the tequila was excellent!
The Neighborses, Goetzes, and Mooney did a little shopping on the Mexico side before heading back to the hotel. The Goetzes wanted cheap Mexican prescription meds, and Mooney was shopping for a gift for her daughter, Josephine. The sidewalks were packed on the town's main street with other Americans, "winter Texans," shopping as well.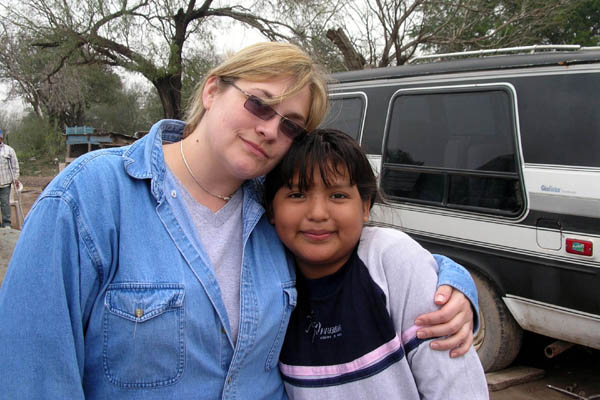 Mooney with new amiga Mary
The toll crossing back into the U.S. is $2.20, which is 20 cents more than crossing the other direction. I don't know why it's more going north, but like Ed says, it's worth it. There was a big line going through customs and immigration on our return, and it took over an hour to get back.
In the evening our group of 13 met nine more people for dinner at Cortina's Italian Restaurant in Weslaco. These nine others are people Ed and Joan Neighbors, the Hanlins, and the Sniders know from previous trips to Nuevo Progresso with the Oklahoma United Methodist Conference. The restaurant was totally overwhelmed by our group of 22, but we got to eat eventually.