February 25, 2016
Dubai to Bangkok, Thailand: Baiyoke Sky Hotel, Erawan Shrine, Chao Phraya River, Khao San Road



Finally, Bangkok! We left Dubai at 3:20 p.m. on February 24 and arrived in Bangkok six hours later, at 12:20 a.m. on February 25. Travel thus far: an 8-hour drive from Knoxville to D.C., where we spent one night; a 12-hour, 15-minute flight from D.C. to Dubai, where we had a 6-hour layover; and then another 6-hour flight to Bangkok. Shwew!

The time difference between Bangkok and home is 12 hours. Between the time change and all the travel, we were dazed and disoriented. Thank goodness we're staying here for a couple of nights before the next flight!

After immigration, baggage claim, and customs, we exchanged some U.S. dollars for Thai baht and headed for the taxi stand. The taxi driver must have realized we were sick of traveling by now, so he got us to our hotel in a real hurry. If we were in a race, he definitely would have won. I saw a speed limit sign for 60 kph, and at the time we were going 110! No seat belts in the car, of course. What could you possibly need those for?

We're staying two nights at the Baiyoke Sky Hotel, at 1,077 feet, the tallest building in Thailand. In the hotel lobby at 1:00 in the morning, we saw our first Bangkok hooker. That didn't take long. She was being denied entry to the elevators at the time, so this is obviously a classy place.

Our room is on the 72nd floor, facing south. We're in a Superior Suite in the "Space Zone" (indicating floors 64-74). The room is huge, and the views down upon the city are fantastic! The hotel overall is very '70s, despite being completed in 1997. I'm a fan of the '70s, though, so it was cool with me. We stayed up until 4:00 a.m. enjoying the views and some duty-free bourbon.






Our groovy room in the Baiyoke Sky Hotel, Bangkok





After only four hours' sleep, we went up to the breakfast buffet on the 82nd floor, included in the room charge. The buffet was extensive, circling the entire floor. We had bacon, ham, eggs, cheese, fruit, coffee, juice, and a couple of kinds of pasta, but that didn't even scratch the surface. There was also a salad bar, multiple kinds of soup, seafood, and many items we couldn't identify. It was kind of overwhelming first thing in the morning. After breakfast, we walked around the floor below, looking out at the city and taking silly photos.


Tom being Tom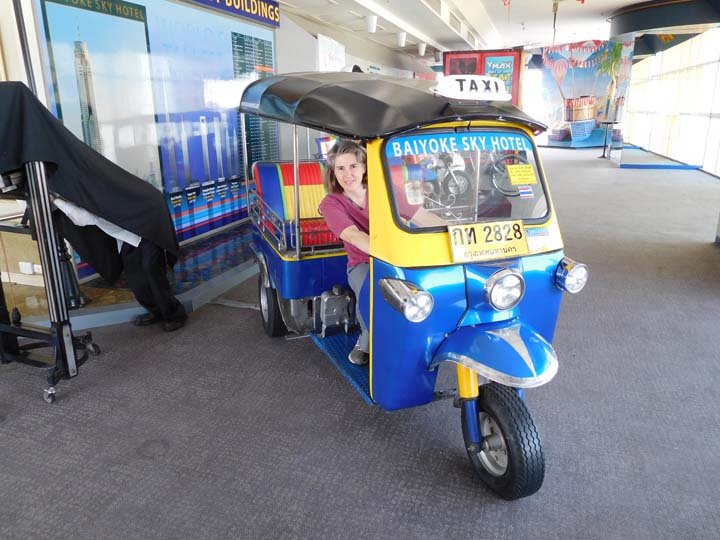 Jana drives a tuk-tuk





Out on the streets of Bangkok, there's something interesting no matter where you look. We left the hotel on foot, headed for the nearby Erawan Shrine. On our way there, we passed various other shrines and walked through several blocks of crowded and chaotic street markets selling everything from watches to massages to fried scorpions on a stick.


Is this up to code?




Ganesha, god of good fortune and destroyer of obstacles





Erawan Shrine, the best known of the Hindu shrines in Bangkok, was erected in 1956 to ward off bad luck from a hotel built nearby that had laid its foundation on an inauspicious day. That hotel is gone now, but the shrine stays busy with Hindus, Buddhists, and tourists coming to pray and offer flowers and incense to a golden statue of Brahma, the Hindu god of creation, in the hope that their wishes will be fulfilled.


Erawan Shrine




Thai dancers at the Erawan Shrine





After the Erawan Shrine, we took the BTS Skytrain to Saphan Taksin, near the central pier, where we caught a ferry on the Chao Phraya River. We rode the ferry a few miles to Phra Athit, a short walk from the famous Khao San Road. The boat ride was quite enjoyable. It was interesting to see the old dilapidated shacks on the river so close to a modern, prosperous downtown.


Waterfront housing on the Chao Phraya River




A longboat passes Wichai Prasit Fort





Khao San Road is a well-known party area for hippie backpackers - not that there's anything wrong with that. Unfortunately, the street has gotten so famous over the years that it's almost ruined by its own popularity. We had fun, but it was very touristy. Still, it's a must see. We had a couple of beers at 9 Bar and people-watched for a while.


Khao San Road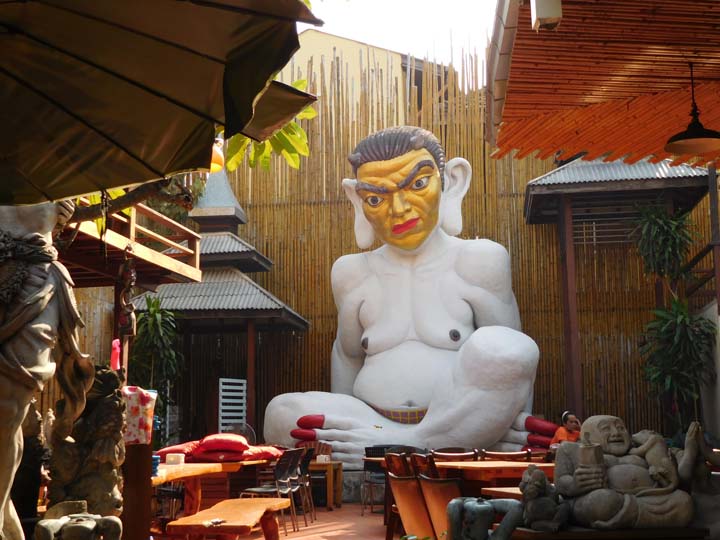 At a restaurant along Khao San Road





We explored Khao San Road and some of the surrounding area, then caught a metered taxi back to the hotel. Traffic in Bangkok sucks, and the traffic lights stay red forever! It took 50 minutes to get back to the hotel, only about four miles away. We could have taken a motorcycle taxi, which would have whipped us in and out of traffic in no time, but it looked pretty dangerous. The taxi was cheap, 120 baht ($3.40).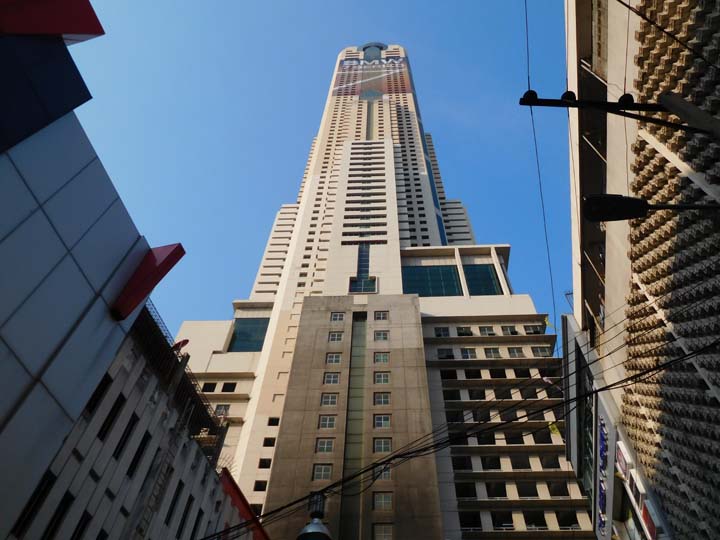 Baiyoke Sky Hotel





Back at the hotel, since we'd missed the welcome drinks at check-in due to our late arrival, we headed up to the Roof Top Bar on the 83rd floor to have free drinks at sunset, then continued on to the revolving outdoor viewing deck on the top floor, the 84th, at dusk, where we enjoyed the best views of all! The stairwell between floors 83 and 84 was decorated somewhat oddly, which made it even better.


Sunset behind the smog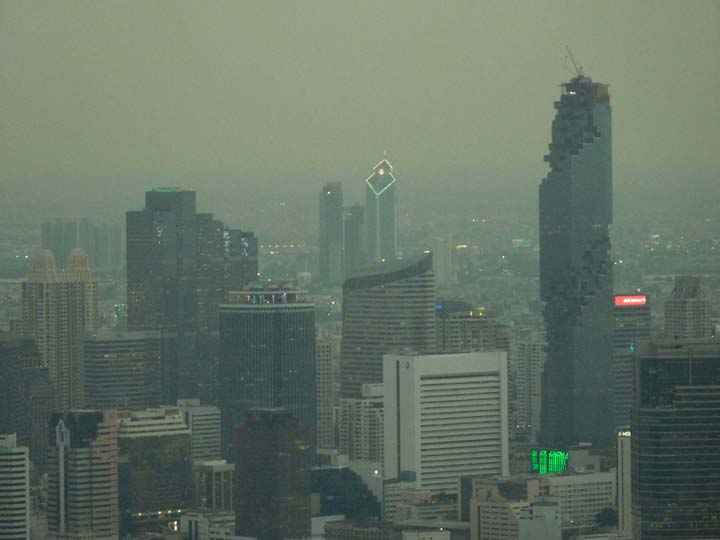 The building on the right seems broken




Bangkok from the top of the Baiyoke Sky Hotel





By now our energy was spent, so we went to the hotel coffee shop for dinner instead of going out. The service was very attentive (almost too much), and they had a live piano player (mostly Carpenters music – very surreal). I had pad Thai with prawns, and Tom had green curry with beef. The curry was EXTREMELY hot. Good thing Tom just ordered it medium-hot, because they're clearly working off a different heat scale. Ha!

At 10:00 p.m. we rallied and went back out to walk around the night market at the base of the hotel, but after only half an hour, we realized how beat we were and returned to our room to unwind and admire the city from afar. Tomorrow we leave Thailand and fly to Myanmar, a couple of hundred miles and several decades away...


Tom and an Extraterrestrial