February 27, 2016
Mandalay Area: Mingun, Sagaing, Inwa, Amarapura, Mahamuni Pagoda



Just before 7:00, we went up to the breakfast buffet on the seventh floor. There was a good selection of food, including eggs, potatoes, a couple of kinds of noodles, soup, fruit, baked goods, coffee, juice, and more. There was a nice view from the breakfast room, but a little hazy, largely due to smoke from fields being burned in preparation for crop planting.

Note: Many places in Myanmar have multiple spellings and even multiple names. Occasionally in this journal, I give more than one name or spelling, but in most cases, I just pick one and go with it.






Mandalay Hill from Hotel G-Seven





Yesterday, we scheduled a taxi and driver for today to take us to several places outside Mandalay, in order to maximize our sightseeing. The driver picked us up promptly at 8:00 a.m. He had his son with him, who was maybe 20 years old and spoke a tiny bit of English. We left the city and made a quick stop at Ava Bridge before crossing the Irrawaddy River. The smoke was especially bad here.






Ava Bridge over the Irrawaddy River





We headed first to Mingun, on the western bank of the Irrawaddy River, in order to get there before a crowd of tourists arrived on the government-run ferry at around 10:00 a.m. There was a 10,000 kyat ($8) fee that covered both the Mingun and Sagaing areas, and we had to wear a silly little sticker indicating we'd paid.






Mantara Gyi / Mingun Pahtodawgyi Pagoda





In spite of a sign posted to the contrary, it's possible to climb to the top of the massive 162-foot-high Mantara Gyi a/k/a Mingun Pahtodawgyi Pagoda. It must be scaled barefoot, of course, which is easier said than done. The pagoda had a planned height of 500 feet but was never completed.






We took this as just a suggestion





On the way up the stairs, we picked up an informal and unwanted guide, who actually turned out to be of great help. Due to an earthquake in 1838, it's a bit perilous making your way around the top of the pagoda, but our "guide" showed us the best route. The view from the top was wonderful. The young man spoke English well and pointed out the nearby sights. When we parted ways, he asked us for $5. I gave him 3.


Mya Thein Dan Pagoda




Monks on Mantara Gyi





The Mingun Bell is housed just north of the main Mantara Gyi Pagoda. The bronze bell, 12 feet high, 16 ½ feet wide, and weighing 90 tons, is the second largest bell in the world. After the bell was cast, the king had the creator of the bell executed so he could never cast another. I crawled beneath and inside the bell, while Tom struck the bell from the outside with a wooden mallet, then we both posed for photos with some Burmese tourists at their request. We're starting to feel like celebrities.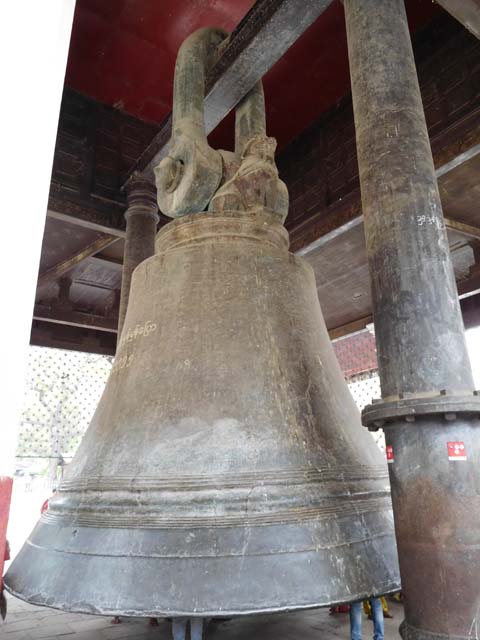 Mingun Bell





The prettiest structure in Mingun is the Hsinbyume a/k/a Mya Thein Dan Pagoda, which our informal guide had told us is as tall as the Taj Majal. Painted in white, it's built to resemble the mythical Sulamani Pagoda resting atop Mount Meru. Tom and I each had a couple more photo shoots with the locals here, and then Tom started taking photos of all the pretty girls in their colorful clothing.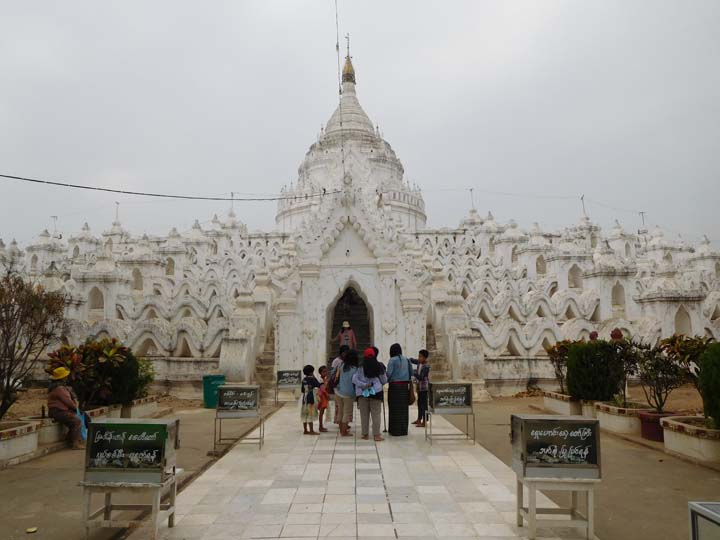 Mya Thein Dan Pagoda




Pretty girls in colorful clothing





From Mingun, it was about a half hour drive to Sagaing Hill. For Burmese Buddhists, Sagaing Hill is sacred ground. Thousands of monks live in the area, in hundreds of monasteries. The taxi dropped us off on a hill outside Soon Oo Pon Nya Shin Pagoda. This was probably the most colorful pagoda of all the colorful pagodas we saw on our trip. The wonderfully colored tiles were nice and cool on our bare feet.


From Sagaing Hill
Soon Oo Pon Nya Shin Pagoda




Long-eared Buddha





From there we continued walking up the hill to U Min Thonze Pagoda, where 45 Buddha images are arranged in a crescent against an elaborate glass mosaic. On the steps leading to the pagoda, vendors were selling trinkets made from stitched watermelon seeds. I couldn't resist buying two bracelets and a keychain for 1,000 kyats (83 cents).

Sagaing Hill was fantastic. Soon Oo Pon Nya Shin and U Min Thonze Pagodas were my favorites of all the awesome places we visited in Mandalay and the Mandalay area.


U Min Thonze Pagoda
Many Buddhas




Girl selling watermelon-seed trinkets





We made a short stop at the Sitagu International Buddhist Academy and then had lunch at Sagaing Hill Restaurant, a place where tourist buses stop and therefore our taxi driver knew was safe for our foreign stomachs. We had two huge portions of tasty fried noodles with pork. We didn't order any beer this time, so lunch for two at this high-priced tourist eatery was only about $5.






Sitagu International Buddhist Academy, Sagaing





Just a few minutes down the road, our driver stopped at a dock where we caught a small ferry to take us across the Myitnge River, near its confluence with the Irrawaddy, to Inwa. Inwa, or Ava, was the capital of Burma on five separate occasions beginning in 1365 until it was almost completely destroyed by a series of earthquakes in 1838-1839. On the Inwa side of the river, we hired a horse-drawn cart to take us around to the various attractions, spaced too far apart to walk.


Crossing the Myitnge River
Rice paddies at Inwa




Our horse cart and driver





The cavernous Bagaya Kyaung is built entirely of teak. The monastery has 267 gigantic teak posts, measuring up to 60 feet high and 9 feet in circumference, and there are elaborately carved features throughout. A group of young boys was getting English and French lessons in one corner of the monastery when we visited.


Bagaya Kyaung teak monastery




Cute kids!





Our next stop in Inwa was Yadana Hsimi Pagoda, a small complex of brick stupas in ruins, presumably from the 1838-1839 earthquakes. There were several large seated Buddhas here surrounded by stone pillars, obvious evidence that there were once more pagodas here that have now been destroyed. The Buddhas look ancient, but I really have no idea of their age.






Yadana Hsimi Pagoda





We proceeded through fields of rice, cabbage, and bananas to the ruins of the 89-foot Nanmyin Watchtower, all that remains where a palace once stood. Again, earthquakes destroyed the rest, leaving only the leaning tower. It's a striking vision.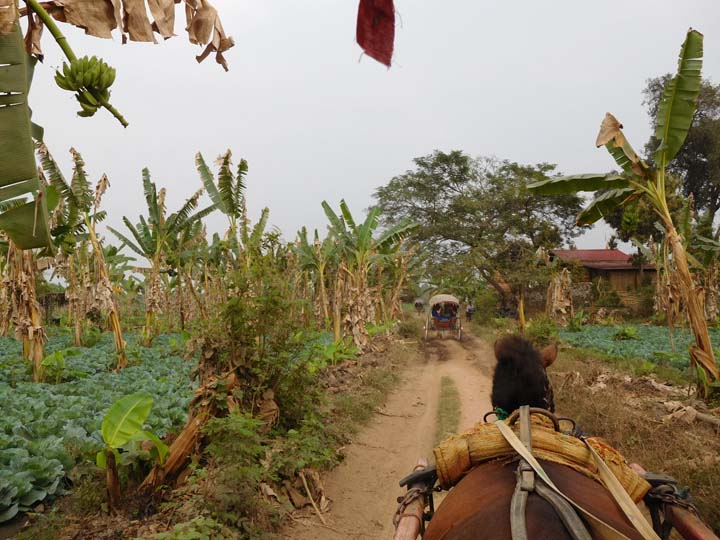 Riding through Inwa




Nanmyin Watchtower





Lastly in Inwa, we visited the striking Maha Aungmye Bonzan Monastery, a tall, impressive masonry building. This structure was also damaged by the earthquakes of 1838-1839 but was repaired in 1873.






Maha Aungmye Bonzan Monastery





We took the ferry back across the river to our waiting taxi and then proceeded to Amarapura, also a former capital. Incidentally, Mandalay is a former capital as well. There's a long history of moving the capital here. Myanmar's current capital is Naypyidaw, having moved there in 2005-2006 from the next-most-recent capital, Yangon.

Amarapura's main attraction is U Bein Bridge, a 1.2 kilometer-long footbridge constructed from teak, spanning Lake Taungthaman. This was the first place we visited that was swarming with tourists (mostly Burmese). Due to the time of year, late in the dry season, the majority of the bridge was not over water at this time, leaving the lake bed and mounds of trash unattractively exposed. We spent a very short amount of time here, surprising our driver when we returned to the taxi so soon.






U Bein Bridge, Amarapura





There are pagodas, monasteries, and a fort in Amarapura that are probably worth seeing, but it was late in the afternoon, and our energy was flagging, so we opted to make only one more stop, this time back in Mandalay, at Mahamuni Pagoda, the most revered Buddhist shrine in Mandalay and the second most revered in the country, after only the Shwedagon Pagoda in Yangon.






Mahamuni Pagoda





The Mahamuni Pagoda had a very festive atmosphere. There were loads of men, women, and children worshipping, meditating, playing, and just hanging out. Here we encountered the first "No Ladies" sign of the trip, which for me was a buzzkill. I boycotted taking any photos after that, but Tom took some. I could see the lady-prohibited Buddha image from a few yards further back, but I guess they just couldn't risk that a woman might touch it. Fear of cooties, I suppose.


Grrrr...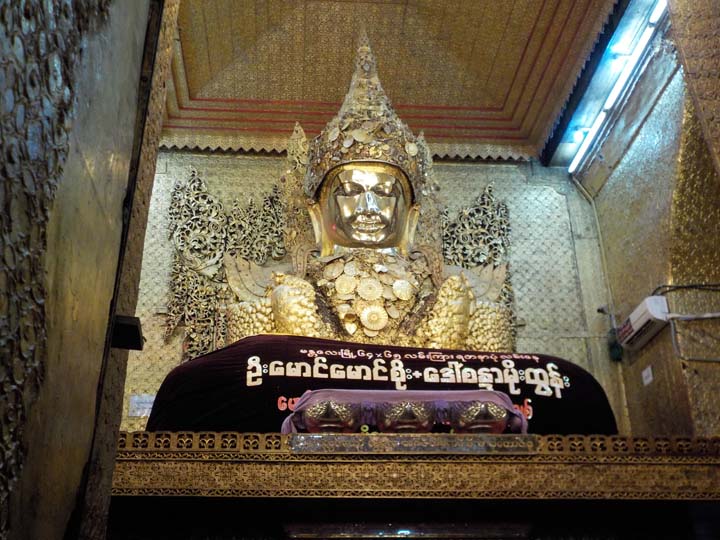 Protected-from-ladies Buddha





We returned to the hotel at 6:00 p.m., after nearly 10 hours of hard-core sightseeing. I was bushed! We'd already booked our next hotel, in Pyin Oo Lwin, but we needed to get a room for the following nights in Bagan. After struggling with the slow Internet, I ended up booking a room using the Agoda app on my phone. In contrast to the WiFi, the cell service here is screaming fast. At home the phone companies brag about their 4G service. Well, here in the developing country of Myanmar, I was connected to at least H service all the time, and usually H+. I didn't even know that existed!

At the front desk we arranged for a taxi to take us in the morning to Pyin Oo Lwin, then headed out for dinner. We didn't see anyplace that looked nearly as good as last night's restaurant, so we returned to the Beer King. Tonight we tried a very good stout beer, Black Shield. We had fried sliced pork, pork fried rice, all we cared to drink, plus some drinks to go, for about $11.