March 1, 2016
Pyin Oo Lwin to Bagan



Well, it's a good thing we didn't plan on taking the train back to Pyin Oo Lwin yesterday, because the return train never arrived, and today the train is not running in either direction, due to rebel groups fighting one another in Kachin and Shan states, further to the north. This we learned from the hotel management as we waited for our bus.

The OK Express minibus picked us up shortly before 10:00 a.m. to take us from Pyin Oo Lwin to Bagan. We made a couple more stops around town to pick up other passengers, including our Italian acquaintance from yesterday and his Russian girlfriend, and then we were on our way.

It was a six-hour trip to the south and west, mostly along bumpy, rutted roads with no center line and a free-for-all as far as passing. The minibus wasn't terrible. It seated 19 passengers, two on one side of the aisle and one on the other side. If you're sitting on the two-passenger side, you better like the other person, because the seats are pretty narrow. Barf bags are supplied as needed. The lady sitting across the aisle from us needed three. When she got the second bag, the bus attendant indicated that she should throw the first one out the window, but she apparently was familiar with the procedure and had already done so. The bus made a lunch/restroom stop at one point, but there was nothing there we were willing to eat.


Our OK bus makes a lunch stop
Typical toilet




Stopping for goats





Despite making roughly a billion stops to transfer people and goods, we reached our destination on time, just after 4:00 p.m. The bus came to a stop as we entered the Bagan Archaeological Zone, and we foreigners had to get off and pay a zone fee of 25,000 kyats each. This could only be paid in kyats, not dollars, which is a recent change.

We're staying in Nyaung U, just north of Bagan. A few minutes after paying the fee, the bus dropped us off at our hotel, Shwe Na Di Guest House, a one-star establishment with lots of character and lots of hippies. We'd booked a Superior Double, which meant we got our own bathroom and also air conditioning. Not all of the rooms had either. The weather has been unexpectedly mild thus far on our trip, but it's hot here, and we definitely need the a/c. The hotel is in a good location, near food and at least a couple of temples. The room is $28 per night with tax, breakfast included. We'll be here two nights.






Our hippie hotel





Shwe Na Di Guest House is a maze. To get to our room, we went down a hallway, past the breakfast room, down another hallway, through an alley to another building, up a staircase, and down another hall. It took me a couple of tries to master the path. Oddly, the stairwell had at least three young male staff members living in it. Could they be security? They're so small, I think I could easily take out all three singlehandedly. Presumably, the hotel is short on living quarters for their staff.






Stairwell / bedroom





The hotel was in easy walking distance of Shwezigon Pagoda, so we headed over there for sunset, where again we were minor celebrities. While Tom was still removing his shoes, I had my picture taken with three different people. When I had the chance to turn around to see where Tom had gone, I saw the same thing was happening with him. A women wanted a picture of him holding her baby, but the baby had other ideas. To the little baby, we were big white freaks!


Shwezigon Pagoda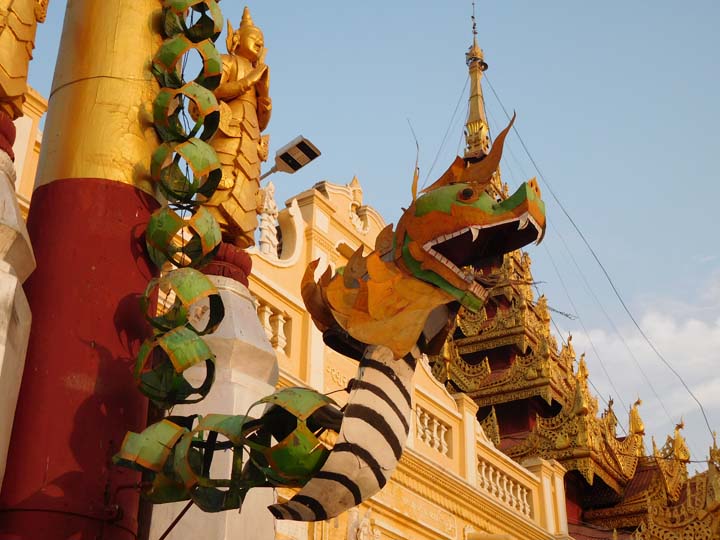 Dragon at the Shwezigon




Escaping baby





All the Asian food has been great, but tonight we had a welcome change with some delicious thin-crust wood-fired pizzas at San Kabar Restaurant. Thanks, I needed that!