Tuesday, September 19, 2006 - Munich Oktoberfest!

There were trains leaving for Munich at 9:21 a.m. and 10:06 a.m., so we'd made plans to meet in the hotel lobby at 8:45. Tom and I weren't game for breakfast this morning, but we met Brian and Mooney and had coffee. We'll have plenty of chances for the ubiquitous hard roll and salami breakfast later in the trip, believe me.
Mooney and I stood in line at the train station and bought Bayern Passes for today and tomorrow from a cute old man with an extreme handlebar mustache. He was excited we were going to Oktoberfest and said he'd be there tomorrow. It's really dark and dreary this morning, but he told us it's supposed to clear up this afternoon and be sunny tomorrow. We caught the 10:06 train, which was running a few minutes late, and got to the Munich Hauptbahnhof at 11:00, where we caught the U-bahn to Theresienwiese, home of Oktoberfest, the biggest party in the world!
Carousel Bar, Oktoberfest
Our initial thought was that we'd begin our time at 'Fest by exploring the midway and riding the Ferris wheel, but just before we got there, it began to rain, so we were forced to seek shelter in the first beer tent we saw, which happened to be the Bräurosl tent, serving Hacker-Pschorr beer. Each beer tent just serves one kind of beer, which makes it easier for the servers and also for the drinkers. All you need to tell them is how many you want.
Some might think it's a little early for beer, but as Brian says, if you don't start in the morning, you can't drink all day! A Mass of beer costs €7.40. You get a full liter, and it comes in a big glass mug. It's so big and heavy you can barely lift it, but we managed. The servers carry up to 14 of these mugs at a time. It's no wonder they wear wrist splints. I skipped the first round. I figured three liters at a time would be enough for the four of us. I mean, good Lord, we've got all day. This turned out to be a pretty good plan, and for the next two days we tended to order only two or three Mass at a time: one for Brian, and one or two for the rest of us!
Breakfast of champions, Bräurosl tent
Tom asked our waitress if it was okay to smoke where we were sitting. There's a lot more tolerance of smoking in Europe than in the U.S., but we didn't know for sure since there were no ashtrays. She didn't speak English, but another waitress told him, yes, it's okay; "just use the big ashtray." In other words, just ash on the floor! The Bräurosl tent wasn't a real happening place this morning, but it was pre-noon on a rainy Tuesday, and I'm sure at times it's packed.
After much scrutinizing of the menu, I ordered Schweinswurstel vom Rost auf Sauerkraut und eine Portion Pommesfrites. I was pretty hungry since I hadn't had breakfast and was fairly confident, though not absolutely sure, that I wasn't ordering something disgusting. My guess was some sort of pork sausage and fries, and I was happily correct. Tom was hungry, too, but after seeing platefuls of radishes and raw-fish sandwiches on our way in, he had been reluctant to choose from the German menu. He proposed we split my meal, which was fine since the portions were huge.
Mooney's mugs
When we finally left the Bräurosl tent, it was still raining (or raining again, actually, we'd been in there so long). Now we sought shelter in the Augustiner-Festhalle. Tom, Mooney, and I had agreed to begin by sharing one beer, to pace ourselves, but due to language difficulties, Tom and Mooney inadvertently turned our one-beer order into three! I realized they were doing this but was afraid to speak up lest I accidentally order even more. Oh, well, we'll make do! It ended up being okay since Augustiner is the only beer at Oktoberfest tapped from wooden barrels and turned out to be the best beer we had in Germany. Delicious! Two ladies from Cincinnati joined us at our table, Mary Margaret and Linda. They were pretty fun.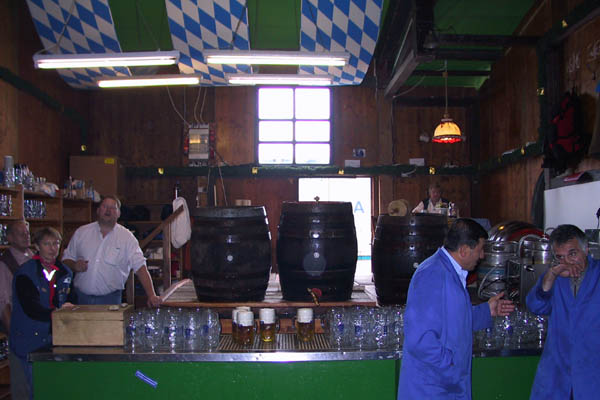 Wooden barrels of Augustiner bier
There are 14 big beer tents at Oktoberfest, seating from 2,500 to 11,000 each. Like I said, BIG. There's also 50 or so smaller tents. Each tent has its own atmosphere and personality. Knowing we wouldn't be able to drink at each of them, I'd done a little research, and Brian and I had spent some time last night prioritizing.
Prost!
Next we went to the Hofbräu-Festzelt, serving Hofbräu München beer. This is considered the "foreigner tent," filled with loud, obnoxious visitors largely from Japan, Australia, and the U.S. Hey, that's us - Gotta check it out! A large section of the tent is filled with tables where you stand instead of sit. This is great for milling about and making new friends, plus there's always room at the table for one more! That's important, because to be served a beer at Oktoberfest, one must be at a table. The greenery decorating this tent is actually hops!
The foreigner tent, Hofbräu-Festzelt
Hofbräu-Festzelt rules! We met, sort of, an East German guy who was on a business trip and happened to be staying at our hotel in Augsburg. We attempted to converse, and then he shared his Brez'n with us (giant pretzel, that is). This guy and his buddy took some time helping me with the words of the oft-repeated Oktoberfest drinking song below:
"Ein Prosit, ein Prosit, der Gemütlichkeit. Ein Prosit, ein Prosit, der Gemütlichkeit. Oans, zwoi, droa, g'suffa!"
Which means: "Cheers, cheers, to our well-being. Cheers, cheers, to our well being. One, two, three, and get it down!" (Tom never did learn the words and sang "I'm frozen" instead of "Ein Prosit.")
Some of the other 'Fest sing-along songs seemed a little out of place, such as "New York, New York," "Hey Baby," John Denver's "Country Roads," and Glenn Miller's "Sing Sing Sing," but who cares? It's a party, and sing-alongs are always fun! The band in the Hofbräu-Festzelt was pretty mediocre, but nobody really minded.
Singing along
A Welshman in a kilt, Aaron Jones, was at Oktoberfest with a whole group of kilt-wearing friends. When questioned, he explained that the Welsh don't normally wear kilts, but that they were distinguishing themselves from the English. Mooney loves a man in a kilt!
The New Zealanders at the next table were the biggest hoot of all. Mooney started talking with a couple of the guys, who were horrified to learn she didn't know where New Zealand is. I helpfully drew her a map, but it wasn't good enough for the Kiwis, who subsequently drew her even poorer maps. For some reason, they drew their New Zealand maps on the far right side of the paper instead of utilizing the whole thing.
Every so often, the Kiwi guys would gang up on one of their friends and give him the king of all wedgies until they ripped his underwear off of him. The underwear would then be wadded up, soaked in beer, and thrown onto "Aloisius," a large fictional character suspended from the ceiling far overhead. There was a bigger security presence in this tent than anywhere else at 'Fest, but they didn't intervene or even look concerned by these friend-on-friend attacks. Oktoberfest is blessed with the good-natured variety of drunks and the good-natured variety of security. Brian stuck his head into a group photo of the Hofbräu-Festzelt security personnel. I wonder what they thought when they got the picture developed.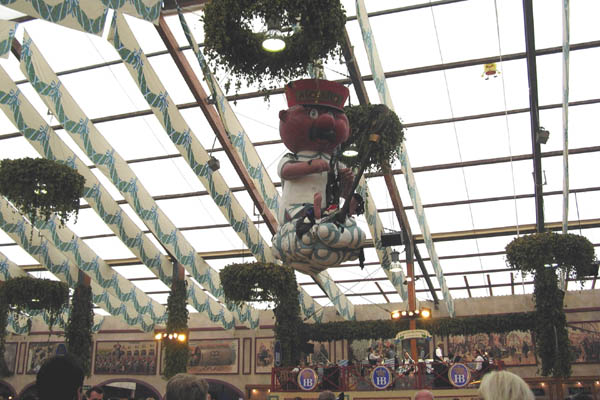 Poor Aloisius, covered in underpants
We finally fled the Hofbräu-Festzelt to get some air. It was sunny out and had stopped raining, so we rode the Ferris wheel. Yippee! It was fun and had a great overall view of the Oktoberfest grounds and beyond. Then we rode the EuroStar roller coaster, the largest portable inverted coaster in the world! That was WILD fun, especially after a few beers. As you might imagine, we had to put something in our stomachs after that ride, so we picked up some sausages on the midway and headed back to Augsburg. We got back to the Ibis about 9:00 p.m.
Oktoberfest overview
Onion-domed Frauenkirche from the Ferris wheel