Wednesday, September 20, 2006 - Munich Oktoberfest Revisited!
After all the fun yesterday, I was worried that Oktoberfest day 2 would never live up to the original, but I was willing to give it a shot! The weather, at least, was great this morning, 70 degrees and sunny. Tom and I joined Brian and Mooney for breakfast this morning, lots of salami, cheese, and rolls. That should sit like a rock in my stomach most of the day. Honestly, do Europeans really eat like this for breakfast, or is it just what they serve at the hotels?
We took the 10:06 train to Munich again today, but instead of going directly to Oktoberfest, we took the S-bahn to Marienplatz to take in a few sights. Most German words are hard for me to remember, but "Rathaus" for "town hall," is a no-brainer. Munich's Neues Rathaus is a striking Gothic-style building adorned with gargoyles, statues, and a large glockenspiel.
Munich's Neues Rathaus
Nearby Frauenkirche has two 98-meter onion-domed towers which were designed to resemble the Dome of the Rock in Jerusalem. Since the city of Munich prohibits building any structure over 100 meters, this cathedral can be seen from all directions and is one of Munich's most famous landmarks. There is a fine view of Frauenkirche from the Oktoberfest Ferris wheel, as we saw yesterday. We ascended the south tower via a combination of stairs and an elevator for fine views of the city.
Oktoberfest from Frauenkirche
About 12:30 we proceeded to Oktoberfest on the U-bahn with half of Munich, a high-spirited group. We walked by the Fischer-Vroni tent, which as far as food goes is all about fish. No way were we going in there, but we took some pictures of the photogenic fish-sticks on the grill outside.
Mmm... fishsticks
Tom with the Paulaner horse team
Armbrustschützen-Festhalle, meaning "Crossbow men's festive hall," is so named because it contained a crossbow shooting range for over a hundred years. Alas, the shooting range is no more, but the walls of the tent are festooned with dozens of dead animals and disembodied animal heads. The tent was actually very rustic and interesting, but there wasn't much going on (it was "dead"), so we didn't stay.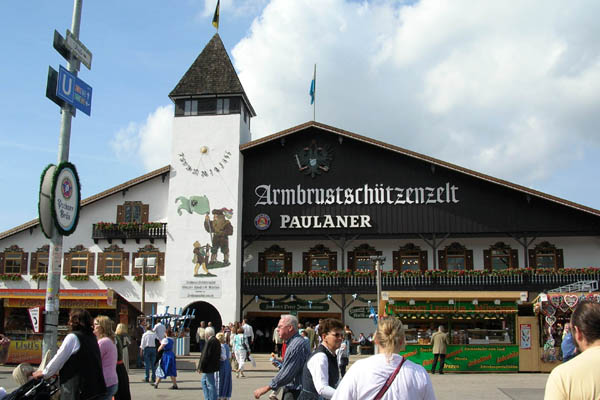 Armbrustschützen-Festhalle
Helpful illustrated signs
The Ochsenbraterei is the roasted-ox tent and is "the" place for lunch at Oktoberfest. We were aided greatly in our food choices when they brought us an English menu. The beer here is Spaten. I got ox goulash, which was GREAT! Mooney and Brian liked their food, too. Tom didn't order a meal, still full of breakfast salami, I guess, but he sampled ours. I wish they sold oxen at Food City! This tent was packed largely with Bavarians in their traditional dress of Lederhosen and Dirndls.
Ochsenbraterei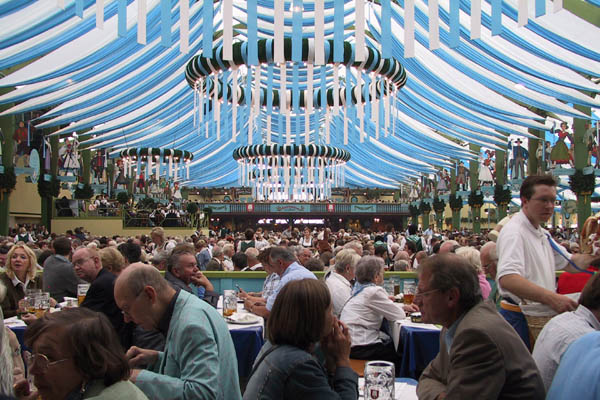 Lunch at the Ochsenbraterei
Too full for beer, we decided just to walk through a few tents and see what was happening. Hackerbräu-Festhalle, described in my research as "delightfully normal," was packed. It's much busier at 'Fest today than it was yesterday. I guess the nice, sunny day got a lot of people out of their houses and into the tents.
Hackerbräu-Festhalle
The oldest tent at 'Fest is the Schottenhamel-Festzelt, over 175 years old. It is here that the first beer barrel of Oktoberfest is tapped! Hot ziggity! Surprisingly, it wasn't busy at all. I made a mental note that we should come back here if we're unable find a seat somewhere else later.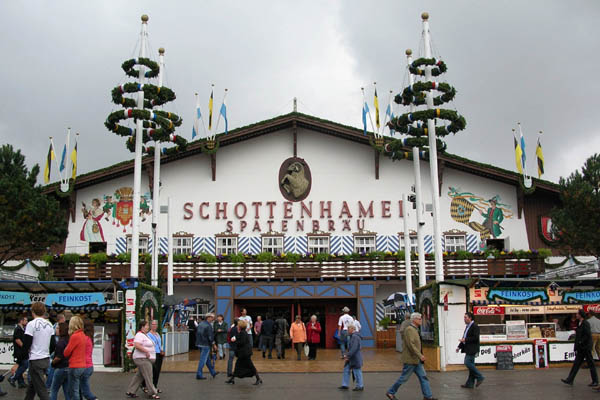 Schottenhamel-Festzelt
By the time we got to Löwenbräu-Festhalle, all but Mooney were ready for another beer. The others grabbed a seat while I visited the WC. By the time I got back, Brian had inadvertently ordered a pork roast when he was trying to inquire whether they have dark beer! No one was hungry, but it was good and we ate it nonetheless.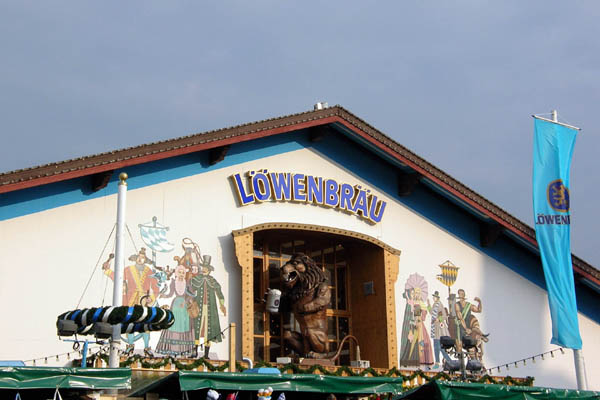 Löwenbräu-Festhalle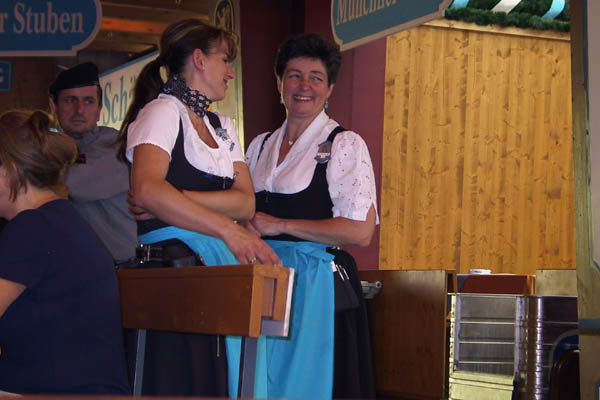 Bierfrauen
We were sitting one table over from some English speakers who I took to be Kiwis due to all their injuries, but after speaking with them later, I found out they were Aussies from Cannes. These guys were huge womanizers and amusing as heck to watch. They were cute young guys in butt-flattering Lederhosen and they knew it. Most of the girls, to their credit, weren't having it. We had a blast at this tent and only left because most of the tables, including ours, were reserved starting at 5:00 p.m.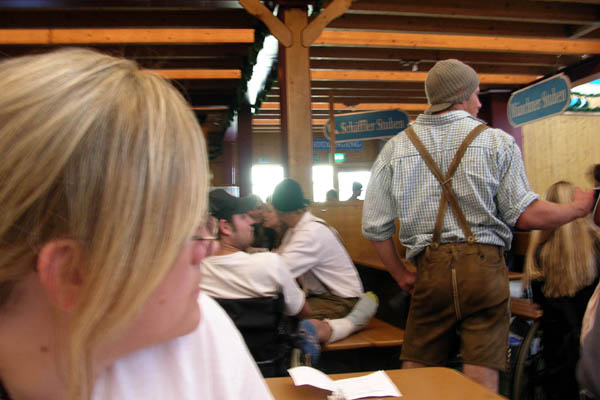 What are you looking at, Mooney?
It was getting kind of late in the day and too crowded to find seats in another big tent, so we headed for one of the less well known "mini-tents," Hühner-und Entenbraterei AMMER, where they serve the Augustiner beer out of wooden barrels that we like so much. We sat outside in the Biergarten and got loud and no doubt obnoxious. Many photos were taken by my group this afternoon of Lederhosen butts and Dirndl cleavage. We'll just blame all of it on Mooney and leave it at that.
Fraulein in the Biergarten
Stupidly, just before we left Oktoberfest, we rode the five-loop roller coaster, Olympia Looping. We'd been talking about it for two days and just hadn't gotten around to it until now. Let me advise future Oktoberfest visitors that roller coasters should be ridden at the BEGINNING of the day. Our stomachs were fine, but our brains were scrambled.
A silly way to end the day!
Tom and I got sausages at the Munich train station before the ride back to Augsburg. It was a fun trip back, as many of the passengers were returning from a day of 'Festing. Back at the Ibis, we got one last bier from Florian, and I checked my email for the one and only time of the trip.