Friday, October 3, 2003
Today we head east and begin La Ruta Panorámica (the panoramic route, in case you couldn't figure that out), a network of around 40 winding country roads stretching 165 miles across the Cordillera Central, the mountainous central spine of Puerto Rico. This is where they keep the wilderness on this heavily populated island.
We had a heck of a time finding the right road out of Mayagüez to get on La Ruta, but after a number of wrong turns, we finally managed - managed to end up behind a slow, slow dump truck, that is. After an interminable time though, he finally reached his destination, and we were able to pull around him and start really enjoying the countryside. The road slowly snakes its way up into the mountains and deeper into the lush forest. We stopped in Maricao planning to buy something for lunch, but unless we wanted eggs or cat food, the best we could manage at their "supermercado" was a bag of Doritos.
Near Maricao
After leaving town, we entered the Bosque Estatal de Maricao, a forest of more than 10,000 acres south of Maricao. Vistas along the road overlook both the south and west coasts of the island. We stopped at a torre de observación which our book described as a 2,600-foot stone observation tower. I would call it a 40-foot observation tower at a 2,600-foot elevation. Semantics, I guess. No wonder I'd never heard this tower mentioned as the tallest building on earth! You can see much of the western coast from here.
Torre de observación
La Ruta Panorámica
We tried again for provisions at a market in the settlement of Castañer and had better luck. Just outside of town we entered the Bosque Estatal de Guilarte, 3,600 acres, and had lunch at a beautiful, peaceful picnic area and scenic viewpoint near the park's ranger station. Monte Guilarte, at 3,950 feet only 400 feet shorter than the island's highest point, is one of the few peaks on the island that isn't covered with communication towers.
View from our picnic area!
There are no naturally-formed lakes in Puerto Rico. All the lakes are reservoirs formed by damming the rivers. Just south of Adjuntas, we drove past Lago Garzas, one of the island's smallest lakes, when Tom saw something interesting and I turned the car around. He described it as a "sinkhole dam." We've since learned that this is a "morning-glory" spillway or a "glory hole," a funnel-shaped outlet that allows water to bypass the dam when it reaches capacity. We'd never seen one like this before, and it looked very cool.
Lago Garzas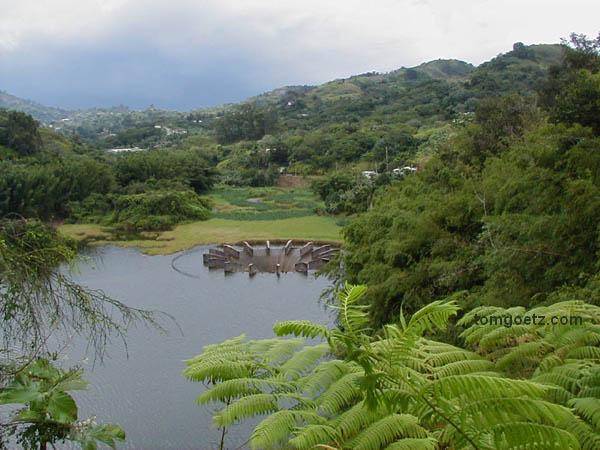 Morning-glory spillway
Shortly after Lago Garzas, it started to rain. We'd already planned to stay the night in Adjuntas, the next town, so it didn't much matter. Adjuntas is known both as "the town of the sleeping giant" for the silhouette created by the surrounding mountains and "the Switzerland of the Caribbean" for reasons that remain unknown to us. We had the address of the place we wanted to stay, the Monte Río Hotel, but no map of the town! I parked the car at the town plaza, and we asked directions and walked to the hotel. The town is a maze of one-way streets and heavy traffic, so I didn't want to move the car till we knew where we were going. Monte Río was just a block south of the plaza, and we quickly arrived. The room was $65. By the time we checked in, it was pouring instead of just simply raining, so we watched "Los Simpsones" (no English-language television at this hotel) and waited for the rain to subside before retrieving our car and luggage.
English is not so ubiquitous in Adjuntas as we'd experienced thus far. The signs in our hotel were in Spanish only, and we had to ask directions in Spanish. Also, we've found several instances of Carribean Spanish differing from other Latin American Spanish. For example, there were signs all over the hotel that said "Desposite los desperdicios en el zafacon. Gracias." Well, they said "please," and we'd be glad to comply, but we don't know what in the heck they're asking us to do, and we're too embarrassed to ask. After returning home we finally learned that "zafacon" means wastebasket, and they were just asking us to put our trash in the trash can. Don't worry - we did that even though we couldn't read the instructions.
As another example, our pizza at Pizza Hut the other night came with "setas." Then we saw something with setas on the menu at the Chinese place. Tom asked what it was and one of the customers told us mushrooms. We knew mushrooms as "champiñones." And as a final note, I will just mention that now we know that "inodoro" means toilet. That term may be used elsewhere, but we were unfamiliar.
From our balcony at the Hotel Monte Río, p.m.
At 5:45 the rain stopped for a while and we went for a walk around the plaza. Unfortunately, they seem to roll up the sidewalks at 5:30. We couldn't even find any dinner, but we did find a six-pack of Medalla Light, a Puerto Rican beer. It was pretty decent, reminiscent of Coors Gold. We went to the hotel's bar/"restaurant" for a bit, but they just had bar going on. Friday night, and there were just nine people there, including Tom and I and the bartender. The bad music on the jukebox soon drove us back to our room, where we dined on chips and granola bars.